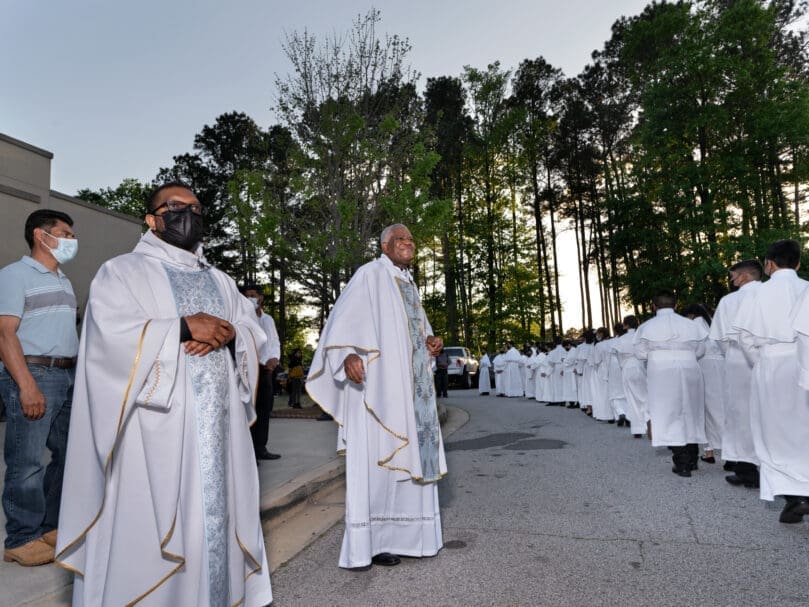 By GEORGIA BULLETIN STAFF 
|

Published January 5, 2023

ATLANTA—From the overturning of Roe v. Wade to the appointment of a third auxiliary bishop for Atlanta, here is a look back at the events that shaped 2022 for the Catholic community of North and Central Georgia:
JANUARY
Twin babies find home through 'outpouring of love'
Dr. James and Alison Stone shared their family's adoption story with The Georgia Bulletin. The Stones adopted fraternal twins, Jacob and Zoey. With the help of a parish Respect Life Ministry, the twins were saved from abortion.
Pregnancy Aid Clinic opens doors to third location
The Pregnancy Aid Clinic opened its third site to serve women and families facing crisis pregnancies. Converted from a former medical building, the clinic is located in the Old Fourth Ward neighborhood of Atlanta.
Counselor hopes consecration brings God into the midst of daily life
Heather Triggs, counselor at Holy Redeemer School, restated intentions to live as a consecrated woman. She recited her vows in front of friends and family at a Mass Jan. 15 at St. Brigid Church. She initially professed the vows of chastity, poverty and obedience the previous November but the local Mass gave Atlanta friends a chance to be with her.
A new name: focusing on evangelization
Starting on the Feast of the Conversion of St. Paul (Jan. 25), the archdiocesan Office of Formation & Discipleship adopted a new name: the Office of Evangelization & Discipleship. The name change was designed to bring greater intentionality to its ministry.
Synod survey available in multiple languages
As part of the Synod of Bishops, Pope Francis asked the church to reach out to as many people as possible to listen to each other and share what "journeying together" means. The Archdiocese of Atlanta announced that in addition to listening sessions, surveys would be offered in English, French Creole, Korean, Portuguese, Spanish and Vietnamese.
FEBRUARY
Catholics to share 'hopes and dreams' as synod listening sessions get underway
Listening sessions began across the archdiocese for the Synod on Synodality. The Catholic community moved into the public phase of the synod, as believers gathered in church halls and online for prayer-filled moments to understand "communion, participation and mission."
Eight new deacons called to 'sacramental service'
Archbishop Gregory Hartmayer, OFM Conv., ordained eight men to the permanent diaconate at the Cathedral of Christ the King in Atlanta on Feb. 5.
Marist School alumnus coaches Rams to Super Bowl victory
Sean McVay, Marist School graduate, led the Los Angeles Rams to victory against the Cincinnati Bengals in the National Football League Super Bowl LVI on Feb. 13. The final score was 23-20. McVay is the youngest head coach to win a Super Bowl championship in NFL history.
Renovated sacred spaces are gifts to Duluth parish
After nearly three years of prayer and generosity, parishioners of St. Monica Church embraced a newly renovated worship space during a mid-February rededication Mass. A campaign funded interior renovations of the narthex, sanctuary, nave and adjourning areas.
Pope Francis appoints Atlanta priest as Bishop of Charleston
Pope Francis accepted the resignation of Bishop Robert E. Guglielmone from the Diocese of Charleston, South Carolina, and appointed Father Jacques E. Fabre, CS, as the new Bishop of Charleston. At the time of the appointment, Father Fabre was the administrator at San Felipe de Jesús Mission in Forest Park.
MARCH
New community market provides food help to Atlanta residents
The Shrine Community Market, a reimagined food pantry of the Shrine of the Immaculate Conception, began to fill a community gap, allowing families and individuals to shop for the items they need most. The parish is in the midst of a neighborhood characterized by high poverty.
Ukrainian Catholic Church collects aid, gathers in prayer for 'heartbreaking' conflict
The Atlanta community overwhelmed Mother of God Ukrainian Catholic Church in Conyers with aid for Ukraine as the country was invaded by Russia. Members of the community gathered for prayer and to console those who still have family and friends in Ukraine.
Expanded Laudato Si' plan builds on local environmental efforts
After more than five years of environmental work, the Archdiocese of Atlanta expanded its Laudato Si' Action Plan to help care for our "common home."
Drawn by lives of believers, hundreds exploring the faith
More than 1,400 women, children and men prepared to take their next steps in faith by joining the Catholic Church in the Archdiocese of Atlanta. Three parishes hosted the Rite of Election.
Chief operating officer departs for Archdiocese of Washington
David Spotanski left his position as Chief Operating Officer for the Archdiocese of Atlanta to take up a similar role for the Archdiocese of Washington, joining the leadership team of Cardinal Wilton D. Gregory.
Notre Dame Cathedral truss exhibit visits Atlanta
Handshouse Studio brought its wooden truss exhibit to Atlantic Station. The exhibit is an educational and historical tribute to Notre Dame Cathedral in Paris.
APRIL
Georgia legislature passes mental health, school choice measures
The Georgia Catholic Conference (GCC) advocated for bills in line with Catholic teaching during the recent session. The conference focused primarily on three bills—repealing the death penalty (HB 485), the Women's Health and Safety Act (SB 351) to severely restrict access to abortion-inducing pills and legislation expanding coverage for mental health care (HB 1013).
Eucharistic Congress Choir celebrates Christ in song
A new archdiocesan choir began rehearsals with members representing several parishes. The group was formed to provide music for the return of the Eucharistic Congress following a pandemic hiatus.
Archbishop Hartmayer celebrates annual Chrism Mass
Archbishop Gregory J. Hartmayer, OFM Conv., celebrated the annual Chrism Mass April 12 at the Cathedral of Christ the King in Atlanta. The Mass was the largest gathering of priests since the beginning of the COVID-19 pandemic.
Fransalian Associates inspired by gentle approach to faith
The Fransalian Associates offer a new way for believers to embrace the vision of St. Francis de Sales in their everyday lives. Three dozen men and women from Florida, Tennessee and Georgia completed a program of learning about the saint and his spirituality.
Pregnancy Aid Clinic expands medical staff with archdiocesan support
Pregnancy Aid Clinic (PAC) and the Archdiocese of Atlanta partnered to help expand services for women and families facing unexpected pregnancies. With a third clinic opened in the greater Atlanta area, the archdiocese provided a three-year grant to PAC to fund a director of medical services. The grant will pay for half of the position's salary, giving PAC time to fully fund the position in the future.
MAY
Archbishop Hartmayer's statement on draft of Supreme Court ruling
Archbishop Hartmayer released a statement after a draft was leaked of the potential Supreme Court ruling on the Dobbs vs. Jackson Women's Health Organization case.
Former Atlanta priest ordained to lead Charleston diocese
Bishop Jacques Fabre-Jeune, CS, was ordained as the 14th bishop of the Diocese of Charleston. The new bishop was a priest in the Archdiocese of Atlanta. Many of his former parishioners traveled to South Carolina for the ordination.
Georgia natives ordained to transitional diaconate
Evan Glowzinski and Matthew Howard, who grew up in St. Michael the Archangel Church in Woodstock and St. James the Apostle Church in McDonough respectively, were ordained transitional deacons at the Cathedral of Christ the King in Atlanta.
Catholic schools prepare for new family in the fall
Teachers, students, faculty and staff of Our Lady of Victory School in Tyrone and Our Lady of Mercy High School in Fayetteville said goodbye as they ended their final school year in preparation to consolidate into St. Mary's Academy in the fall.
Archbishop tells new priests to care for and accompany God's people
The Archdiocese of Atlanta welcomed four new priests, ordained by Archbishop Hartmayer at the Cathedral of Christ the King in Atlanta. The ordained priests were Avery Daniel, Ben Thomsen, Juan Carlos Villota Viteri and Joe Wagner.
JUNE
Archbishop Hartmayer offers statement following Dobbs ruling
Archbishop Hartmayer released a statement on June 24, following the Supreme Court ruling on the Dobbs vs. Jackson Women's Health Organization case, overturning Roe v. Wade and turning abortion laws over to state governments.
Atlanta pro-life advocates offer concrete ways to help moms in need
With the overturning of Roe v. Wade, local pro-life advocates share their efforts to support families in need and encourage Catholics to be more supportive.
Atlanta's Eucharistic Congress celebrates joyful return, launches national revival
After being gone for two years due to the COVID-19 pandemic, the Eucharistic Congress returned with new tracks, an archdiocesan choir and time with the Lord in eucharistic Adoration.
JULY
Support of Cobb parish community makes priestly vocation possible
With the support and encouragement of his parish community at St. Thomas the Apostle Church in Smyrna, Rodrigo Padrón-Pérez was ordained to the priesthood. "Do not be afraid to say 'yes' to the Lord," he said.
The Georgia Bulletin wins 13 Catholic Press Awards
At the Catholic Media Conference in Portland, Oregon, The Georgia Bulletin won 13 national Catholic Press Awards, including second place for best diocesan newspaper in its class.
Circuit Court of Appeals lifts injunction on Georgia's 'heartbeat law'
On July 20, the 11th U.S. Circuit Court of Appeals reversed a lower court decision, and said Georgia's "heartbeat law" should be permitted to take effect. It bans abortions once a fetal heartbeat is detected, about six weeks into a pregnancy.
Parish milestones: St. Thomas Aquinas Church celebrates 50 years
On Pentecost weekend, parishioners of St. Thomas Aquinas Church gathered to celebrate 50 years of ministry in Alpharetta and its growing community.
AUGUST
Monastery reopens renovated Abbey Church
After being closed for two years due to the coronavirus pandemic, the Monastery of the Holy Spirit in Conyers reopened its church to the public for prayer and Mass with new renovations.
New school leaders for 2022-23
Local Catholic schools welcomed four new leaders to start the new academic year. The new leaders were Aaron Parr, interim president at St. Pius X High School, Atlanta; Mike Remshik, interim principal of St. John Neumann Regional School, Lilburn; Ramon Villacura, principal of St. Joseph School, Marietta, and Mandy Crock, principal of Our Lady of the Assumption School, Atlanta.
Campus ministry program fills spiritual need at archdiocesan high schools
Due to a priest shortage in the archdiocese, full-time high school chaplains were removed from all three Catholic high schools beginning in the academic year. In response, the schools created campus ministry teams to support the spiritual life of their communities.
Catholic school sports teams face new competition
As part of the Georgia High School Association (GHSA) realignment, new classifications were enacted for school athletes at Blessed Trinity, Marist School and St. Pius X, resulting in face-offs against new and bigger competitors.
Atlanta's final synod report identifies next steps
The final Synod report for the Archdiocese of Atlanta revealed next steps for the local church. The report is available online as was sent to the U.S. Conference of Catholic Bishops in Washington, D.C.
New faith formation coordinator supports schools
In her role as the new coordinator of faith formation for the Office of Catholic Schools, Tonya Shoemaker works to strengthen the Catholic identity and professional development of local schools.
SEPTEMBER
St. Mary's Academy begins first school year
After more than a year of preparations, the first Archdiocese of Atlanta-sponsored pre-K-12 school began its inaugural year. St. Mary's Academy opened after closure of Our Lady of Mercy High School and Our Lady of Victory School. The two schools were combined on the Fayetteville campus of the high school.
St. Vincent de Paul Georgia spotlights stories of hope at gathering
Hundreds came to celebrate St. Vincent de Paul Georgia at its first gathering since the pandemic. The organization contributed some $25 million in aid to people in need. It remained open to serve families during the COVID-19 pandemic. Its community pharmacy has attracted more patients, surpassing 1,000 prescriptions a month. The organization committed to helping the affordable housing shortage.
New farm helps people with disabilities 'to live, work and thrive'
An innovative farm in Peachtree Corners grows produce and raises animals while providing employment opportunities for people with disabilities. The program vision is building a wrap-around community, employing about 50 people to work on the farm, five greenhouses and 15 supported living homes.
Atlantans visit Our Mother of Africa Chapel ahead of National Black Catholic Congress
The National Black Catholic Congress (NBCC) hosted a pilgrimage to the Our Mother of Africa Chapel of the National Shrine in Washington, D.C. Atlanta delegates to the 2023 NBCC Congress XIII attended the celebration, learning about the chapel's history on its anniversary.
Beatification cause for Georgia Martyrs moves forward
The sainthood cause for the five Franciscan Georgia Martyrs moved forward. In the late 16th century, Spanish missions with Franciscans were established along the coast in Florida's northern frontier. The Spanish worked and lived among the native Gaule people. In 1597, five friars serving on the Georgia coast were killed. The Diocese of Savannah announced Sept. 14 the Vatican's Dicastery for the Causes of Saints "approved and advanced the cause of beatification for Friar Pedro de Corpa and Companions."
OCTOBER
Fourth bishop to serve Atlanta's Catholic community
In a first, the Archdiocese of Atlanta will have a Vietnamese bishop. Bishop-designate John Nhan Tran was named auxiliary bishop by Pope Francis. He is scheduled to be ordained to the episcopacy on Monday, Jan. 23.
Atlanta's Hispanic Ministry turns 60
For six decades, the Archdiocese of Atlanta has opened wide the doors to Christ, welcoming first Cuban political refugees then economic migrants to provide them a spiritual home in Georgia through the Hispanic Ministry. It is estimated that about half of the Catholics in the Archdiocese of Atlanta are Hispanic.
National Deaf Cursillo renews faith, sense of community
Deaf women and men from around the country gathered at the 67th National Deaf Cursillo at the Ignatius House Jesuit Retreat Center to learn more about their faith.
Girls' flag football growing in popularity, kicks off at St. Pius X High School
St. Pius X High School joined the other archdiocesan high schools in adopting flag football as a fall sport. Blessed Trinity High School battled to the state championship semi-finals in its inaugural 2021 season and won the 2022 state championship. Our Lady of Mercy High School fielded a team last year, and St. Mary's Academy continues that team.
St. Jude the Apostle Church hosts ministry to Brazilian community as it marks 25 years
The Brazilian Catholic community's 25th celebration culminated Oct. 12 with a show of faith featuring the patron of the South American country.
Relic of Blessed Carlo Acutis finds home in Atlanta
A relic of Blessed Carlo Acutis now has a permanent home in the Archdiocese of Atlanta. "It is a precious gift from the Bishop of Assisi," said Archbishop Gregory J. Hartmayer, OFM Conv.
NOVEMBER
Sisters enliven faith in Cedartown
The Sisters Poor of Jesus Christ live together, pray together and seek to be of service to those who ask for help. Since arriving in early 2022, four sisters have taken up residence in downtown Cedartown.
Bright spots in the realm of vocations
There is good news in the Archdiocese of Atlanta in the realm of priests and religious orders, according to Bishop Joel M. Konzen, SM.
Family, community support and encourage priests
Support from both community and family, as well as ongoing formation, is vital for priests. November 6-12 was National Vocation Awareness Week.
Seven Sisters emphasizes power of prayer for priests
The Seven Sisters Apostolate is a call to strengthen the church by ensuring that a Holy Hour is prayed daily for the sole intention of a specific priest or bishop. In the archdiocese, the expanding apostolate first formed at St. Pius X Church.
Our Lady of Lourdes celebrates 110 years
Our Lady of Lourdes Church in Atlanta celebrates its 110th anniversary on Nov. 22. The parish will mark the anniversary with Masses, a special concert and a day of service.
The Shrine of the Immaculate Conception distributed 200 Thanksgiving dinner kits
Members of the Shrine of Immaculate Conception in downtown Atlanta prepared Thanksgiving dinner kits to help older adults, school families and its community market. It's a nearly 20-year tradition on the Sunday before Thanksgiving.
'Tolton: From Slave to Priest' a story of grace and bravery
The Lyke House Catholic Center at Atlanta University Center, St. Mary's Academy and Our Lady of Assumption School hosted performances of a one-man show on the life of Father Augustus Tolton in early November.
DECEMBER
Eucharistic Revival–where to start?
The Catholic bishops of the United States have called for a three-year National Eucharistic Revival, which began on the Solemnity of the Most Holy Body and Blood of Jesus Christ this past June. Here in the Archdiocese of Atlanta, the 25th Eucharistic Congress launched us into the revival.
Atlanta's only basilica celebrates historic building's dedication
The Basilica of the Sacred Heart of Jesus, one of the oldest faith communities in the Archdiocese of Atlanta, is marking 125 years since the dedication of the historic red brick church.
New leader at Office of Mission Advancement enters role
Deacon Rick Medina helped get the GRACE Scholarship program off the ground and then went on to grow Catholic World Mission. Now, he's the new director for the Archdiocese of Atlanta Office of Mission Advancement.
New deacon ordained, encouraged to a life of service
Pete Coppola was ordained as transitional deacon, a milestone on the way to the priesthood. Atlanta Auxiliary Bishop Bernard E. Shlesinger III said the new deacon should anchor his ministry in prayer.
Parish after-school program aids struggling students
St. Brendan the Navigator Church offers a healthy meal, tutoring and fun, as part of its new initiative to serve students at risk of falling behind in school. The Cumming parish hopes to serve up to 30 students at the after-school program.