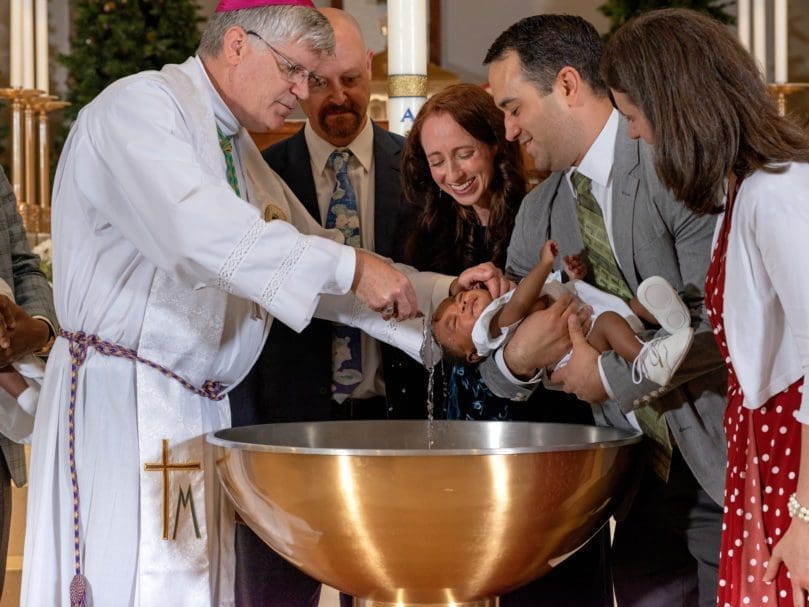 By SAMANTHA SMITH, Staff Writer
|

Published January 5, 2022

CUMMING–On a rainy December morning, the Catholic Church welcomed two new members through the sacrament of baptism. 

Jacob and Zoey Stone, fraternal twins born on Aug. 10, were baptized by Bishop Bernard E. Shlesinger III at St. Brendan the Navigator Church in Cumming on Dec. 18. 

Dr. James and Alison Stone, first-time parents, adopted the babies in early December.

James and Alison are adjusting to their roles as parents, even though the last month or so has been filled with sleepless nights.

"I just enjoy interacting with my children and caring for them," said James. "It's a beautiful, rewarding experience."

The journey to parenthood for James and Alison included prayer, the support of the Respect Life ministry and the love of their school community. 

Joey Martineck, director of Respect Life Ministry for the Archdiocese of Atlanta, said the Stones' adoption story has given him much hope. 

"God really is working through the things we are doing," said Martineck. "He only needs a little 'yes' from us to do great things."
A desire for life
Early in her childhood, Alison knew she wanted to be an art teacher and a mother. But as a sophomore in high school, Alison learned that she could not have children.
"That was a huge wound in my heart," said Alison. Years later, she became a Dominican Sister of St. Cecilia, hoping to be a mother figure to the children she would encounter in her religious vocation. 
Realizing she was not called to religious life, Alison left her order to study art education. She has worked at Pinecrest Academy in Cumming since 2002 and is now the advanced placement art and design teacher. 
Working at a school has helped her become a mother-like figure to her students. 
"I love my students," said Alison. "I call them my kids."
While working at Pinecrest Academy, Alison met Dr. James Stone, a theology teacher at the school. They started dating in June 2014 and were married a year later. 
"I actually shared with him on that first date that I couldn't have children," said Alison. "He took it with such tenderness, such love that allowed me to start to really accept myself."
The couple decided to adopt and began the foster to adopt process in October 2019. They went through additional training until the coronavirus pandemic interrupted their plans. The couple decided to pursue private adoption in October 2020.
"Whenever we have these moments of darkness in our lives, there's always going to be a light through that process in the Holy Spirit," said Alison. 
Choosing life
James and Alison set up an adoption website and took a photo holding a sign that said, "Hoping to Adopt." That photo was sent to Martineck, who included it in the monthly newsletter, a first for the ministry. The email went out on April 1, Holy Thursday of 2021.
On Tuesday of the following week, Cathy Schneider was standing outside of the Atlanta Women's Clinic, hoping to encourage pregnant mothers to choose life. She is a parishioner at St. Brigid Church in Johns Creek and leader of the parish's Respect Life ministry. She and other volunteers go to the women's clinic three to four days each week for several hours a day.
While outside of the women's center, Schneider met a woman who was about 20 weeks pregnant with twins and considering an abortion, which is legal up to about 20 weeks in Georgia. She was a single mother raising five other children with little support.
In her heart, she really didn't want to have an abortion and "was in distress," said Schneider. 
After speaking with her for some time that day, Schneider asked her if she would be open to adoption, showing a photo of James and Alison holding their sign, "Hoping to Adopt." The mother said that she would think about it and walked into the clinic. 
While the mother was inside, Schneider got in contact with James and Alison to let them know there may be twins available for adoption. After some time and with the encouragement of her mother, the pregnant mother eventually came out of the clinic, open to giving her children to James and Alison.
Schneider continued to support the mother for the remainder of her pregnancy. She coordinated with the Knights of Columbus in Nashville, Tennessee where she lives to get beds for her children. Schneider also helped to provide clothes for her children and maternity clothes for the mother.
"We just try to offer help and hope to moms in unplanned pregnancies, just to see what their story is and how we can help them," said Schneider. "God has provided over and over again."
The adoption
Over the next four months, the pregnant mother, James and Alison became well acquainted. They discussed names for the twins, shared ultrasound photos and spent Mother's Day weekend together.
Staff and students at Pinecrest Academy showed great love and support during the adoption process. This included prayers, providing gifts for the new babies and working with the couple on travel and schedules. 
"It's just an outpouring of love that we've received," said James. 
However, the adoption process did come with many challenges. The birth mother changed her mind about the adoption and considered raising the twins herself on multiple occasions. This resulted in missed doctor's appointments, unanswered phone calls and texts. 
"There were plenty of ups and downs during the process where there was a lot of uncertainty," said James. "And it was challenging just to place your trust in God and say, 'Thy will be done,' at every stage of the process."
On Aug. 10, the mother gave birth to fraternal twins. She contacted James and Alison, asking them to spell the names of the babies, Jacob and Zoey. The adoption was legally finalized on Dec. 2. 
The Stone adoption journey shows how many life issues are connected, such as infertility and adoption, said Martineck. 
"These situations really are illustrating the fullness of what it means to love," he said.
Schneider hopes Catholics will continue to pray for sidewalk advocates who help to save the lives of children like Jacob and Zoey.
 "These are real life stories, real people whose lives were changed forever," she said.