Eucharistic Revival Columns
Jesus Christ invites all to return to the source and summit of faith: his Real Presence in the Eucharist. The National Eucharistic Revival is a movement to restore understanding and devotion to this great mystery. In this series of reflections, columnists share how the Eucharist has transformed them.
Eucharistic Revival
BY JOEY MARTINECK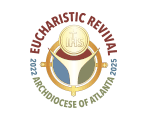 I'm 18 years old and my college roommate calls me over to watch a video clip: a dramatic skit entitled "Lifehouse Everything." Immediately, I'm drawn in by the music and actors. As the scene progresses, I feel my heart do a flip inside my chest.