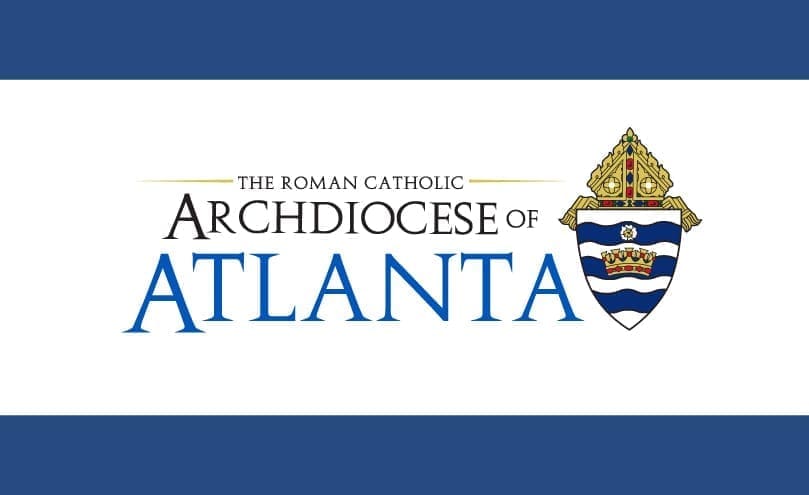 By ANDREW NELSON, Staff Writer
|

Published August 8, 2022

ATLANTA—Meet the new leaders of four Catholic schools—the interim president at St. Pius X High School, Atlanta; the interim principal of St. John Neumann Regional School, Lilburn; and the principals of St. Joseph School, Marietta, and Our Lady of the Assumption School, Atlanta. 
Basketball connects interim president of St. Pius X High School with students
Aaron Parr has paced the basketball court sidelines for more than 10 years, guiding the Golden Lions of St. Pius X High School. He's been coaching the young men as he moved from the classroom to director of enrollment and now the new interim school president.  
For the 34-year-old, mixing it up with the student athletes reminds him of the fun of teaching in the Catholic school even as papers, office work and decisions crowd his desk.  
"Sometimes administration is not always fun, but the kids are fun. So being around them just sort of opens you up to all these things you don't get in your office. Just getting the chance to interact with them is why we should be in education," he said.  
In 2011, five years after graduating as a Golden Lion, Parr returned to St. Pius to coach boys' varsity basketball and teach history. He is also the director of admissions and developed a leadership class for juniors and seniors. Parr has taken the basketball team to six regional championships, three state championship Final Four games and two state champion runners-up. With him as coach, the team has a record of 256–74.  
Parr graduated from the Atlanta high school in 2006. His wife, Katie, graduated in 2007. They have two young children.   
How did you get started teaching? What drew you to pursue teaching in a Catholic school setting? I was an education major at Birmingham Southern College, double majoring in education and in history. I did student teaching at a middle school and a high school and then had the opportunity to come [to] my alma mater, St. Pius, and start teaching and coaching as the head basketball coach. Catholic education was something that had such an impact on me as a student. I thought it was just the dream job to get the opportunity to come back when I was young and so I jumped at the opportunity. 
What's the best advice you've received about teaching, and how have you put it into practice? I think it doesn't matter how much you know, until people know how much you care. And I think that it has to start with your heart being in the right place. I try to really care every day. 
What was your own experience with school, and how does it affect your work? My experience as a student at St. Pius was, first of all, I had teachers that really formed me and teachers really cared about you, both in the classroom and outside of the classroom. They were sort of planting seeds in you. They were mentors. I had a really great experience with that. Here as St. Pius, also, it is just the community, with the support of the parents and the alumni and all the faculty and everything. It's such a good culture here. That really drew me to come back. 
St. John Neumann principal finds reward in helping students push past limitations
Mike Remshik worked as a teacher in a hospital, helping young people keep up with their school work while they received ongoing medical care. Some were hospitalized for months to recover from traumatic injuries while others were undergoing scheduled treatments for sickle cell anemia or other illnesses. 
In these young people, the longtime educator and new interim principal at St. John Neumann Regional School saw resilience and grit.    
"It's amazing to see what these kids are put through and just the trials and tribulations and they come out on top. You know, it's just amazing," said the 45-year-old father of two kids.    
His four years working as an educator at Children's Healthcare of Atlanta focused on two areas: setting education plans for youngsters out of school due to illness and advocating with school districts once a youngster prepared to return to school following a traumatic injury. He estimated serving 1,500 students during his years at the organization. He is starting his 20th year of working in education. 
"For some of the kids with sickle cell disease, even though they were weak in their body, they've made their mind stronger, made their soul stronger, because they know they had to push themselves. They had to work harder to do things that other people just took for granted."  
Remshik has taken his admiration for students who "think deeply" and develop their God-given talents to become the leader of the Lilburn school. He starts as the interim principal after working as the third-grade teacher for two years. 
There are some 340 students attending the school when it opens its doors for the school year.  
He and his wife, Lisa, and two children attend St. John Neumann Church. They live in Stone Mountain.  
Being a teacher is challenging students to push beyond their limits, but always from a relationship of trust, he said.  
"To see that smile or that sense of achievement come across a student's face is priceless! I believe most teachers would agree with me. This is what teachers work for more than anything else," he said. 
How did you get started teaching? What drew you to pursue teaching in a Catholic school? I have wanted to be a teacher since my senior year of high school. During my high school years, I had a few teachers who really were passionate about their subject area, and they worked hard to share that passion with their students.  
I truly believe God's will led me to my job at St. John Neumann Regional School (SJNRCS). I previously worked in public schools and at a local children's hospital as a hospital teacher and education advocate. With the arrival of the COVID-19 virus, the hospital position was eliminated in June of 2020.  This is not normally a good time for a teacher to be looking for a job. Fortunately, a position was available, and I was hired in early July. I truly believe God has a plan for me and he needs me to be here at SJRNCS.   
What's the best advice you've ever received about teaching, and how have you put it into practice? The best advice had to do with getting to know the needs of my students and to be prepared to meet them, if possible. I worked with a teacher who always had extra snacks, clean clothes, toothpaste and other items in her classroom. She always tried to get to know her students and was often surprised by the needs students would share with her. Sometimes it was a simple hug, extra time on a test, or a compliment, but for many of them it went well beyond the common things a teacher would normally provide. This teacher was very well respected and loved by her students and it seemed to me her advice was priceless.   
What is a memory of your time in school and how does shape your work today? I always enjoyed being in a class in which I was challenged academically but knew that I was supported by my teacher. I believe I taught my classes the same way. It was my goal to always push my students to do their best and to challenge them as often as possible. However, I always worked to build a relationship of trust with my students. I believe they understood that they could turn to me for support and guidance when needed.   
What's your favorite lesson to teach?  I always enjoy talking to students about the U.S. Constitution and the Bill of Rights. This past year my third-grade students wrote their own Bill of Rights, and the results were incredible. It was awesome watching my students really think deeply about what was important to them and how they were to write each right in a correct and meaningful manner.   
What part of your job is most difficult? What part of your job is most rewarding? The most frustrating part of being a teacher is seeing someone fail or not work to their potential even though they have all the gifts to do so. It is very difficult to watch someone choose to not work to their potential when you know that there are many other people you have worked with who struggled so much that did not possess the same gifts. The most rewarding part of my job is to see that moment when a student finally gets a concept after putting in a lot of hard work. It is so rewarding to see the stress and frustration lifted from a student. 
Our Lady of Assumption principal wants to foster love and joy of learning 
Student support teacher. Mentor leader. New teacher orientation director. Mandy Crock has worn many hats during her 21 years of teaching.  
She begins her newest role as principal of Our Lady of Assumption School, Atlanta, where she has plans to roll out a red carpet and other special touches to welcome staff and the community of young scholars after the summer break. 
"My goal is always love of learning and feeling happiness and joy coming to school. I wanted them to want to come," she said about her students. Precautions taken to stop the spread of COVID-19 upended the sense of wonder and joy, which she hopes to see return again.  
As a teacher at the school, science was one of the fun ways she provoked delight and revulsion. She fascinated students when she created in the classroom a human digestive system. Food went in the mouth, made its way through the stomach and intestines and came out as waste.  
Students thought it was "terribly horrifying to absolutely wonderful," said Crock, 48. 
"I wanted them to see learning is not all pencil and paper, that learning can be exciting," she said.  
The school was the first place she taught after college. She invited her students to attend her wedding. She worked at Notre Dame Academy for several years, after taking a few years off to raise her children.  
Crock's classroom experience has been in schools shaped by the Marist charism of striving to be "hidden and unknown." She taught at the academy in Duluth for eight years and attended Marist School for high school. Priests from the Society of Mary religious community also staff Our Lady of Assumption Church.  
Educators focus on doing good work, but it is not always recognized, said Crock. Teachers do so much work that isn't always going to be seen or appreciated, but they do it because it is their vocation, she said. 
Our Lady of Assumption School expects to enroll 582 students in the fall. There are nearly 100 faculty and staff members. 
She and her husband Chris have two teenage boys. They worship at Our Lady of Assumption Church.  
What's the best advice you've received about teaching, and how have you put it into practice? Find the balance with teaching so that you can leave your work at work and attend to your family when you get home. Of course, that does not always happen and will be more challenging in this new role, but I always work very hard during the school day making every minute count so that I can enjoy my family when I am with them.   
What part of your job is most difficult? What part of your job is most rewarding? The part of my current role as principal that is most difficult is finding enough time to finish all tasks amidst interruptions. The part that is already rewarding is seeing teachers coming into school to set up classrooms with all of their enthusiasm for creating a wonderful learning environment this year. When I was a teacher, the part that was most rewarding was having students come back many years later sharing with me the impact I had on their life or things that they remember about when I taught them. 
How did you get started teaching? What drew you to pursue teaching in a Catholic school? I started teaching at Our Lady of the Assumption right out of college in 1996. I was raised in a Catholic family steeped in Atlanta Catholic school traditions as my mom went to Christ the King while my dad went to St. Thomas More. They met at St. Pius X. I then attended Catholic school at Marist School, so I knew that teaching about the Catholic faith as was taught to me was an excellent fit. When I was student teaching in a public school, I really missed being able to talk about God and talk about my faith therefore I pursued a job in a Catholic school. 
What is a memory of your time in school, and how does it shape your work today? The teachers that I remember most made learning fun and did hands-on activities. As a former science teacher, I worked to incorporate as many hands-on activities as possible. I was always looking for songs, plays, projects, etc. It was important that my students were engaged and wanted to come to school every day.   
What's a lesson you love to teach in your classroom? Where did the idea come from? There is a lesson that I learned years ago is one where I step on plastic cups in front of the class.  I tell them that the cup is someone's feelings. You can say you are sorry and try to repair the cup, but there will be cracks in it forever just as someone's words will be forever on someone else's mind. 
St. Joseph School to be led by experienced educator
Ramon Villacura is the new principal at St. Joseph School in Marietta after serving as principal at St. Joseph School, Athens, for two years and as an assistant principal for curriculum and instruction at Blessed Trinity High School in Roswell for five years. 
Villacura was a world language and literature teacher, a member of school leadership teams in the past and also worked in business and educational consulting, combining his Master of Business Administration with a master's degree in school leadership. 
Prior to coming to serve in the Archdiocese of Atlanta, he taught at Charlotte Catholic High School in Charlotte, North Carolina, and previously as a Spanish teacher in the Charlotte Mecklenburg Schools. In the Diocese of Charlotte, he was involved in analyzing students' performance data, integrated technology in the classroom and mentored new school staff members.  
A native of Chile, Villacura has received several teaching awards and was active in coaching high school rugby in North Carolina.  
He reflected, in a 2015 interview with The Georgia Bulletin, about being a principal. 
Villacura said that "being granted the opportunity to help our children to believe that there is room in our lives for faith, caring, service and innovation," is the best part of the job.  
Villacura has been inspired by many educators throughout his life to inspire making learning exciting. 
St. Joseph School serves approximately 415 students in pre-K4 through the 8th grade. 
What's the best part about being a principal? Being granted the opportunity to help our children to believe that there is room in our lives for faith, caring, service and innovation. I am so excited about being able to help them to believe in service to others for the greater glory of God. 
Please tell us about a special teacher who inspired you to become an educator and how the teacher did it? I had a professor in college that helped me to understand learning/school does not have to be boring. We just need to make sure we are reaching out to every kid, focusing on their special gifts and talents. That way we will never have a kid without the desire to learn. On another hand, I also learned from him the school is as good as its teachers. A happy and dedicated teacher will have happy and dedicated students; so we need to make sure we help our teachers to be happy with what they do. 
What was a summer job you had as a teenager? I cleaned pools. At that time there were no special filters, so we had to empty the pool and clean with giants swabs and detergents. It was exhausting. I brought a sandwich to the pool manager to secure the job. I was 13. 
What are two ways parents can help teachers educate their children? Go to church every Sunday and come to see what we do in our school to educate your child.