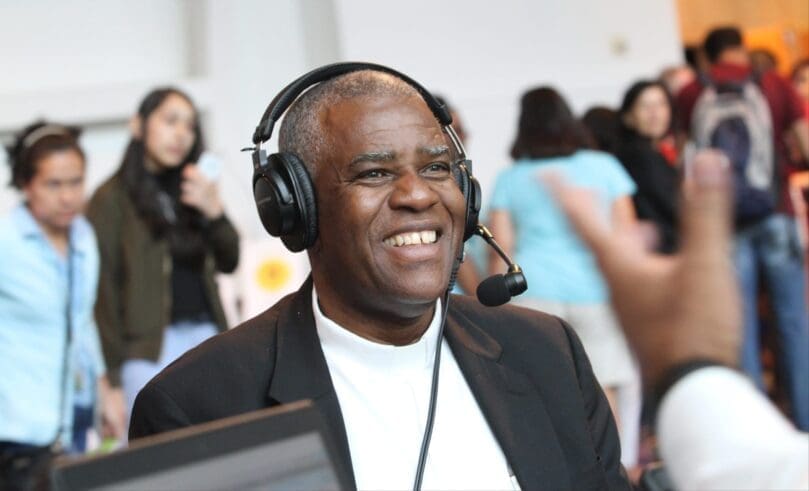 By NICHOLE GOLDEN, Editor
|

Published February 22, 2022

|

En Español

ATLANTA–Pope Francis has accepted the resignation of Bishop Robert E. Guglielmone, 76, from the Diocese of Charleston, South Carolina, and has appointed Father Jacques E. Fabre, CS, as Bishop-designate of Charleston.

Bishop-designate Fabre is a priest of the religious order, the Missionaries of St. Charles (Scalabrinian Fathers), and serves as administrator at San Felipe de Jesús Mission in Forest Park. He is the local superior of the Scalabrinian priests in Atlanta.

He will be the 14th Bishop of Charleston. The Diocese of Charleston introduced the bishop-designate at a Feb. 22 news conference. Archbishop Christophe Pierre, apostolic nuncio to the United States, publicized the appointment earlier that morning in Washington, D.C. As required by canon law, Bishop Guglielmone turned in his resignation to the pope when he turned 75, on Dec. 30, 2020.

Bishop-designate Fabre was born in Haiti in November 1955, one of six children. He immigrated to New York City while he was in high school and completed his secondary school education. He attended St. John's University (Jamaica, New York); St. Michael's College (Toronto, Ontario, Canada); He received a master's degree in divinity and a licentiate in human mobility (migration) from the Pontifical Urbanian University in Rome.

He was ordained a priest in October 1986 at St. Theresa of Avila Church in Brooklyn, New York by then-Auxiliary Bishop Wilton D. Gregory of Chicago.

Since his arrival in the Archdiocese of Atlanta in 2006, Father Fabre's ministry has included assignments as parochial vicar at St. Joseph Church, Athens, and at Holy Trinity Church, Peachtree City. The bishop-designate has served as administrator of San Felipe de Jesus Mission since 2008. He also served as spiritual director to the Hispanic Charismatic Renewal in Atlanta.

Prior to ministering in Atlanta, Father Fabre served as pastor at San Pedro de Macoris parish in the Dominican Republic from 1991-2004, as a chaplain to the Haitian refugees in Guantanamo, Cuba from 1990-1991 and as a parochial vicar at Our Lady of Guadalupe Church in Immokalee, Florida from 1986-1990.

The Congregation of the Missionaries of St. Charles–Scalabrinians–is an international community of religious serving migrants and refugees of different cultures, religions and ethnicities in 32 countries on five continents.

Archbishop Gregory J. Hartmayer, OFM Conv., of Atlanta said Father Fabre is a talented priest and will be a wonderful new shepherd of that local church.

"I wish to offer my sincere congratulations and blessings to the people of the Diocese of Charleston, South Carolina," said the archbishop about the bishop-designate. "His devotion to those on the margins–especially refugees, immigrants and detainees–tells you a little something about his commitment to the work of the church. He encouraged and accompanied the members of San Felipe de Jesus parish, in Forest Park, Georgia, as they raised their own funds to build a sanctuary for their congregation.

While we will miss him here in the Archdiocese of Atlanta, this appointment is great news for the Diocese of Charleston and the church in America."

Since 2010, Bishop-designate Fabre has served as a member of the Archdiocese of Atlanta's Finance Council, the Budget and Operations Committee and the Projects Review Committee. He is fluent in English, Spanish, Italian, French and Creole.

The Diocese of Charleston is comprised of 31,189 square miles in the state of South Carolina and has a total population of 5,148,714 of which 192,764 are Catholic.

In the introductory news conference, held on the Feast of the Chair of St. Peter, Bishop Guglielmone said it's been a delight to meet and talk with his successor.

"Thanks to the Holy Father for this great gift to the Diocese of Charleston," said the bishop.

Bishop-designate Fabre recalled the words of his mother when he first shared news of wanting to be a priest. "If you're going to do it, do it right," she told him."

He thanked the Holy Father and the nuncio for trusting him for the role from "among better priests."

Bishop-designate Fabre said he was chosen because of something the mother church is seeing that he is unable to see.

"So together, we're going to learn what it is, to search what it is, so we can together be a testimony to God's love," he said.
---
Editor's Note: Bishop-designate Fabre's ordination to the episcopacy is scheduled for Friday, May 13.