By ANDREW NELSON acnelson@georgiabulletin.org
|

Published November 11, 2022

|

En Español

CEDARTOWN—In their brown robes, matching colored veils, rope belts and large crosses around their necks, these women stand out. During shopping trips to the local grocery store, people stop to ask about their clothing.

"We heard it a lot. (People say), 'We just see in movies and TV these kinds of things.' So, it's very beautiful. People from other religions, yes, they are not Catholics, but they want to understand what we are, what we do," said Sister Antonella of the Holy Cross.

She is one member of a community of women from the far side of South America inspired by the love of Jesus for those he called "the least." The Sisters Poor of Jesus Christ live together, pray together and seek to be of service to those who ask for it. Their religious clothing is a color palette that emphasizes humility.

Since arriving in early 2022, these four sisters have taken up residence in downtown Cedartown. They have brought life back to the former Catholic Church, now called Fraternitas St. Katharine Drexel. The building was once the parish of St. Bernadette, which relocated two miles away to a larger sanctuary in 2018.

The 80-seat chapel is available for prayer. The large community room with comfortable chairs and a couch is a sanctuary for anyone who wants to talk with the sisters. The former parish parsonage is now reserved for the sisters' living space.

As natives of Brazil and Paraguay, their focus is learning the English language, spending hours a day in online lessons. They have also made friends in the community, visit families, lead spiritual retreats at St. Bernedette Church and assist people who knock on their door asking for food from a modest closet of goods.

"God is guiding our project. We are here looking to what God wants," said Sister Bernarda of the Supplicant Jesus.
Community life based on St. Francis
The women's religious community started in Brazil 21 years ago. Its sisters also serve in South America, Africa and Europe. The community opened its first U.S. convent in Kansas City about 10 years ago.
Using their spiritual names, the members are Sister Neriah of the Immaculate Conception, the house superior; Sister Cecilia of Immaculate Mary, Sister Antonella of the Holy Cross and Sister Bernarda of the Supplicant Jesus. The custom in the community is the women adopt new names before professing their vows. It marks a person's entry into a new way of life.
Their ministry is inspired by St. Francis of Assisi, with attention paid to women, men and children living on the margins—"the Word made man—poor in Bethlehem, anonymous in Nazareth, a pilgrim on the streets, abandoned on Golgotha, resurrected by the Father, and glorified together with him," according to the community's guiding charism.
Its members take the vows of poverty, chastity and obedience, with a fourth of availability, "at the service of people, preferably of the poorest."
While much of the work is aimed at the materially poor, it is not always the case. The community leader Sister Neriah said well-meaning people can be spiritually poor if they get trapped with the idea that happiness comes from possessions.
"That happiness is found in little and simple things," she said.
Their day begins around 6:50 a.m. with the first community prayer of the day. The sisters gather three times daily for the Liturgy of the Hours and an hour spent in prayer with the Blessed Sacrament. Three hours of the day are reserved for their online English lessons.
Hispanic community grows
The Catholic community in Polk County with its population of 42,000 has grown. The county, with Cedartown its county seat, is about 60 miles west of Atlanta, on the state line with Alabama.
In 20 years, Catholics have increased from about 1 percent of Polk County to almost 8 percent in 2010, the most recent figures, with an upward trajectory, reported the Association of Religion Archives. The increase is fueled by the nearly 5,600 Hispanic members of the county, about 13 percent of the population, according to the U.S. Census Bureau.
At St. Bernadette Church, two of the three weekend Masses are celebrated in Spanish. The church seats more than 500 people.
Father Timothy Gallagher, the pastor of the parish, said people have united around the sisters, from enjoying their Brazilian desserts and learning from them to financially supporting their mission and feeling empowered by their witness to the Gospel.
"The sisters' public testimony to the Catholic faith has helped people to have more excitement and encouragement to live their faith. They have brought a spirit of joy through their youthful presence and by courageously wearing their habits. Everyone loves the sisters! They are the talk of the town and it's great that they give everyone something positive to talk about," Father Gallagher wrote in an email.
For two years, the Knights of Columbus St. Bernadette Council #16534  hosted a "Nuns on the Run" fundraiser. In October, scores of people laced up their shoes to run from 1 mile to 6 miles to raise money for them. In the end, some 60 people contributed more than $5,000.
Service in religious life motivating
Sister Antonella, 32, grew up in Brazil with a farmer father. Her mother stayed at home doing odd jobs. Her parents separated when she was a child, so her faith life was shaped by her maternal grandmother. As a young adult, she was active in church and wanted to put her college degree in law to practice. She was checking the boxes for success, living away from family and working at her first job. But still, she felt something wanting.
She helped the sisters when they came to give a retreat and that's when it changed. For Sister Antonella, religious life became more appealing as months went by. Watching how the women lived the Gospel by spending time with women and men struggling with drug addictions drew her in.
She lived with the community in 2016, overcoming initial family resistance. She professed vows four years later.
Sister Bernarda, 24, is from Paraguay. Her native city is home to the Shrine of Our Lady of Caacupé, as famous in her country as the shrines of Fatima and Lourdes.
At home, her mother cleaned houses and her father grew and sold plants and flowers. Her family had financial struggles, sometimes turning to the local convent of Sisters of Charity to make ends meet. They also volunteered with the sisters, helping others.
She had a career path in mind to work as a medical examiner in forensics, starting as a police officer.
A lecture on the Shroud of Turin, the linen with a faint image of a bearded man some believe was Jesus's burial cloth, turned her mind to faith. For the then-teenager, the description of the shroud, the man who it wrapped and the talk of Jesus' resurrection raised questions. The desire for police work became unmotivating, she said.
She got to know the sisters doing street ministry.
"They didn't judge why are they homeless, why they have drug addiction. They loved them," she said. "I saw the death, the addiction—but I saw the Resurrection."
That spoke more to the young woman's heart than policing.
It was the Franciscan way to balance service and prayer, she said.
"You pray and then you go out," said Sister Bernarda. "When you are doing nothing, you can come back and pray."
Open to God's surprises
According to the Center for Applied Research in the Apostolate, in 2020, 75 women entered religious life in the United States. Their median age was 34, reported the organization at Georgetown University.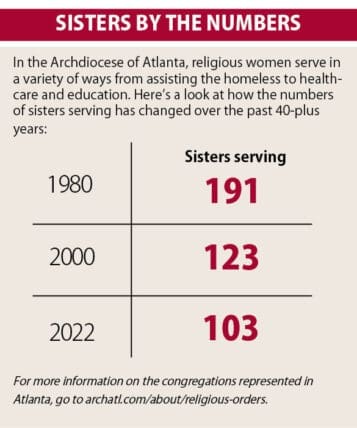 The Cedartown Sisters Poor of Jesus Christ community is made up of women ranging in age from 24 to 32. Some 50 women entered their community with Sister Antonella and Sister Bernarda. In 2020, 39 women took their first vows.
Asked about entering the community as a teenager, Sister Bernarda said, "I don't regret offering my youth to God."
God calls people according to needs of the times, so if others see young people working it may inspire them to service, she said.
"Don't be afraid to ask God in silence," she said.
For Sister Antonella, she found once her vocation to religious life was confirmed, other choices in life that seemed monumental felt less important. She said women should take a moment, pray and be open to understanding what adds joy and happiness to life.
Don't be afraid if the answer from God surprises you, she said.