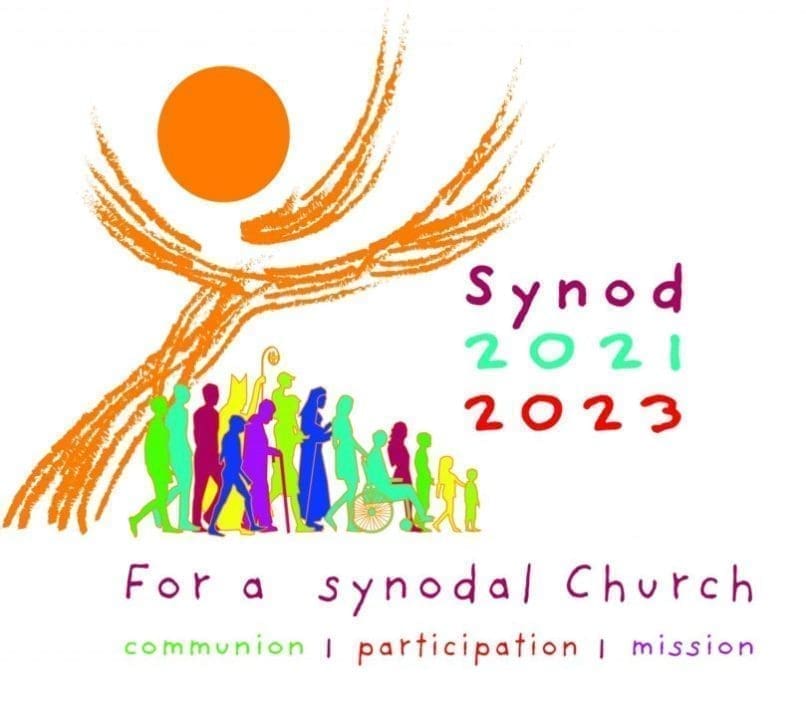 By ANDREW NELSON, Staff Writer
|

Published February 16, 2022

DECATUR–Like many Catholics, Monica LaBelle's faith life was disrupted by the pandemic. Masses were online, leaving in her a deep longing for the Eucharist. There were few chances to support or greet parish friends.  

After the upheaval, this spring's listening sessions as part of the global church's synod is an "unprecedented opportunity" to reconnect and envision what parish life can look like, said LaBelle, one of the lay organizers for the synod conferences at St. Thomas More Church.  

"This is how you can meet (parish members) where they are and how you can listen to them and understand how you could be of service to minister to them in this particular moment. It sounds tedious and it sounds hard, and it sounds abstract, even academic, but that's what it is. It's an opportunity to have a dialogue," said LaBelle, who is 47 and works as a scientist at the Centers for Disease Control and Prevention. 
A vision of Pope Francis
Pope Francis called for a period of listening and dialogue to rejuvenate the church. The Synod on Synodality is two years of prayer and listening that began in Rome in October 2021.  
This spring, parishes around the globe are opening their doors to hear from people who fill the pews and are finding ways to listen to those who no longer feel connected to the church. 
The Catholic community in the Archdiocese of Atlanta is moving into the public phase of the synod, as believers gather in church halls and online for prayer-filled moments to understand "communion, participation and mission," a focus of the worldwide program.  
For some, this synod presents an opportunity to reconnect with members whose Mass attendance waned during the pandemic. 
During the pandemic, polling revealed a new line had been crossed as people reported leaving churches and houses of worship. Fewer than half of Americans in 2021 said they belonged to a church, synagogue or mosque, down from 70 percent in 1999, reported Gallup.  
And according to Pew Research, some two out of three Catholics report attending Mass "a few times a year or less."  
The archdiocese has hosted online training for more than 60 people, in Spanish and English, for facilitating listening sessions. 
The facilitators will serve at their parishes to support and run sessions as believers "gather as the body of Christ, to pray and to listen to each other," said Monica Oppermann, who works in the archdiocesan Office of Evangelization and Discipleship.  
Some 2,200 people have answered questions on an online survey issued by the archdiocese. A print version of the survey will be published in The Georgia Bulletin in March. Regional listening sessions by deanery have also been scheduled. 
The responses from listening sessions and surveys will become part of the national contribution to the global discussions among bishops in 2023.    
Value in rebuilding community  
At St. Thomas More Church, the parish council members got an early taste of a synod listening session when they gathered to experience the event for themselves. For LaBelle, the event showed these conferences can shape the local parish. 
"There is also something to be gained, something enormous, really potentially, at the parish level, which is that this is a chance for us to grow closer together ourselves as a community," she said. 
Within these listening groups of several people, frayed bonds can be rebuilt, she said. The parish is asking participants where are the "joys" and the "wounds that need to be brought to light" in their church experiences. Finally, they are asked where they feel the Holy Spirit is guiding them and the whole church. 
While people may be uncertain, longtime parishioner and organizer Jane McNabb encouraged people to trust the process. "Be not afraid, the Holy Spirit goes before us and with us," she said. 
The Decatur parish and its 1,600 families are taking steps to ensure the voices of smaller groups are heard. Sessions are being held for its immigrant communities, Croatians, as well as Africans.  Parishioners are asked to invite family and friends who are no longer affiliated with the church to participate as an attempt to further connect with former Catholics who attend other Christian churches or none at all. Members of the parish school are also invited to a listening session.  
Jesuit Father Robert Hussey, the pastor, said he is eager for the sessions and what may be revealed.  
"There's all kinds of potential for success here. Who knows what the Spirit's going to do for this?" he said. "I am basically just open to what might happen. I'm not coming into this with foregone conclusions." 
Feeling solidarity with the universal church
 Teenagers at St. Lawrence Church in Lawrenceville will have a night of their own, along with three sessions in Spanish and five sessions in English. There are nine sessions taking place, with seven in the church and two conducted virtually in March.  
"They are the church. They are not the future of the church, they are the church," said Elizabeth Chinery, the parish faith formation director, about the high schoolers. Their voices and experiences need to be listened to as the church comes together. "They have something to say. We wanted to give them the opportunity to say it," said Chinery. 
To raise awareness of the gatherings, the prayer for the synod is said aloud at every Mass at this Gwinnett parish of 3,000 families. It is promoted to the community through bulletin messages and homilies. The parish website shares information about the upcoming sessions, in addition to the Vatican documents outlining the experience.  
The gatherings, she said, will allow people to share "their hopes and dreams" in a way to feel solidarity with the church, she said. People need to feel valued to build a relationship with faith institutions so they can share their hearts and be listened to, she said.
People with misgivings about the synod should prayerfully spend time with God and ask for guidance to consider contributing their experiences to the church, said Chinery. "There is still time and God has a plan," she said. 
Strengthening pastoral leadership
Pastor Father Henry Atem believes the Holy Spirit will guide the success of the synod if people allow it. It is the time to add meaningful reflections on being a Catholic, with its joys and challenges, he said.  
These efforts can only help pastors serve their congregations, said Father Atem. Since pastors sit at the critical junction between the laity and the institutional church, the synod can be one way to improve their leadership by hearing how the faith is lived, he said.  
The pandemic caused the typical faith life to be upended. But LaBelle said new opportunities to serve bloomed as the St. Thomas More Church community responded to needs. Virtual retreats online kept people engaged. Opportunities to check in on people living alone sprung up. This synod has the chance to bridge the old with these pandemic experiences of faith, she said.
"If we can get a critical mass of people to participate and allow a lot of space for that trust, we will grow closer as a community. We will," said LaBelle.
---
Learn more about the global conversation—the Synod on Synodality—at the Atlanta Archdiocese: https://archatl.com/synod/. If you are unable to attend an in-person listening session, a survey may be taken online at the site.