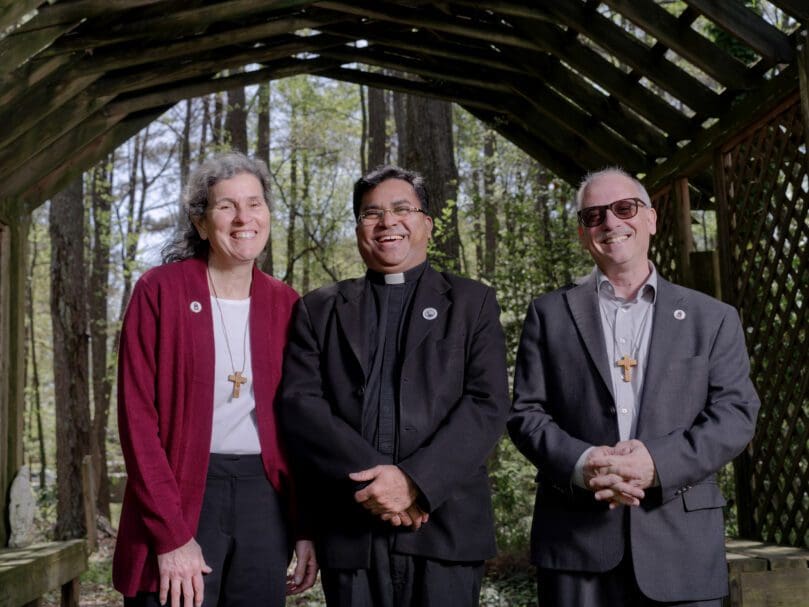 By ANDREW NELSON, Staff Writer
|

Published April 14, 2022

ATLANTA—This prolific author penned life lessons that'd be ideal for any car's bumper. 

"A spoonful of honey attracts more bees than a barrel full of vinegar."  

"Be who you are, and be that well."  

"Bloom where you are planted." 

Credit the 16th century clergyman St. Francis de Sales who shared insights in books and pamphlets to form what has been called spirituality for the imperfect.  

It's his inspiration with a gentle approach to faith that inspired the inaugural group of Fransalian Associates.  

"I wish I had this earlier when I was raising my kids," said Diane Maguire, a mother of five. "It's a very encouraging attitude toward faith."  

The saint's spirituality is praised for the practical guidance it offers contemporary life.  

The Fransalian Associates offer a new way for believers to embrace the vision of St. Francis de Sales in their everyday lives. Three dozen men and women from Florida, Tennessee and Georgia recently completed a program of learning about the saint and his spirituality.  

For Louis Zurzolo, 56, the attraction was a spirituality that is "optimistic, rational and practical."  

During the time of the saint, holiness was believed reserved for religious life, as a clergyman or lived in a convent. St. Francis de Sales saw it differently, believing it is found "in every station in life," said Zurzolo, who has an insurance business.   

"You grow in holiness where you are," he said. 
Virtues dear to the saint 
The associate program began in the lock-down of the pandemic. Thirty-three men and women met virtually to learn, read and discuss the works of St. Francis de Sales. Priests from the Missionaries of St. Francis de Sales shared insights into the man and his understanding. The program is the work of the missionary community.   
Zurzolo called the experience a "mini seminary." He said the meetings were "very informative, but it put a little demand on us to be intellectual."  
Zurzolo said the classes and instructors united the program with a global community.  
"I felt like I entered a larger world," he said.   
On the saint's January 24 feast day, the associates promised "to practice the little virtues of patience, humility, gentleness, simplicity, honesty and hospitality that were so dear to the heart of St. Francis de Sales."   
Bishop Joel M. Konzen, SM, along with many priests from the Missionaries of St. Francis de Sales, marked the completion of the nearly one and a half years of study with the community at St. Marguerite D'Youville Church in Lawrenceville.  
Priests of the missionary religious community staff two parishes in the Archdiocese of Atlanta—St. John Neumann Church, Lilburn, and St. Marguerite D'Youville. They also serve in Florida and Tennessee. The community was founded in 1838 in France inspired by the words of the saint, and it now ministers around the world. The missionaries work in 13 states with its national headquarters in Loganville.  
Father Tomy Puliyanampattayil Joseph, MSFS, said the global congregation planned to start the associate program together, but COVID interrupted the larger plan. In the United States, the program made changes and continued to meet. What was going to be 24 meetings became 17, he said. The next program is scheduled to begin in September.  
The interior lives of the newly consecrated will be shaped by spirituality. The way they live, and the work they do, will attract people to Christ, he said.  
Each associate received a small wooden cross, with the Holy Spirit as a dove resting on the heart of Jesus, along with a lapel pin. The cross is given to every member of the missionary family. 
A practical way to live  
Trudy Turner, 68, retired after a career working in a hospital laboratory. She has long been interested in this spirituality. She belongs to a Fransalian study group at her parish in Lawrenceville, St. Lawrence Church.   
A foundational book she read to better understand the spirituality is St. Francis' "Devotion to the Spiritual Life." The book contains his letters as a helpful guide to people through gentle suggestions.  
Turner serves as a counselor with Stephen Ministry, helping people going through a crisis. She brought communion to area hospitals before the COVID-19 pandemic. The values promoted by the associates are instrumental in those ministries, she said.  
"It's a very practical way to live our lives," added Turner.  
St. Francis de Sales suggests doing all things in love "whether washing the dishes, cooking a meal or offering help with the church garage sale," she said. "It colors what we do at home, at church and in the world."  
For Maguire, this spiritual focus would be great for newly married couples or young families, to be generous with grace and forgiveness for each other. She is the director of adult faith formation at St. Lawrence Church.   
She first learned about the saint when earning her master's degree in theology decades ago. This time she did the program with her husband, Bill.  
St. Francis de Sales wrote it specifically for the people of his world and its relevant for the world today, she said. It is "spiritual common sense" giving believers a way to be realistic and patient with themselves and others as they navigate life."  
Paul Scibona, 69, a retired Delta Airlines pilot, attends Lilburn's St. John Neumann Church where he's seen the work of the Missionaries of St. Francis de Sales in action. He saw a joy and simplicity in their outlook which first drew him to a study group and then the associates, he said.   
Each person has a different way of devotion, but "whatever stage we are in our life we must strive for perfection," he said.  
The idea is that each person has a unique call and they should respond to it in the most positive way. 
"Have patience with all things, but, first of all with yourself," said Scibona.  
---