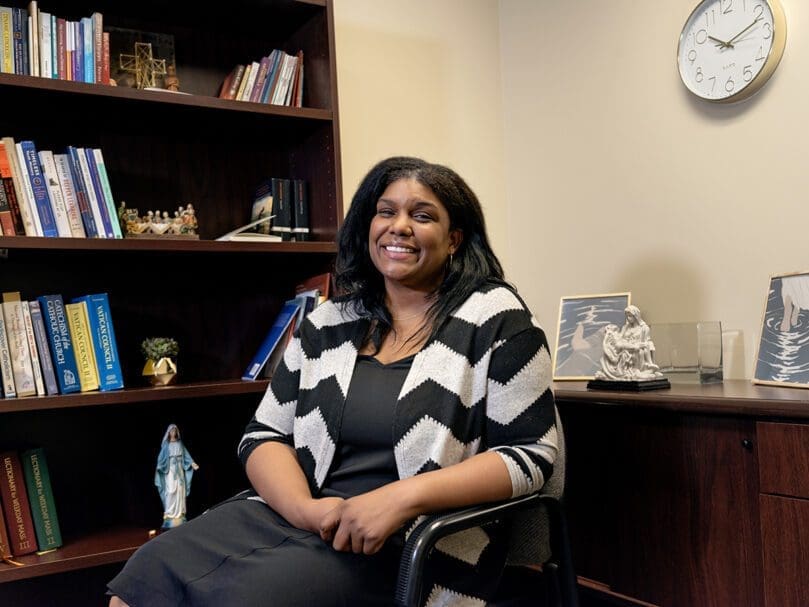 By SAMANTHA SMITH, Staff Writer
|

Published August 3, 2022

ATLANTA—Local school leaders and educators will find additional support from Tonya Shoemaker, the new coordinator of faith formation for the Office of Catholic Schools. 

Strengthening the Catholic identity and professional development at the schools is a main priority for the new coordinator, said Hal Plummer, superintendent of schools for the Archdiocese of Atlanta.  

Shoemaker's tasks will include leading principal meetings and reviewing the religion curriculum for the 17 archdiocesan schools and six independent schools. 

"I hope that Tonya is able to share the joy of her faith with our Catholic school leaders across the archdiocese and be a resource to them as they move forward with the professional development of their teachers, faculty, school communities and on a wide variety of subjects related to the Catholic identity of the school," said Plummer.   

Born in Germany to a military family, Shoemaker has lived in Georgia since she was a toddler. While her hometown is Columbus, she moved to the Atlanta area to attend college. She entered the Catholic Church her sophomore year while an undergraduate student at Georgia State University. She earned her master's degree in theology from Spring Hill College. 

For 18 years, Shoemaker worked at Our Lady of the Assumption School in Atlanta. She began as an after-school aide and was later promoted to coordinator of religious education, where she served for 17 years. In this role, she planned Masses, liturgical events, retreats and all other faith formation activities. She also taught middle school students before becoming assistant principal last year.  

Her favorite experience from working at the Atlanta school and being a parishioner of Our Lady of Assumption Church is receiving communion from former students during Mass.  

"You have such a part of giving them the faith and then to have them return and give Christ to you—it's what we're supposed to do as a church," she said.  

In her new role, Shoemaker looks forward to being an additional resource for schools and collaborating with other ministries, such as the Office of Evangelization and Discipleship. In this first year, she hopes to meet with teams from all of the schools. 

She will also be the guest speaker at Transfiguration Church in Marietta on Saturday, Aug. 27, providing practical advice to improve youth participation, behavior and overall engagement in ministry programs, classrooms and at home. 

"This first year is more about making sure people know that I'm here to support and being open to whatever opportunities God presents for us while we're building lifelong faithful disciples," she said.