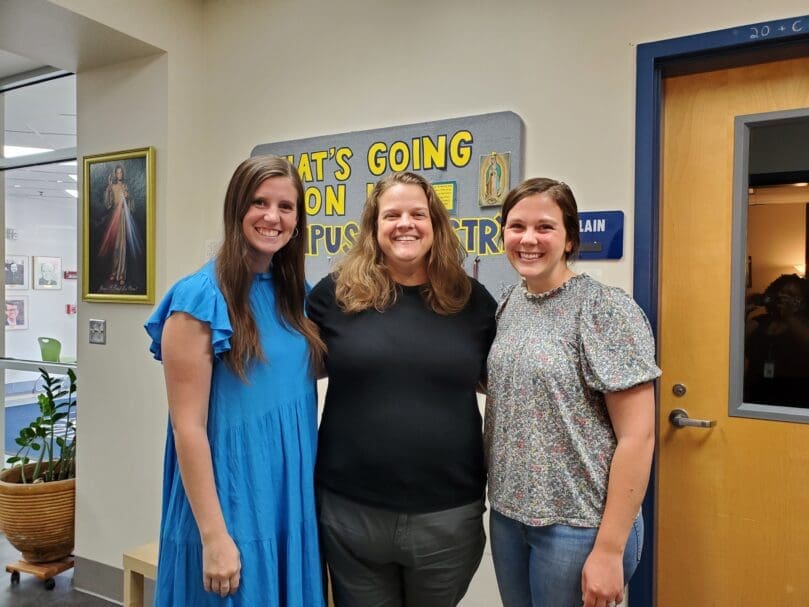 By SAMANTHA SMITH, Staff Writer
|

Published August 4, 2022

ATLANTA—Prayers, care packages and welcome back treats await St. Pius X High School faculty and staff when they begin the new school year Aug. 5. 

For Susan Baker, director of campus ministry for the Atlanta high school, making the Golden Lions community aware of the new ministry and listening to their needs are top priorities. 

"Campus ministry is relational ministry," said Baker. "It's about ministering to the kids, the faculty, the staff, the parents … the community at large." 

Baker is new to the St. Pius X High School community, but not to youth ministry. She has been a youth minister for 15 years, which includes working at St. Mary Magdalene Church in Newnan for five years and St. Philip Benizi Church in Jonesboro for the past 10 years.  

In 2021, she was awarded the Companions on the Journey Award, one of the highest honors given to a youth minister, by the Office of Evangelization and Discipleship in the Archdiocese of Atlanta. 

As director of campus ministry, Baker looks forward to learning more about the St. Pius X school community, planning retreats and working with counselors to provide spiritual and mental health support.  

"I want campus ministry to be the rock, to be that foundation for the school for any of their spiritual needs," said Baker.   

Due to a priest shortage in the archdiocese, full time high school chaplains were removed from all three Catholic high schools beginning this academic year. In response, the schools created campus ministry teams to support the spiritual life of their communities. 

In a letter to parents about the new campus ministry program, Archbishop Gregory J. Hartmayer, OFM Conv., shared details on the challenges of priest assignments amid shortages. 

"I wish we had enough priests to staff every ministry in this archdiocese. The sad reality is that we do not," he wrote. "Last year eight priests left active ministry for this archdiocese for retirement, assignment outside the archdiocese, sabbatical or a leave of absence. We ordained four new priests this past May. Unfortunately, this has been the pattern for the last few years."  

All three of Atlanta's bishops and several priests have committed to serving the school through scheduled Masses, retreats and talks in absence of assigned chaplains.  

The archbishop also wrote about the hope he has for the new campus ministry approach to maintain a strong faith life in the schools.  

The purpose of high school campus ministry is to provide spiritual programs for students and the school community rooted in the Catholic faith.  

"We've been fabulously blessed with great chaplains," said Hal Plummer, superintendent of schools for the Atlanta Archdiocese. But due to the shortage, the Office of Catholic Schools is developing ways to enrich campus ministry, he said.  

With chaplains removed from the high schools, Archbishop Hartmayer has encouraged priests to visit the schools when contacted throughout the year for "deeply rewarding" experiences. 

"Among the many blessings it offers is the opportunity for you to interact with students from your parish, encourage vocations and serve the educational apostolate of this local church," he said in a letter to priests.  
Sacraments, service, fun
Superintendent Plummer said there's excitement about the new campus ministries.  
"They're ready to roll," he said.  
High school campus ministry is not new for Anne Birth, who previously worked as the campus ministry's assistant at Blessed Trinity High School for 13 years. She also has a certificate in spiritual direction from Fairfield University. 
After leaving the assistant position, she worked as pastoral care coordinator for St. Anne Church in Marietta and was a nurse for Life Teen summer camps. 
Birth plans to bring her experience back to the Titan school community in her new role as director of campus ministry. For her, returning to Blessed Trinity feels like "coming home." 
"I am excited to be back at Blessed Trinity because I love to hear students talk about their relationship with God and I am committed to helping that friendship grow through sacraments, service and fun," said Birth. "I am excited to be the director of campus ministry at Blessed Trinity where I am inspired by the love and dedication of the students, faculty and staff." 
Campus ministry staff at Blessed Trinity and St. Pius X high schools includes a director of campus ministry, administrative support and a coordinator of pastoral services, who will reach out to local clergy to arrange for school Masses, to hear confessions and support additional spiritual events. Over the next few years, the schools plan to hire an additional full-time campus minister. 
Christine Krabel will serve as the religion coordinator, leading the campus ministry at St. Mary's Academy, which serves students from Pre-K thru 12th grade. The school's campus ministry team consists of five additional staff members. 
Krabel has taught for nearly 10 years in Georgia, with seven of those being in Catholic schools. She was the middle-school youth minister for six years at St. Gabriel Church in Fayetteville.  
"[I] am so eager to work together with the entire staff to enrich our school's Catholic identity," said Krabel. "I am also grateful to join a well-established campus ministry team that is enthusiastic and dedicated to the spiritual and faith formation of our students." 
For Baker, her new schedule will include St. Pius X home sports games, concerts and theater productions. 
"I want to go and be a part of everything so that [students] know that I see them and they have value and they have worth," said Baker. "What they put their heart into is important to them and it's going to be important to me."