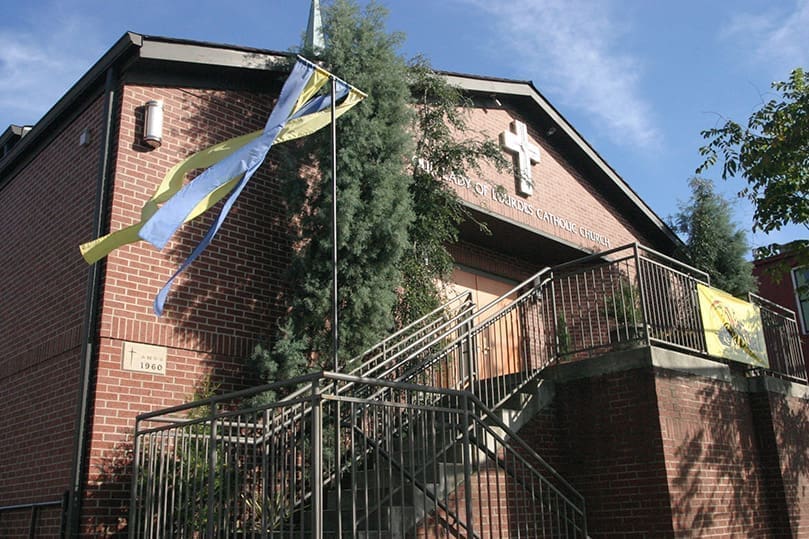 By SAMANTHA SMITH, Staff Writer
|

Published November 10, 2022

ATLANTA—Our Lady of Lourdes Church, near Old Fourth Ward and The King Center, will celebrate its 110th anniversary this November.  

The parish was founded by Rev. Ignatius Lissner of the Society of African Missions.  It was funded by St. Katharine Drexel of the Sisters of the Blessed Sacrament to help serve Black and Indian people. The three-story building for the parish and school was dedicated on Nov. 22, 1912. 

Known in the community for its choir, the celebration will begin with an Anniversary Music Concert on Friday, Nov. 18 at 7:30 p.m. Song selections will include music by Kenneth W. Louis, who served as the parish's director of liturgy and music for five years. Louis died in 2020. Guests are asked to bring donations for meal kits that will support Mercy Care. Free tickets are available online at tinyurl.com/ys8daku8. The concert will be livestreamed on the parish's website. 

On Saturday, Nov. 19, from 9 a.m.-noon, volunteers will gather for Donuts and Day of Service. The two service projects are tending to the parish garden and assembling meal kits for Mercy Care. Meal kit assembly is suitable for persons with physical limitations. Sign up to participate online at tinyurl.com/3x9vnkjd. 

The anniversary weekend will conclude with celebration Masses on Nov. 19, at 5 p.m., and Sunday, Nov. 20, at 8 a.m. and 10:30 a.m. The later Sunday Mass will be livestreamed.  

All events will take place at Our Lady of Lourdes Church, located at 25 Boulevard NE, Atlanta. For more information, contact the church office at 404-522-6776 or visit lourdesatlanta.org.