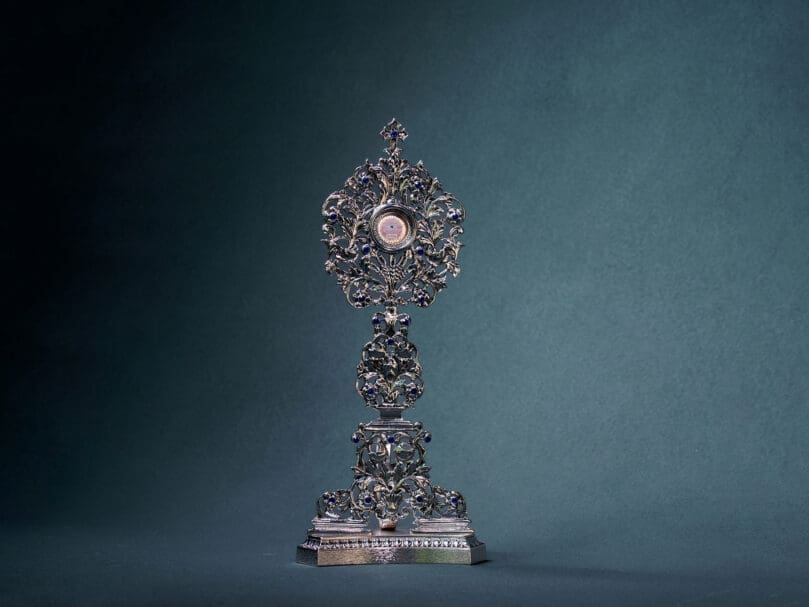 By SAMANTHA SMITH, Staff Writer
|

Published October 27, 2022

ATLANTA—A relic of Blessed Carlo Acutis now has a permanent home in the Archdiocese of Atlanta. 

In late September, Archbishop Gregory J. Hartmayer OFM Conv., along with Father Gerardo Ceballos, visited Rome for the transitional diaconate ordination of seminarian Nicholas Le. As part of the trip, Archbishop Hartmayer visited the Basilica of St. Francis in Assisi, where he asked the permission of Bishop Domenico Sorrentino of Assisi to visit the body of Blessed Acutis.  

When the archbishop arrived at the Church of Santa Maria Maggiore, home of Blessed Acutis' tomb, he knelt and said a prayer.   

"It was such a holy experience to pray in the special place," said Archbishop Hartmayer.   

With a simple ask of the local bishop, the archbishop received the relic of the millennial on the path to sainthood. It is a first-class relic, a piece of Blessed Acutis' skin.  

"I was humbled to receive a first-class relic," said Archbishop Hartmayer. "It is a precious gift from the Bishop of Assisi." 

The relic may be placed at the Cathedral of Christ the King in Atlanta. 

Acutis was born in 1991 in London. Shortly after birth, his family moved to Milan, Italy. At a young age, he had a love for praying the rosary and enjoyed going to Mass as often as he could. He frequently asked his parents to take him to places associated with the saints and eucharistic miracles.  

The young man was known for defending students at his school from bullies, especially students with disabilities. Interested in computer programming, he built an online catalog to promote eucharistic miracles.  

As a teen, Acutis was diagnosed with leukemia. He died in 2006 at the age of 15, being buried in Assisi at his request due to a love for St. Francis. His cause for canonization began in 2013. He was designated "venerable" in 2018 and "blessed" in 2020. An additional miracle is needed to be canonized a saint.  

Archbishop Hartmayer said that Carlo Acutis' close union with God can be emulated by all through five simple and constant practices: "frequent reception of the Eucharist, eucharistic adoration, the guidance of a spiritual director and regular confession, entrusting oneself to the Blessed Mother and the inspiration of the saints and acts of charity."  

The veneration of relics dates back to the early history of the Catholic Church. Historic accounts show the faithful visiting burial places of saints and martyrs, where miracles occurred. Relics are displayed in a special manner and are available for veneration in stationary locations or as a traveling presentation. 

"Pieces of a bone, hair or skin of a blessed or saint enable the faithful to feel the closeness to a person who has been declared by the Church to have lived a holy life and has brought others closer to Christ because of their faithfulness to the values of the Gospel," said Archbishop Hartmayer.