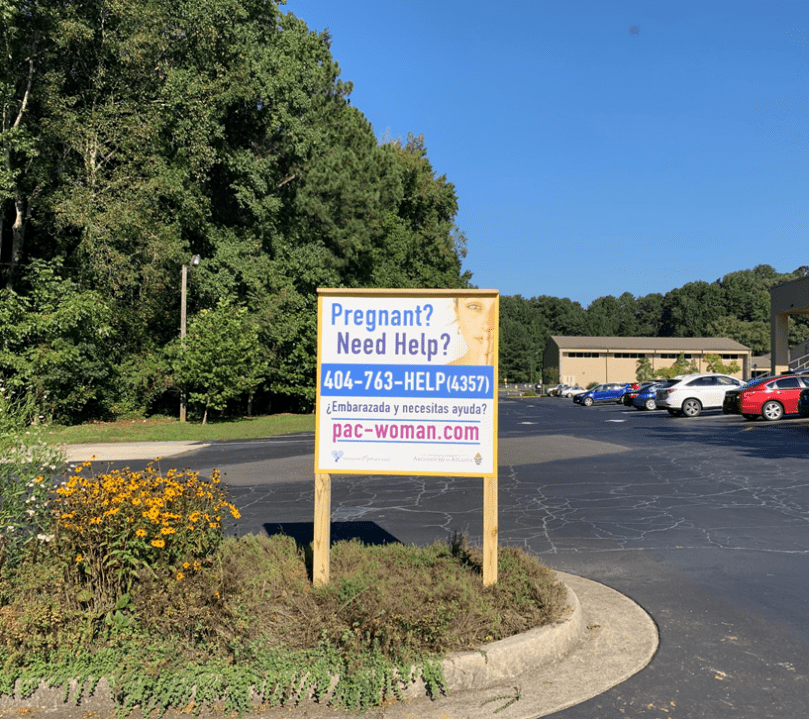 By NICHOLE GOLDEN and SAMANTHA SMITH, Staff Writers
|

Published June 29, 2022

|

En Español

ATLANTA—Long before the overturning of Roe v. Wade, Keri Ninness was taking concrete steps to support teens and women with unplanned pregnancies.  

Ninness leads the Walking with Moms in Need (WWMIN) initiative at her parish, St. Joseph Church in Marietta. She said the Supreme Court's June 24 decision to overturn Roe is a call to action for Catholics.  

"I'm expecting a very big response," said Ninness.  

With a background in social work and child protective services, Ninness worked to help pregnant teens at Marietta High School.  

"I am the product of a single mother," she said about her own experience. 

Msgr. John Walsh, pastor of St. Joseph, tapped the mother of five children to lead the parish's WWMIN program, an effort launched by the U.S. Conference of Catholic Bishops that aims to engage every Catholic parish in providing a safety net for pregnant and parenting moms. 

The 1973 Roe v. Wade decision of the high court legalized abortions nationwide. Those who long hoped for a reversal must now look at how they can better support life.  

"It's a lot more than prayer. I'm ready to see them walk the walk," said Ninness of the Catholic Church and its members.  

In addition to supporting pregnancy aid ministries locally, she believes change is needed in the foster care system, in addition to adoption reform.  

Her practical suggestions include offering respite care for foster parents, or child care for young working mothers a couple of days a week. There's a lack of affordable, safe and reliable child care in this country, she said. 

One Walking with Moms in Need ministry hosted a baby shower for a pregnant college student who considered abortion, but was too far along in her pregnancy. Another group provided support to a woman whose husband had been jailed on a domestic violence charge. She was pregnant with a fourth child. The mother did not lack material resources, but was overwhelmed by her circumstances. The pro-life ministry provided her emotional support.  
St. Joseph's WWMIN volunteers now number about 60 people, and its leader says they continue to look at ways to offer long-term and follow-up support to mothers and families. 
Ninness will participate in an Aug. 17 panel discussion for parishes interested in forming a Walking with Moms in Need ministry. It will begin at 7 p.m. at the Chancery in Smyrna and is being offered through the Respect Life Ministry of the Archdiocese of Atlanta. 
In March 2021, the archdiocese officially launched Walking with Moms in Need.  
"With over a hundred parishes in our archdiocese, the church is uniquely placed to provide solutions and help to women in need at the local level. Several parishes have already implemented this program; there is momentum for more." said Joey Martineck, director of the Respect Life Ministry. "While this is a new program, it would be wrong to conclude that the church is just now starting to care about women in need." 
Martineck said there are 83 pregnancy resource centers in Georgia established by the Christian community. This includes the Pregnancy Aid Clinic (PAC), a non-profit that operates from a Catholic philosophy.  
The archdiocese recently awarded PAC a three-year grant, funding half the salary for a full-time director of medical services. 
Georgia's Attorney General Chris Carr filed notice June 24 in the 11th Circuit requesting it reverse a District Court's decision, and allow Georgia's "Heartbeat Law" to take effect. It would ban abortions once a fetal heartbeat is detected, which is around six weeks.  
"The Catholic Church has always been at the forefront of meeting needs of families," said Ninness. She emphasized that Georgia Catholics will now have to be even more supportive.   
'Let her speak'
A new video series shares the stories of local women impacted by abortion in various ways.  
The Atlanta Archdiocese released the "Let Her Speak" video series shortly after the announcement of the Supreme Court's decision to overturn Roe v. Wade. The videos highlight the stories of eight women and their various experiences with abortion.  
Some of the women are committed to pro-life work and healthcare, helping expectant mothers and families. And some of the women considered abortions or had abortions themselves.  
"The 'Let Her Speak' video series beautifully counteracts the narrative of the pro-abortion media, which falsely attempts to speak on behalf of all women," said Martineck. "It highlights that women—from all demographics and places in life—recognize that abortion is not healthcare, and that we as a community ought to provide better solutions to these legitimately difficult situations." 
The videos will be released over the next few weeks and may be viewed online at vimeo.com/channels/letherspeak.