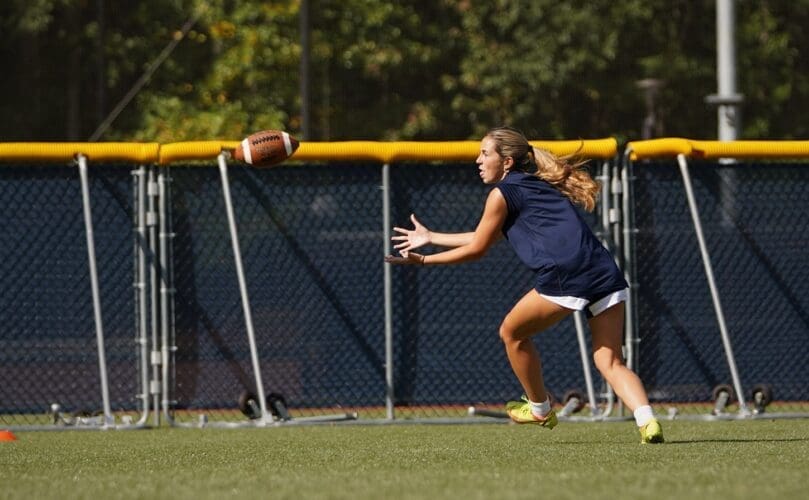 By ANDREW NELSON, Staff Writer
|

Published October 14, 2022

ATLANTA—Senior Katie Mae Kisla ran routes along the sideline catching spirals thrown by senior Charlotte Llop. Later, the 17-year-old yanked flags off running teammates in a defensive drill.  

Like her teammates, Kisla is learning the newest sport at St. Pius X High School, flag football. She's especially thrilled to be on the same team as friends who play other sports.  

"Everyone was super excited about it. We all just came together and wanted to play," said the varsity soccer player. 

At team tryouts, she was one of around 60 athletes competing for a spot on the squad. 

Andy Harlin, a veteran baseball coach, ended up with about two dozen players on the team.     

"We had a lot of good girls but we didn't have room on the roster. Being a part of something that is brand new is a lot of fun. The girls are great," said Harlin, after about two weeks of practices. "They bring it every day. They play hard. They are just so attentive. It's been a ton of fun." 
Hundreds of schools offer the sport
St. Pius X joined the other archdiocesan high schools in adopting this fall sport. Blessed Trinity High School in its inaugural 2021 season battled to the state championship semi-finals. Our Lady of Mercy High School fielded a team last year and St. Mary's Academy is continuing that team.  
Georgia has been a leader as one of several states to approve high school flag football. It has been a sanctioned sport since 2020. The game's popularity exploded in two years. More than 200 schools participate statewide.  
Bill Schmitz, athletic director of St. Mary's Academy, said interest from students last year spurred the school to start the team. Twenty girls are competing for the school this year, he said.   
"We learned a lot about what works and what doesn't work. We will attempt to utilize our girls a little better, which will hopefully grant us more success," he said. 
One of the sport's biggest boosters is the Atlanta Falcons. The team owners started a flag football program in Gwinnett County for high schools to test the idea. This summer, the Falcons put on a skills clinic open to coaches and players from throughout Georgia. Its indoor training facility in Flowery Branch will host the semi-finals in December.  
First season brings excitement
The Golden Lions team practice on the baseball outfield. The team runs "flag attack drills" and offensive plays, where the ball is hiked to the running back before she cuts up the field, twisting and turning to escape the defense, grabbing for her flag belt.   
Alexandria Umpierre, 18, is more familiar with the basketball court than the football field. The senior said it's not just the players looking forward to the first kickoff, but the whole school seems enthusiastic about flag football. 
"I have had people, a lot of people, saying they're excited to watch all the games and see our first game. I think we'll have some pretty good turnouts at the game." 
 Coach Harlin brings nearly 20 years of experience leading teams. At a recent practice, he called plays using hand signals. 
 "The thing I always loved about football was the battle of minds. It's like a chess match," he said. 
As the team readies for the season opener, Harlin's priority is to see progress from game to game.  
"We're making history right now. We have some kids that can run, kids that throw, catch and everything. We are going to be a different team in November than we are in September." 
Assistant coach Austin Webster, who plays flag football on local clubs and international teams, said she enjoys the game because it is accessible to everyone. 
"There is a place for you no matter your athletic ability. You are all learning together," she said.  
Team draws athletes from different sports
Flag football is played with seven players on the field. There are no helmets because it is a non-contact sport. Play stops when the flag belt is ripped from the ball-carrier. Every player can catch the ball.  
Athletes bring skills from different sports to the game. At Blessed Trinity, quarterbacks came to fear senior Kathryn McCabe, 17, a veteran lacrosse player who has played on two state championship teams. She had the most sacks on the team, getting to the quarterback 19 times.   
"One of the things applied to both sports is quick thinking and being able to play and know what your opponent is doing and being able to be flexible," she said after a recent practice.  
Her teammate is senior JoJo Miller, 17, a two-sport athlete in soccer and track as a sprinter.   
With flag football, her speed makes her a standout linebacker. Last year, she was the team's top tackler with 60.  
"I really focus on my speed and my agility. I think that has really translated to playing defense at flag football because it requires a lot of speed and a lot of agility to be able to pull the player's flag," said Miller. 
With strong demand from students, Blessed Trinity added a junior varsity program in its second year.  
Brandon Harwell, coach of Blessed Trinity, said the players made the squad a success as they challenged themselves.  
"It was just the environment the girls created among themselves where they were able to support one another through adversity and through success. And it was really exciting to see as a coach," he said. 
---
For more information on schedules, visit the Sports page.