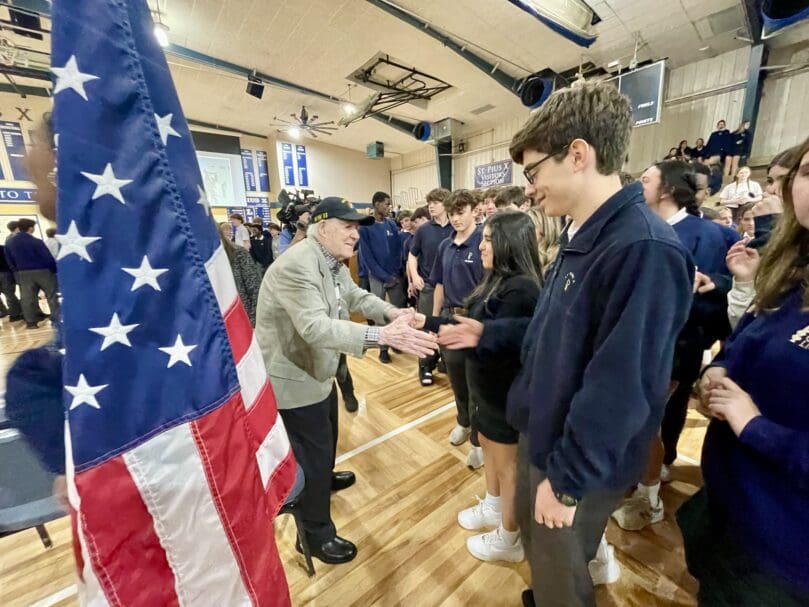 By ANDREW NELSON
|

Published November 17, 2023

ATLANTA—Students crowded each other to offer thanks and shake the hand of Hilbert Margol, a 99-year-old Jewish WW II veteran who helped liberate a German concentration camp, after his address to a Veterans Day assembly at St. Pius X High School.  

Margol and his twin brother, Howard, served in the U.S. Army's 42nd Infantry "Rainbow" Division and were among the first to find and liberate Dachau Concentration Camp on April 29, 1945.  

Said Margol, "I ask every (Holocaust) survivor, where were you at?" 

Dennis Ruggiero, who teaches theology and about the Holocaust, told the crowd young soldiers like Margol were just a few years older than the high school students when they set off for war.  

"But they understood the love of country and more than that, the love of freedom. And so, they sacrificed," Ruggiero said.  

Students today are the beneficiaries of that service, he said. 

There are less than 120,000 World War II veterans still alive in 2023 from the 16 million who served, and an estimated 131 die daily, according to the National World War II Museum.  

A child of the Depression, the Florida native found himself attending college shortly after the attack on Pearl Harbor. Margol was part of the ROTC program in college, so military service was inevitable, but it came sooner than expected when his Army unit was activated in 1943. He and his brother were trained in artillery but got separated when they were assigned to different units. It took a letter written by his mother to President Roosevelt before the Margol brothers were reunited, he said. 

In January 1945, his troop boat left for Europe. The trip took 15 days, going a circuitous route to avoid German submarines before arriving in France. The unit went into combat, battling in France and Germany.  

After participating in the capture of Nuremberg, the next military objective was Munich. That's where they were going early Sunday morning, April 29, when the troops pulled over on a narrow road. The soldiers could smell a strong odor. Some thought it was a chemical plant. Margol said his brother believed it smelled like a chicken cooked over a stove to burn off its pin feathers.  

He and his brother went to investigate and saw railway box cars filled with dead bodies. They entered the camp seeing the infamous sign with the phrase "Arbeit Macht Frei" and encountered the barracks and crematoriums. In the morning hours, they did not know what kind of camp it was.  

"We walked in, we saw some buildings, a lot of barracks. At the time, we didn't know anything about such camps. This turned out to be the Dachau Concentration Camp." 

The troops returned to their mission on to Munich after about 30 minutes at the camp. It was later that afternoon after other U.S. troops arrived, the official surrender of Dachau would take place. 

It was a month later when the war ended there. Margol stayed in Europe until April 1946. He guarded military prisoners, tasked to cut trees for fuel for civilians. He provided security escorting a train of grain heading to Austria to help bakers make food.  

After returning to the United States, Margol returned to Florida and finished college. He started a business first selling housewares door to door and then later went into the furniture sales with a store in downtown Atlanta. 

Margol has revisited Dachau and speaks often to students and other groups to share his life story. He said it is a pleasure for him to educate the younger generation about the war, as he approaches 100.  

Carter Scott, a social studies teacher, said students at the college prep high school may not know many people in the military, but the school stresses developing an attitude of service and the value of finding ways to help others. The life of Margol exemplifies the service mindset, he said.  
---
Editor's Note: This story was edited to correct the date of liberation of Dachau to April 29, and to correct Margol's division number.