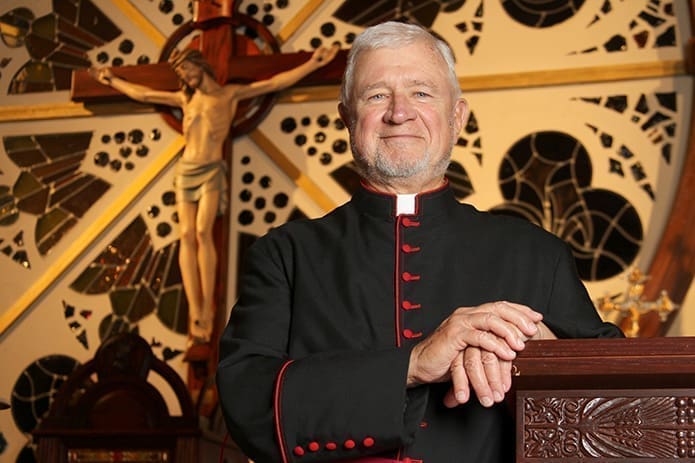 Published April 13, 2023
ATLANTA—Msgr. William "Bill" Hoffman, archdiocesan priest, died Monday, April 10. He was 88 years old. He had been a priest for more than 61 years.
Msgr. Hoffman, the son of George and Clara (Campos) Hoffman, was born in February 1935 in Hot Springs, Arkansas. He was raised in Tallahassee, Florida and Gainesville, Ga.
He was a graduate of Gainesville High School and then earned a Bachelor of Arts in philosophy from Saint Bernard College in Cullman, Alabama. He attended seminary at the United States Pontifical Gregorian University in Rome, earning a Bachelor of Sacred Theology. Msgr. Hoffman was ordained a priest in Rome, Italy, in 1961.
While serving with the Missionary Society of St. James in Peru, Msgr. Hoffman learned Spanish. In the late 1960s and '70s the pope was asking that North America share its priests with Latin America. For three semesters, he taught at a seminary to increase the number of priests in Peru. Then, the reverse occurred; Latin American priests started coming to North America to help fill in gaps.
Upon returning to Atlanta, he served as director of the Hispanic Apostolate of the archdiocese between 1982 and 1986.
Msgr. Hoffman's ministry included many parish assignments such as being the first pastor of St. John Vianney Church, Lithia Springs. He also served as pastor of St. Joseph Church, Dalton, St. Jude the Apostle Church, Sandy Springs, and St. Michael Church, Gainesville.
In addition to serving as a supply priest for parishes, Msgr. Hoffman dedicated time to prison ministry, celebrating Mass on a regular basis at Hays and Arrendale state prisons.
He was a team priest for the Worldwide Marriage Encounter and the Retrouvaille ministries for couples dealing with marital difficulties. He was a chaplain for the Boy Scouts of America for four years. Msgr. Hoffman served on the College of Consultors for the archdiocese and on its liturgical and vocations commissions. He received the title of monsignor, a papal honor, in 2001.
During retirement, Msgr. Hoffman spent Lenten seasons serving in the Diocese of Anchorage in the Aleutian Islands.
In a 2014 interview with The Georgia Bulletin about the role of senior priests, he shared the joy of serving in a variety of ministries.
"Wherever I've been, I've been happy," he said.
Msgr. Hoffman is preceded in death by his parents Clara Campos Hoffman, George Christopher Hoffman and Mary McKiernan Hoffman, and sibling Elizabeth Ann McKiernan.
He is survived by his siblings Irving C. Hoffman "Irv" of Smyrna, Joyce M. McKiernan Morgan of Athens, John C. Hoffman "Chris" (Carol) of Greenville, South Carolina; Penelope Hoffman Grizzle "Penny" (Ron) of Flowery Branch, and many nieces, nephews and grandnieces.
A wake will be Monday, April 17 at St. Peter Chanel Church in Roswell from 5-7 p.m. The funeral Mass will be Tuesday, April 18 at 10:30 a.m., also at St. Peter Chanel with Archbishop Gregory J. Hartmayer, OFM Conv., celebrating. Burial will follow at Alta Vista Cemetery in Gainesville.