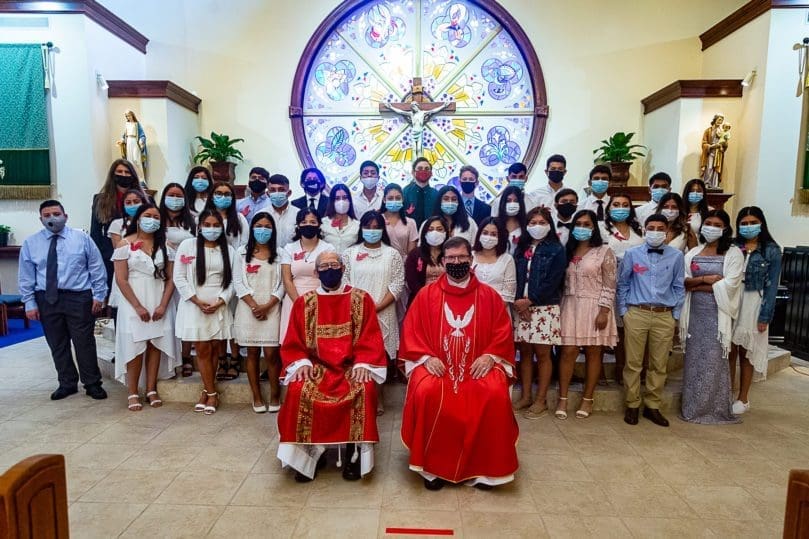 By SAMANTHA SMITH, Staff Writer
|

Published August 5, 2021

GAINESVILLE—Teens from St. Michael Church shared faith, fun and fellowship while attending a confirmation retreat at Camp Hidden Lake in March 2020.

"It was incredibly fruitful and was an immense blessing before everything shut down," said C.J. Clarke IV, youth minister and confirmation coordinator at the Gainesville parish. The following Monday, classes were cancelled.

"It was hard not being able to follow up after the retreat with the teens, but [I'm] thankful for their encounters with Christ during the retreat," said Clarke.

With permission from Archbishop Gregory J. Hartmayer, OFM Conv., Father Tim Hepburn, pastor of St. Michael confirmed the students in August last year, four months from the original April date. Each candidate could only have three people attend to allow for social distancing. Masks were required.

Delayed sacraments, navigating virtual meetings and family engagement were some of the many challenges parish faith formation programs faced during the COVID-19 pandemic. Classes moved from in person to virtual meetings in March 2020 until Archbishop Hartmayer announced guidelines for resuming in-parish worship and activities for Pentecost in late May last year. 

For the 2020-21 school year, some parish faith formation programs were able to resume in-person meetings based on available space and class size. Others incorporated a hybrid approach, offering in-person and virtual gatherings. 

Despite the challenges of the last three semesters, Clarke has recentered on God, his family and ministry. 

"I am so thankful for receiving God's mercy, and offering up my struggles to him during these tribulations," he said.
A 'strategic shift'
The Office of Formation and Discipleship for the Archdiocese of Atlanta provides support, training and resources for parish evangelization and catechesis efforts. This includes faith formation and sacramental preparation.
COVID-19 provided the opportunity to make a "strategic shift," said Andy Lichtenwalner, director of the Office of Formation and Discipleship. It was a godsend for making creative changes and adjustments in light of evangelization, he said. 
When the pandemic shut down parishes and in-person gatherings in March 2020, the office began hosting virtual meetings for parish catechetical leaders to share resources and ideas. 
Elaine Phillips, associate director of youth ministry, said she feels "closer than ever before" to youth ministers and parish catechetical leaders in the archdiocese since hosting the online meetings. 
"There is such a sense of closeness with the people out in the field, a sense of trust that they know that they can contact us, that we are here to support them. That has really been a wonderful silver lining," she said.
Last year's Atlanta Catechist Conference was moved to a virtual format, resulting in greater attendance and the ability to provide more information and resources. This year, the office is preparing for the Southeast Catechist Conference Aug. 12-15, cosponsored by 16 dioceses. It will again be virtual.
The pandemic also brought camaraderie and unity around the efforts of the office, explained Lichtenwalner. It has meant continued growth as a team in collaborating with each other and taking the next steps with family faith formation and evangelization, he said.
Family faith formation
Family faith formation is a catechesis model that incorporates everyone living in the home.
The Directory for Catechesis, released by the Pontifical Council for the Promotion of the New Evangelization in 2020, states, "Believing parents, with their daily example of life, have the most effective capacity to transmit the beauty of Christian faith to their children."
It continues: "The church is called to cooperate with parents through suitable pastoral initiatives, assisting them in the fulfillment of their educational mission to become above all the first catechists of their own children."
Moving towards family faith formation was part of the Archdiocese of Atlanta Pastoral Plan of 2014. 
St. Peter Chanel Church has offered family faith formation along with child-centered catechesis, a more traditional school model, for the past four years. This fall will begin the first year of offering only family faith formation.
The Roswell parish offers family faith formation in multiple formats, allowing families to determine which program best suits their needs. One program meets monthly and the other quarterly. The remainder of the month, families are given resources to help explore Catholic teaching and build their relationship with Christ. 
"One of the things we found when we started family faith formation was that families were able to incorporate faith conversations and experiences into their everyday lives," said Rosemary Potts, director of faith formation for families and children at St. Peter Chanel. 
"It's helped [parents] realize the importance of that relationship with Jesus, to help them realize that they can have those conversations with their kids, even at a young age," she said.
Last year, the Office of Formation and Discipleship introduced "Families Forming Disciples," a new family model for parishes to use during the coronavirus pandemic. 
"Our goal was to have families start living the faith in their homes in very real, practical ways," said Patrice Spirou, regional associate director of faith formation for the Office of Formation and Discipleship. 
"We were striving for a living faith within the family, helping them to grow closer to God and closer to one another," she said.
Since the release of "Families Forming Disciples," more than 20 parishes in the archdiocese have adopted the program.
Sts. Peter and Paul Church began using Families Forming Disciples last school year. The Decatur parish plans on using the program again next school year for in-person sessions.
"The beautiful thing about 'Families Forming Disciples' is that it is perfect for in person as well as virtual," said Tina Guyden, director of religious education at Sts. Peter and Paul Church. 
For the next school year, Guyden plans on pairing a cohort of families with two catechists for in-person instruction. The groups will meet twice per month.
"The way that 'Families Forming Disciples' is written, it is as impactful for the catechist's faith as it is for the families that we are accompanying," said Guyden.
"We're helping families find Christ in their homes, and Christ among them," said Spirou. 
A new school year
Heather Garger, youth minister at Holy Trinity Church in Peachtree City, moved her entire program online when life came to a halt in March of last year. This included sacramental prep, summer activities and Bible study.  
In preparation for the new school year, the ministry is "full steam ahead" on planning activities, said Garger. 
"I hope that the excitement of being in person lasts forever," she said. "I am looking forward to having the opportunities in relational ministry, attending events our teens are in and seeing their smiling faces." 
For the coming school year, Phillips hopes youth ministers will "continue to think outside the box and ways that they can connect and engage the young people of the church."
For St. Peter Chanel, Potts wants parents to continue to feel supported and inspired by the parish to live their faith. 
"We hope, first and foremost, that families grow in their relationship with Christ," she said. "And in some ways, connect again with the parish and look at the parish as the place that is part of their overall help."
As most parishes prepare to resume or continue in-person instruction, Lichtenwalner's aim is that leaders will keep the momentum of lessons learned during the pandemic.
"We have a real opportunity not to go back to what was done before, but to respond to the needs that are before us and to grow as evangelizing disciples," he said.