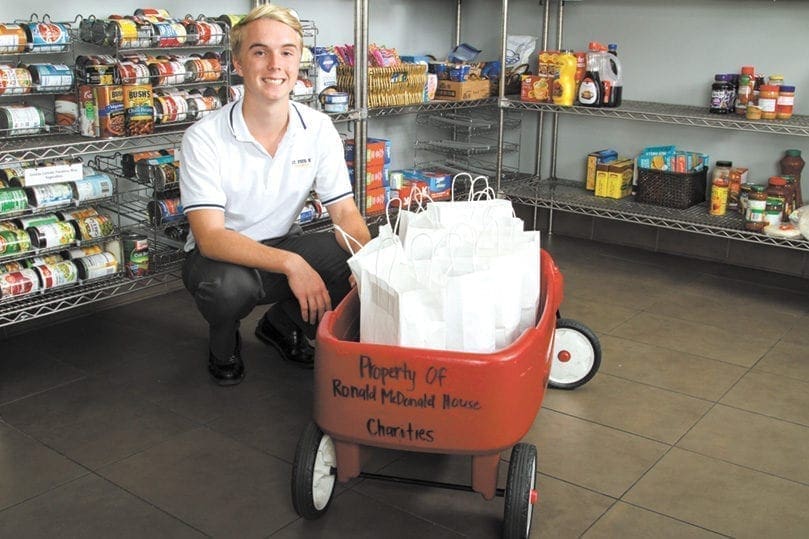 By SAMANTHA SMITH, Staff Writer
|

Published September 19, 2019

ATLANTA—This is the fifth year that Brian Matthews, a senior at St. Pius X High School in Atlanta, will run a fall pantry drive for the Ronald McDonald House Charities.

Beginning in eighth grade at age 13, Matthews organized a fundraiser by creating flyers for his 450 neighborhood houses asking for pantry donations for a local Ronald McDonald House. The flyer explained who he was, the mission of the charity, gave a list of needed items and instructions for pickup.

With his father, Matthews picked up donations from all over his neighborhood. By the time they reached the house near Egleston Hospital, the donations filled up the car.

It felt good to drop off the items at the charity, said Matthews. He believes in the charity's motto, "keep families close when it matters most."

Ronald McDonald House Charities support families who have children with health issues. According to the program's website, "houses are built on the simple idea that nothing else should matter when a family is focused on the health of their child—not where they can afford to stay, where they will get their next meal or where they will lay their head at night to rest."

There are two houses in Atlanta, each near the Egleston and Scottish Rite hospitals of Children's Healthcare of Atlanta. Together, both locations have served more than 56,000 families. This year, Ronald McDonald House Charities (RMHC) celebrates 40 years of service in Atlanta.

"By simply collecting 'Wish List' items from his friends and neighbors, Brian is able to make an immediate impact on the families we serve," said Carrie Bowden, director of marketing and communications for the RMHC in Atlanta. "He demonstrates how one person can truly make a difference and all of us here at the charity are so proud of Brian's accomplishments and his being such a great example for other young people to follow."

Donating pantry items is one of many ways to support families. Volunteers can also cook and serve meals, help with administrative tasks in the houses and lead family activities, which include games and crafts. Family kits are helpful for immediate needs and groups can host events and fundraisers.

"Volunteers are absolutely essential to the operations of our houses and help us care for our families. We offer several ways for people to donate their time and show gratitude by giving back to help others in need," said Bowden.

Matthews grew up with the charity, as his family has been involved since 1996. He chose to stock food items because "when you donate goods, you know it's going straight to the pantry," he said.

In addition to the annual pantry collection, Matthews also serves on program's teen council. The initiatives of the council include serving a dinner and fundraising drives, such as Pop-Tab and Santa's Wish List. Being on the teen council has allowed him to learn fundraising skills, said Matthews. He will begin his second year on the council in October.

By sharing other Ronald McDonald House fundraisers on social media, Matthews has learned of other peers who also support the charity. He encourages people to get involved "because it feels good to help others."

After graduating from St. Pius X next spring, Matthews hopes to attend the University of Georgia next fall. He plans to stay involved with the charity when he is home for holiday breaks during college and eventually serve on its advisory council, like his father.

Working with the Ronald McDonald House Charities has "made me realize how blessed I am," said Matthews.
---
To learn more about the families served by Ronald McDonald House Charities in Atlanta, go to https://armhc.org.