By Andrew Nelson
|

Published November 1, 2016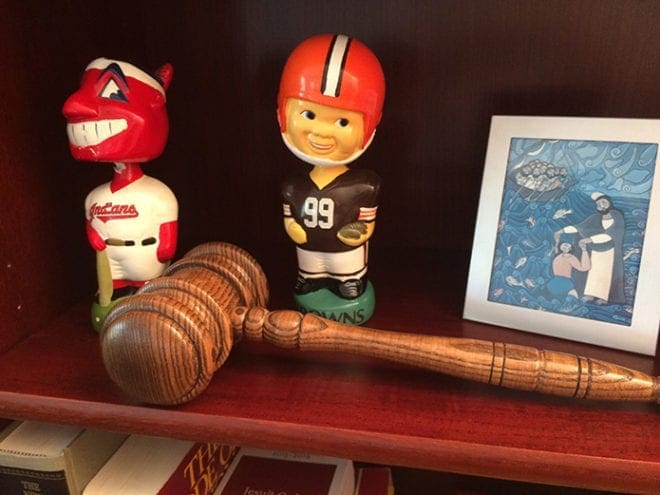 Religious art decorated Father Mark Horak's office as you'd expect from a man of the cloth. But there is also a bookshelf that caught my eye. If you look for this shelf, it's behind his desk. Taking up a corner are the mascots of the Cleveland Indians and the Cleveland Browns.
"My earliest memories include rooting for the Tribe. We used to go to their games in the old cavernous Municipal Stadium. I remember walking up the ramp into the bright sunlight and being astounded at how green the grass in the outfield was," he said in an email.
And if his grades were good, he made the 30 mile trip from home as a reward. "We would get free game tickets from a local (Elyria Ohio) haberdasher if we got straight A's on our Catholic grade school report cards," he said "
Father Horak is the pastor at St. Thomas More Church, Decatur and is leading the large faith community as it becomes familiar with the Jesuits. The spiritual care of this community in February was handed to the 476-year-old Society of Jesus
I spotted this shrine to Ohio sports when I interviewed Father Horak in his office. We talked how parish leaders are going through a very Jesuit period of reflection as they set a direction for the community. Stay tuned for that story.
Who deserves it more, the Cubs or the Indians?
As of Monday, Oct. 31, the Indians are on the cusp of bringing home the World Series trophy to The Tribe at Progressive Stadium. The victory would dash the hopes of Chicago and the beloved fans of the Cubbies, whose championship drought dates to 1908. Now, his team is up 3-2, needing to win one game to clinch the series.
"BTW – while it is true that the Cubs have a longer Championship drought than the Indians, I think the City of Cleveland needs this win more than the City of Chicago," said Father Mark.
It's not like winning isn't overdue for Cleveland fans too. The Indians last won the best-of-seven series in 1948.
Father Mark for that reason tempered his enthusiasm before the first game: "The only baseball tradition we Cleveland fans have developed over the last 70 years is telling one another, 'Wait till next year.' "
Could the art next to the mascots reveal a truth about this baseball season? Jesus walked on water and, scripture tells us, he said to Peter, "O you of little faith, why did you doubt?" (Matthew 14: 31)