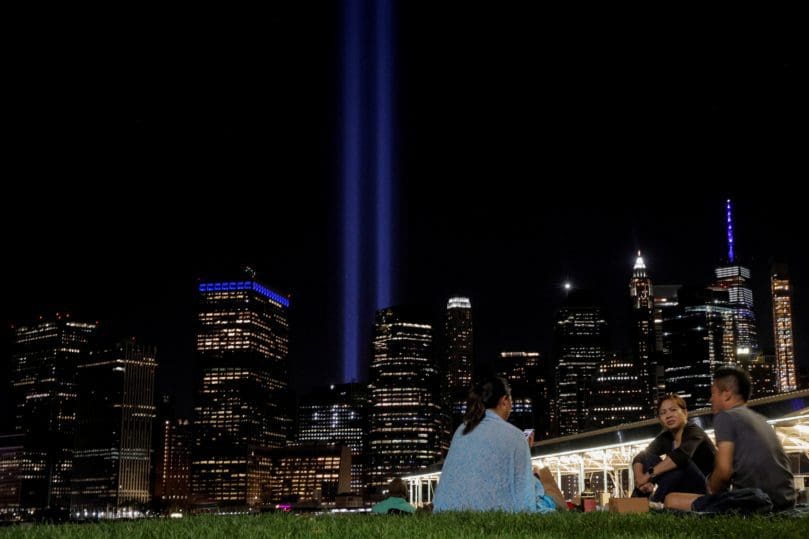 By SAMANTHA SMITH
|

Published September 12, 2021

On Sept. 11, 2001, I was a seventh-grade student at St. Peter Claver Regional School in Decatur. 

The school had recently opened. We were in a time of transition, as the school combined students, faculty and staff from Sts. Peter and Paul, St. Anthony and Our Lady of Lourdes Schools. We were learning about one another as we continued to navigate our new school home.

I was in my morning math class, when an intercom announcement stated that parents would be picking up students throughout the day. One by one, I watched my fellow classmates leave class as the teacher continued teaching us our lesson. 

I remember having an eerie feeling. Things seemed off. At that point, I had been attending Catholic school all my life. And I've never known us to leave school one by one in this way.

Moments later, my father came to pick me up and soon we were on our way to pick up my younger brother from school. When we got in the car, my father explained that there had been a terrorist attack in New York City. A preteen at the time, I didn't fully understand what that meant, but I could sense his worry and knew things were not okay.

When we got to my brother's school, there was a television in the lobby area. This is when I saw the iconic image of the twin towers, with one of them on fire. And while I was watching the screen, the second plane hit the second tower. Everyone in the room gasped. I could feel the anxiety and stress in the room. I was thankful to leave and be on our way. Little did I know this would be all I would hear about for the rest of the day.

I remember my dad being concerned about my mom, because she worked for the state government. Things were happening so fast, and no one knew what would come next. Thankfully, she was able to leave work early and came home. 

When I got home, the news of the terrorist attacks filled the television screens. It was on every channel. When I saw the towers crumble, it felt very surreal and sad. I watched people run away from the towers in the streets to find protection from the debris as it covered the city. 

News on the events of 9/11 continued well into the night, the next day and for many days to come. Until that day, I felt safe in my country. But I quickly realized there was so much I didn't know or understand. And while it was difficult to explain it to me at that time, I've learned so much about 9/11 over the past twenty years. 

It's a day of loss, not just for our country, but for many that lost coworkers and loved ones, such as parents and spouses. That day forever changed how we travel within and out of the country. It changed how we viewed people different from us, foreign policy and how safe we feel in our United States.

9/11 will never leave us. It is part of our history, in all its sadness and loss. I plan to lift up in prayer those grieving that historic day and for all those who risk their lives daily to provide and help others. May this day remind us of the importance of community and how the contributions of us all can help build our country for the better.