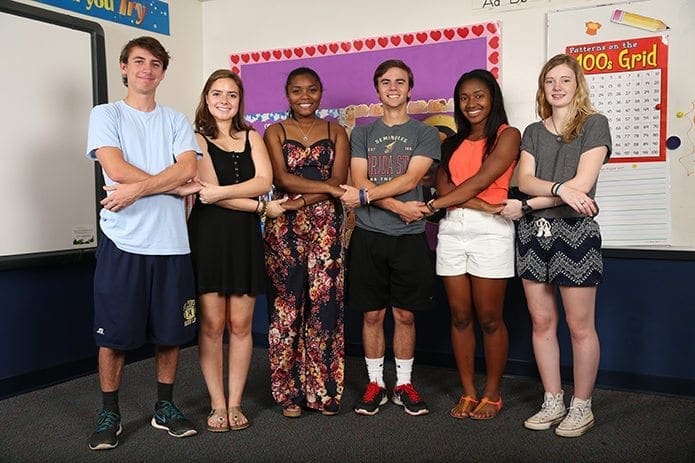 By Michael Alexander, Staff Photographer
|

Published June 23, 2016

In 2004 I photographed a group of kindergarten students from St. Thomas More School, Decatur, during the Dr. Martin Luther King Jr. Youth & Young Adult Celebration at the Shrine of the Immaculate Conception, Atlanta. Eight years later I photographed some of the same students for the very first Then And NOW piece, an occasional series in The Georgia Bulletin that features people I've captured in a newspaper photograph published nearly 10 or more years ago, along with current news about them.

Well, that kindergarten class has reached a significant milestone. They graduated from their respective high schools, and they'll be heading off to college later this year.

I caught up with six of the seven students from the 2012 photograph on May 25 while they were attending a reception for the St. Thomas More Class of 2012 (the school invites each class back when they graduate from high school). We returned to Mary Nicolatos' kindergarten class for the most recent photo, and over the last few weeks they've shared some updated information with me.

After leaving St. Thomas More, Michael Pate attended St. Pius X High School, Atlanta, and he played wide receiver and defensive back on the football team. Pate took a 10-day trip to Italy with his family after graduation. He will be attending Georgia State University, Atlanta, where he plans to major in business and finance.

Kendell Hutchison also attended St. Pius X. She was a member of the varsity dance team and academic quiz bowl team. Hutchison plans to study integrated strategic communications at the University of Kentucky's College of Communications and Information in Lexington.

Maia Harrell, another St. Pius X graduate, was also a member of the dance team and the Pius Players drama troupe. Harrell is attending Davidson College in North Carolina, where she plans to major in chemistry. In the meantime, she'll be working at a pizza restaurant this summer.

Andrew Rochefort, the fourth St. Pius X graduate among the group, played third base, pitcher and outfielder on the school's baseball team. Rochefort is attending Georgia College, Milledgeville, and he has his sites on a major in sports broadcasting.

Gabby Bowen attended Marist School, Atlanta, where she was a sprinter on the track and field team that won three consecutive state championships (2013-2015). Bowen will be attending the University of Richmond in Virginia and she'll be running for the school's track team.

Kelly Pickard had a different high school experience since she attended a boarding school after St. Thomas More. Pickard graduated high school early and just completed her first semester at Kennesaw State University. She enjoys photography and playing the guitar, but her major is undecided at this point.

When I asked them what they remembered from kindergarten, Pickard said she still remembers that God loves everybody the same, so she tries to follow that example. "I learned you should never put a rosary around your neck," said Hutchison. And Harrell said she learned good penmanship and not to bite her nails.

I feel a sort of photographic kinship to these former St. Thomas More School kindergarteners. I wish them all the best during their collegiate years.