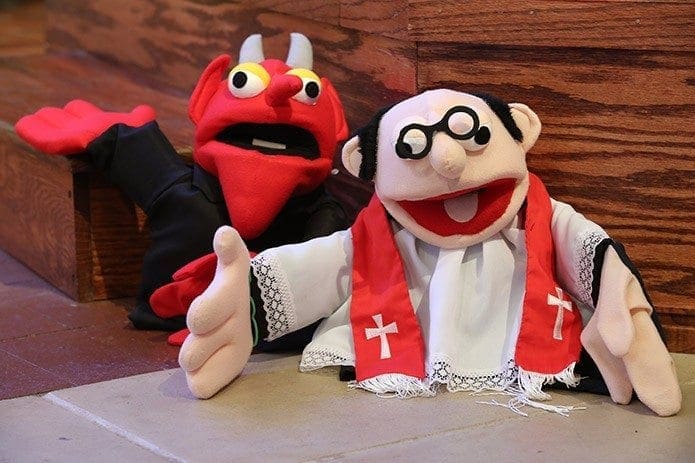 By Michael Alexander, Staff Photographer
|

Published March 31, 2016

On Sunday, March 20, I attended the Palm Sunday procession and Spanish Mass at St. Paul the Apostle Church in Cleveland. Father Fabio Alvarez Posada, the pastor and a priest of the Atlanta Archdiocese since 2004, was the main celebrant. After the reading of Luke's Gospel, Father Fabio stepped off the altar, faced the congregation and delivered a homily tailored to the adults. Once he finished, he invited the children to come up and sit on the steps of the altar as an adult altar server handed him a canvas bag.

Siting on the floor facing the children, Father Fabio reached into the bag and out came a handheld puppet dressed in black with a red face and horns. As he held the puppet known as Tomato Face, who represents the devil, Father Fabio proceeded to talk about Palm Sunday and the upcoming Holy Week. He spoke of the entrance of our King, Jesus Christ, and how the devil (Tomato Face) is jealous of Jesus and that he wants to be our king.

Father Fabio goes on to tell them that Tomato Face uses all kind of devious methods to be their friend and offer them a false sense of happiness. But he implores them not to succumb to his temptations. He tells them to avoid fighting with their siblings, disobeying their parents, telling lies or failing to do their schoolwork.

Then he returned Tomato Face to the bag and he pulled out another puppet. This one was a bespectacled priest, dressed in white vestments with a red stole. The puppet goes by the name of Father Fa, and he lets the children know that Tomato Face is dangerous and not the kind of person you want to call "friend." Father Fa lets the children know that God is number one and Jesus is our King.

Father Fa further states that God loves them very much and he wants them to avoid Tomato Face. He says by working together, attending church, praying, and respecting each other, they can show their appreciation to God for all the blessings and needs he provides them. And with that Father Fa had the last word, the homily was over and the children returned to their respective pews.

Father Fabio started using the puppets during his first assignment as a parochial vicar at St. Thomas Aquinas Church, Alpharetta, but he got the idea from a friend and priest name Father Fredy Bustamante in his home country of Colombia, South America. Father Fabio was struck by the creative approach the priest used and he decided to incorporate it in his own ministry. He ordered the puppets from a vendor in Colombia and brought them back on a return trip to the United States. "They came without a visa or passport, but people still like them and are receptive to them," said Father Fabio.

"It's a simple way to teach children about God and his love for them," said Father Fabio. "Sometimes the children are unaware why they're coming to church and this approach makes them feel special, and it helps them recognize that they are an important part of the church."

Father Fabio said some people think it's a performance, but "it's not a show," he said emphatically. The homilies where Father Fa and Tomato Face make an appearance are not done with regularity, and they're often done as a surprise. It's just a way the real priest occasionally chooses to break open the word and bring the message of Jesus Christ to the children.