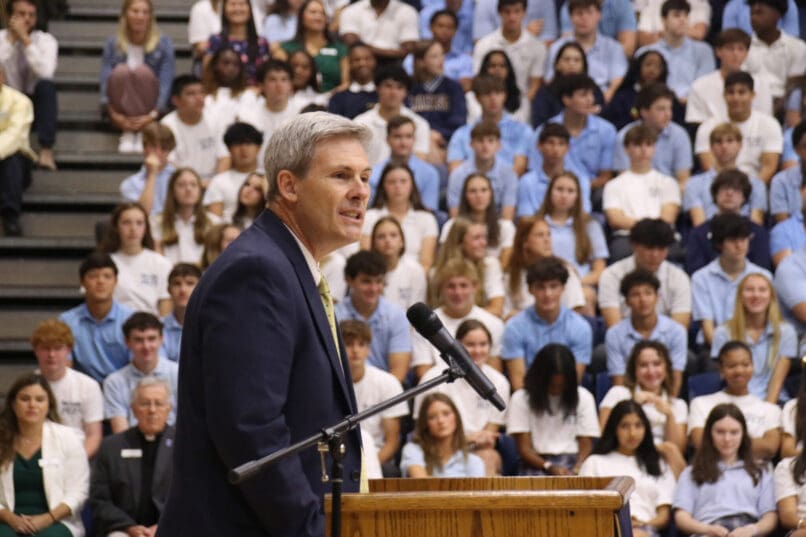 By SAMANTHA SMITH, Special to the Bulletin
|

Published November 16, 2023

ATLANTA—Masses, sporting events and enthusiastic assemblies with staff and students have filled the calendar of J.D. Childs, the new president of Marist School. 

In addition to being present on campus for various events, he plans to meet individually with all 200 employees before the end of the school year. 

"Teachers and students are the most important folks at Marist School," said Childs. "So my hope for my first year as president surrounds them." 

Childs is the first appointed lay president of Marist in the school's 122-year history. Knowing the transition to lay leadership was inevitable, the Society of Mary spent years creating programs and infrastructure to ensure the continuation of Catholic education with the Marist charism.  

The school conducted an extensive global search for its first lay president following an April 2022 announcement that Father Bill Rowland, SM, would step down as president on June 30. In November of last year, Childs was announced as the new president along with Father Rowland's new role as rector. 

"The hiring of J.D. Childs as our new school president, combined with Father Rowland's ongoing involvement, ensures Marist School will continue to be in excellent hands," said Society of Mary U.S. Provincial Father Joseph Hindelang, SM. 

As a school with a president/principal model, Childs collaborates closely with Marist School Principal Kevin Mullally. 

The new Marist president views the transition to lay leadership as a "momentous time" for the school.  

"I feel a ton of gratitude and indebtedness to the Society of Mary, and I am excited to honor their legacy and spiritual inheritance at Marist School," said Childs. "We share in the priests' confidence that our best days are ahead." 
A career in Catholic education
A cradle Catholic from South Bend, Indiana, Childs attended Catholic high school and college. He earned a bachelor's degree in English, philosophy and theology from the University of Notre Dame, as well as a Master of Theological Studies in systematic theology. He also holds a Master of Education in Catholic school leadership from Marymount University. 
Before coming to Marist, Childs was president of Bishop O'Dowd High School in the Diocese of Oakland, California. He served as O'Dowd's principal from 2016 to 2018 until being appointed president in 2018. 
During Childs' tenure at O'Dowd, an urban Catholic high school with an enrollment of 1,250, he completed a successful $40 million capital campaign for the construction of a new building, oversaw $4 million in capital enhancements to the campus and worked with a dedicated faculty and staff to successfully implement a college-preparatory curriculum.  
Prior to working at O'Dowd High School, Childs served as president and principal at Mission College Preparatory Catholic in California, and before that as a religion teacher and director of spiritual life at Catholic schools in Indiana and North Carolina. 
He is the co-author of two books and several articles focused on the imaginative teaching of high school religion classes.  
"I love promoting peoples' self-discovery and growth, in light of faith," said Childs of his work in Catholic education. "Love of learning and the desire for God are connected, and in our Catholic school, the work we do together can be transformative for individuals and for the community." 
Settling in and moving forward
Childs has enjoyed meeting the local faith community since moving to Georgia. He and his wife, Kate, have four children. They are parishioners at St. Jude the Apostle Church and their youngest is a sixth grader at the parish school. 
"We love the vibrancy of the faith community at St. Jude the Apostle and have appreciated the joy and professionalism of the school as well," he expressed. 
One of Childs' many goals as president is to shine a light on the education and experiences Marist offers its students. 
"Marist School has a long-standing history of excellence and success in Atlanta, and yet many people don't realize how distinctive and extraordinary our educational quality is, beyond our athletic prowess," he said. "Marist promotes students of achievement, students who possess an enviable joy and a sense of purpose, students who know how to learn and know how to serve." 
This is in part because of what Childs calls the superpower of the school—the teachers. 
"The education students receive at Marist is top notch and a real credit to our remarkable educators," said Childs. "It is a place with an exceptionally talented faculty who have the brilliance, competence, and commitment to care for the students while innovating and challenging them in creative ways." 
In his first year as president, Childs plans to equip, support and empower faculty to put students first. He is also partnering with the Board of Trustees to plan a comprehensive campus master plan and preparing for the Marist School's 125th anniversary during the 2025-2026 academic year.  
"There are lots of big things on the horizon," said Childs. "We are setting the foundation now for great things to come."