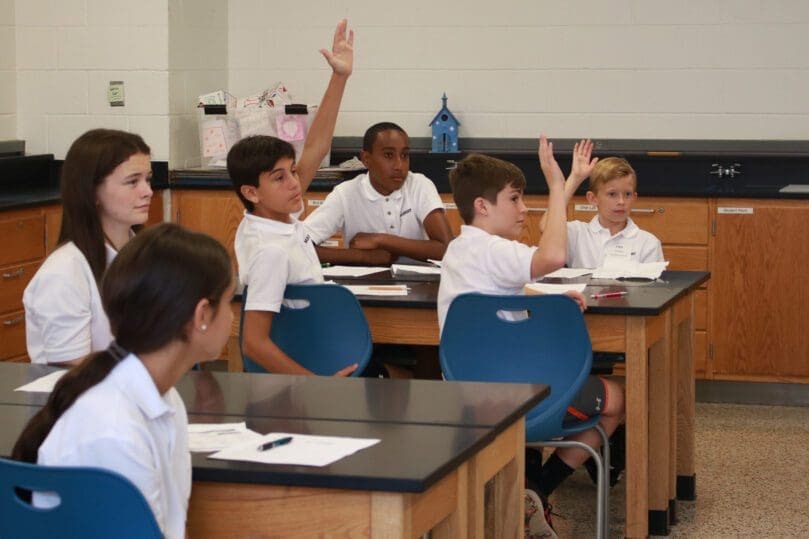 By GEORGIA BULLETIN STAFF
|

Published August 31, 2022

ATLANTA—In April, Marist School launched a national search to identify a new school president following the announcement that Father Bill Rowland, SM, will step down on June 30, 2023. In a recent update to the school community, Marist School Board of Trustees Vice-Chair and President Search Committee Chair Mike Cote shared that the school's next president is likely to be a layperson, for the first time in the school's history. 

Founded in 1901, Marist School is Atlanta's oldest Catholic secondary school and to date has always been led by a priest from the Society of Mary, which has owned and operated the school since its inception. In a transition to lay leadership, Marist School would join 87% of all U.S. Catholic schools and 97% of Catholic high schools that are led by laypersons, according to recent data from the National Catholic Education Association. 

Cote, along with Marist School Board of Trustees Chair Bill Roche, agree that the entire community, from members of the Board of Trustees to the administration, faculty, staff, and parent body, along with the Society of Mary, is prepared for the important transition. 

Cote said Marist School leaders are committed to the mission. 

"As we search for a new president, it is essential that we find someone who will not only embrace the distinctive Marist tradition, spirit and values but also continue to find ways to imbue them into day-to-day life at Marist School," he said. 

"The Marist School community has witnessed many profound changes since it began as an all-boys military school in downtown Atlanta over 120 years ago. With each change, the school has remained deeply committed to its Marist mission and, in fact, that commitment has grown stronger through the years," said Roche. "I expect the Marist spirit to continue shining brightly with this impending leadership change and beyond." 

The Society of Mary has prepared for the potential change to lay leadership by creating infrastructure and policies to ensure a successful transition while making it paramount that the school's mission and Marist identity remain secure. 

The Society of Mary has expanded the role of the Board of Trustees over many years to include both fiduciary and operational responsibility for the school rather than serving solely in an advisory capacity to the Society of Mary as in the past. 

To preserve and strengthen the school's religious identity, the Society of Mary has taken two significant steps. First, they have created the position of rector, a role which will be held by a Marist priest. Father Rowland will become rector of Marist School as of July 1, 2023 to serve as a liaison between the school and the Society of Mary. 

Secondly, the order has developed a sponsorship program that outlines the standards and expectations for Marist schools. Through an accreditation process, Marist School will reaffirm on a regular basis the fundamental characteristics that define it as a school. 

Father Joseph Hindelang, SM, provincial superior of the Society of Mary U.S. Province, said, "Marist School has long been blessed with the presence and leadership of Marist priests, but the Society of Mary has not been immune to the diminishing number of priests, and those with the required experience for the role of school president are just not available. The new rector position, which will always be held by a Marist priest, will ensure the Marist charism, spirituality, and Catholicity of the school remains strong." 

Marist School Board of Trustees Member Bishop Joel Konzen, SM, who served as principal prior to becoming an auxiliary bishop with the Archdiocese of Atlanta, echoed this perspective. 

"An independent Catholic school that is animated by the charism and mission of its sponsoring religious order is able to provide a unique educational experience capable of transforming the lives of young people and their families," said Bishop Konzen. "I have no doubt that Marist's search committee will select a president who values Marist spirituality and who will carry forward the school's tradition of excellence in Catholic education with a distinctive Marist spirit." 

Marist School has engaged the faith-based executive search firm Partners in Mission School Leadership Search Solutions to assist with the search. Candidates may learn more by finding a prospectus at marist.com/about/new-president-search. 

The school year began Aug. 19 at Marist, with its traditional half-day of school, Schola Brevis.