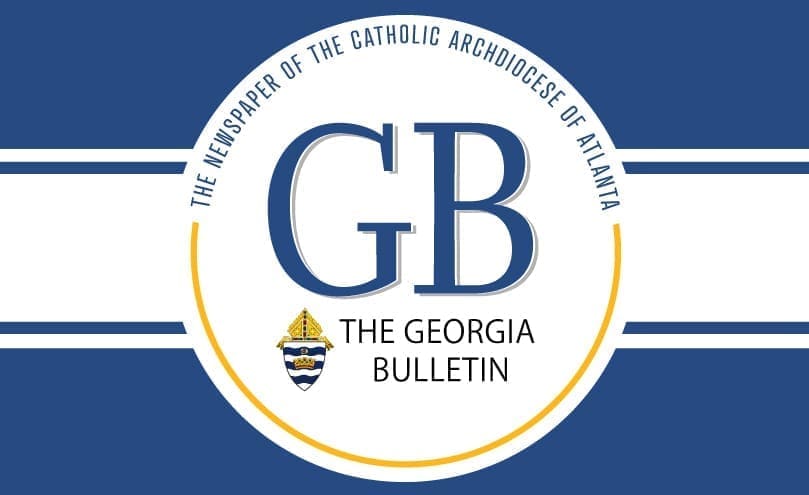 Published September 12, 2023
ATLANTA—Along with his brother priests, the Marist School community is mourning the loss of alumnus Father Thomas Ellerman, SM, '58, who died on Sept. 9, in Atlanta. He was 83 years old.
Father Ellerman was a Marist priest for 56 years and retired to the rectory of his alma mater in 2015 having made significant contributions to the mission of the Society of Mary. A gregarious soul with a profound love for religious life, Father Ellerman was known for his intelligent banter and quick wit as well as his charming smile and contagious laughter.
Born in May 1940, Father Ellerman graduated from Marist School, then known as Marist College, in 1958. He was valedictorian of the class. Upon his graduation, he was named by the faculty as the recipient of the Sedes Sapientiae Award, the highest honor bestowed on a Marist senior in recognition for excellence in exemplifying the Marist mission through scholarship, loyalty and service. After receiving a bachelor's degree in philosophy from The Catholic University of America in 1963, he received a Baccalaureate in Sacred Theology from the Pontifical Athenaeum of St. Anselm in Rome, Italy, where he also received the Licentiate in Sacred Theology in 1968.
Father Ellerman was a member of the teaching staff and the formation staff of Notre Dame Seminary School of Theology and the Catechetical and Pastoral Institute of the South in New Orleans, Louisiana for nine years. From 1977 until 2001, he taught theology and philosophy at the University of Holy Cross, formerly Our Lady of the Holy Cross College in New Orleans. From 2001 until 2012, he was rector and director of the postulants at St. Peter Chanel Seminary in Berkeley, California. He resided at the Marist Center in San Francisco from 2012 to 2015.
When Father Ellerman took up residence in the rectory at Marist School, he quickly became a vital part of the school community and served as a member of the school's Board of Trustees and the Board of Trustees of Notre Dame Academy.
He was an active member of the Marist Alumni Service and Spirituality Committee for which he, along with the late Marist faculty member David Donahue, provided a series of adult education programs known as "Join the Conversation." He moderated a group of alumni who use the psalms as the basis of their faith discussions, led a faith-sharing group for faculty, and offered a program for the Marist School community that focused on vocations. He prayed weekly with the Marist Women's Rosary Group, and members of that group were with him when he died.
Father Ellerman's contributions to the Society of Mary and its ministries were extensive. He served as a member of provincial chapters, councils, committees and formation programs and moderated various chapters of the Third Order of Mary, a group for Marist laity. During his retirement, he wrote extensively about Father Jean-Claude Colin's vision for Marist education.
At the jubilee celebration of Father Ellerman's ordination, Marist School Rector Father Bill Rowland, SM, summed up his priestly ministry in this way, "[Fr. Ellerman] has been a bridge that brings people together in Christ. He does this in the spirit of Mary…We ordinarily think of Mary as being quiet and unobtrusive—hidden and unknown as we Marists like to put it. Father Ellerman seems to think that she was gabbier and, thus, conspicuous, matching his penchant to enter into conversations with people whatever the circumstances and always with the intent to find common ground on which to build friendships. Regardless, he was chosen to be a Marist by a gracious choice of the mother of Jesus and all of us are better because of it."
Father Ellerman was preceded in death by his parents, Richard and Genevieve (Froelich) Ellerman, and his brother, Roger Patrick. He is survived by his two sisters, Patricia O'Connell  (Daniel) and his nieces, Alison O'Connell, Erinbeth O'Connell Massie (David); their children, Sean, Katherine, Megan Massie, Heather O'Connell Stevens (David) and their children, Austin Stevens, Shea Stevens; Mary Ann Regan (Harry) and his nephews, Matthew Richard Regan, Timothy Michael  (Jennifer Creager) Regan and their two children, Arya Emily Regan, Avery Jack Regan; and his cousins, Father Paul Macke, SJ; Judy Froelich Mourer (Gene) and David Froelich (Barbara).
The funeral Mass for Father Ellerman will be held on Saturday, Sept. 16 at 11 a.m. at Our Lady of the Assumption Church at 1406 Hearst Drive NE in Brookhaven. Marist Provincial Father Joseph Hindelang, SM, will preside at the Mass, and the homilist will be Bishop Joel M. Konzen, SM, A viewing will precede the Mass at 10 a.m., and a reception in Moylan Hall will immediately follow.
Father Ellerman has requested that donations be made to the Senior Trust of the Society of Mary. Visit https://societyofmaryusa.givingfuel.com/marist-online-donations to contribute or mail a check to the Society of Mary Development Office at 698 Beacon Street, Boston, MA 02215.