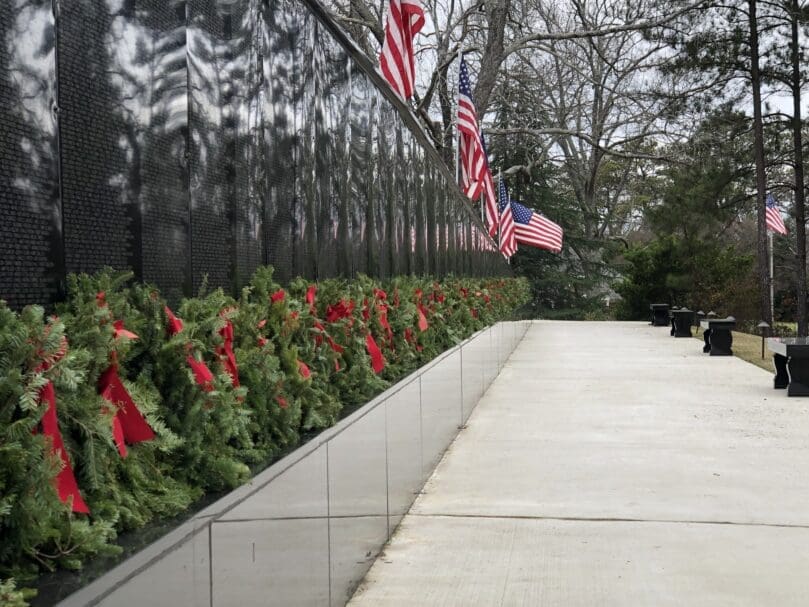 Published January 20, 2023
SANDY SPRINGS—For its efforts with the national Wreaths Across America, the Knights of Columbus Assembly 3856 at St. Jude the Apostle Church was recognized as a top donor with Medal of Honor status, reported Jerry Tiarsmith.  
The members of the assembly have participated for three seasons in the effort to lay wreaths in veterans' cemeteries and other locations across the country around Christmas. There were some 3,700 participating locations when it took place on Dec. 17, 2022.   
The St. Jude assembly support the efforts at the Georgia National Cemetery in Canton, where they purchased 2,507 wreaths, and a second site at the Johns Creek Veterans Memorial Walk with 150. A single wreath was dedicated at the historic Macedonia Cemetery in Johns Creek, a small African-American burial ground of several known slaves and descendants of others enslaved in this area. Among those buried is Toney Howell, an Army veteran of World War I. 
The annual tribute is to remember, honor and teach about the military service members. 
Through the efforts of its members, parishioners and community donations, the Knights raised more than $26,000 to purchase wreaths to decorate the gravestones. In the first year, the group raised $1,300 then the second season challenging its members as a sponsoring organization, raising more than $12,000. Another key leader in this effort was Patrick Cusack. 
The Knights success was done with the help of cooperation with parish donations and local veterans groups including the Atlanta Vietnam Veterans Business Association, the Johns Creek Veterans Association and VetBuds Johns Creek. 
---
Contact Andrew Nelson at acnelson@georgiabulletin.org or 404-920-7433 with Notable ideas or submissions.