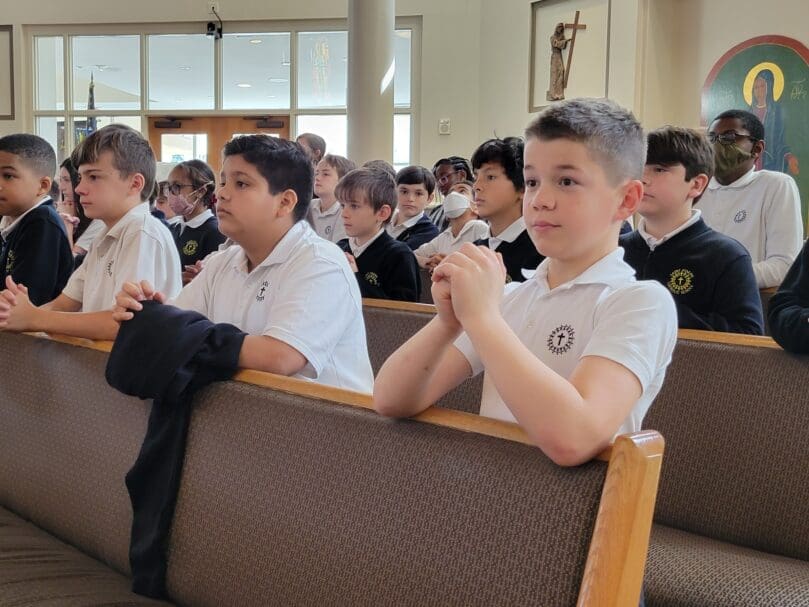 By SAMANTHA SMITH, Staff Writer
|

Published April 5, 2022

|

En Español

MARIETTA—The fifth-grade class taught by Kelly Niswonger at St. Joseph School had a day of learning and activities focused on vocations.  

"They're just starting to become aware of who they really are and how God speaks to them," said Niswonger of her students.  

"Giving them the opportunity to be open to religious life at this point and showing them the joy that they can receive from doing what God's will is for them is important," she said. 

The Office of Catholic Schools, in partnership with the Office of Vocations, celebrated its fifth-grade vocations day on March 22. On this day, fifth-grade students at all diocesan and independent Catholic schools in the Archdiocese of Atlanta are invited to discern God's call for their lives.  

While the event is traditionally held in person at the Marietta school in September, it has been held virtually for the past two years due to the coronavirus pandemic. The hope is to return to an in-person event in the fall this year.  

Fifth-grade vocations day was first celebrated in the Atlanta Archdiocese in 2007. It was brought by Dr. Diane Starkovich, who served as superintendent of schools for 14 years before retiring. 

Originally, schools partnered with the Office of Vocations to pray for two to three seminarians for each school. It later expanded to include Mass and seminarians sharing their own vocation stories with students from Catholic schools in north and central Georgia.  

For this year's vocations day, resources provided to each school included a recorded Mass celebrated by Bishop Joel M. Konzen, SM, and concelebrated by Father Rey Pineda, director for the Office of Vocations; a recording of the bishops talking about their call to vocations, seminarian videos and worksheet activities.  

"You will know, maybe not today but some day in the future, what God is calling you to do, how you will spend your life, which is God's greatest gift to you," said Bishop Konzen during the recorded Mass for fifth graders. 

Bishop Konzen first considered the priesthood in early grade school. At about seventh grade, he knew that he wanted to become a priest.  

"I was hearing that call from God to give my life in service to his church," he said.  

To help fifth graders know if they are being called to a vocation in the church, Bishop Konzen offered some helpful advice. 

"You talk it over with someone you trust," said Bishop Konzen. "You follow your heart. If you find that you like to pray, if you love to hear the readings at Mass and if you like to help other people, you might be on the road to being called, being chosen by Jesus to be a disciple that's going to serve the church." 

The fifth graders in Niswonger's class really enjoyed the seminarians' videos.  

Seeing their personalities come out and the joy they have shows that seminarians don't just pray all day, said Niswonger.  

"They've had a lot of fun with that," she said. 

Niswonger hopes her class really sees the joy a person can have when they follow God's call for their lives.