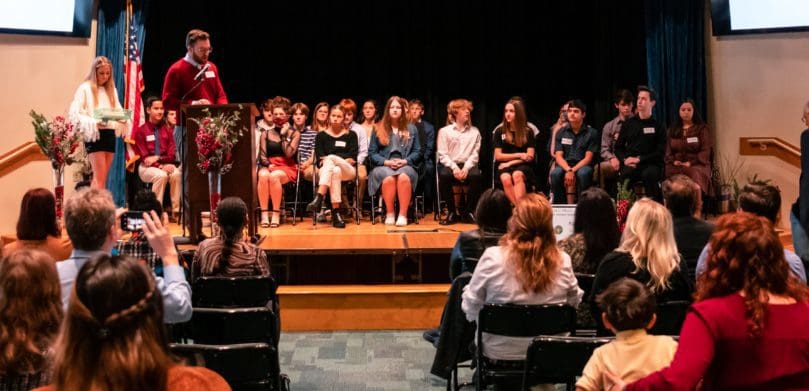 By GEORGIA BULLETIN STAFF
|

Published January 12, 2022

MARIETTA—Youth in Mission awarded 48 international and domestic missionaries $38,700 in scholarships to cover travel fees in 2022.

Archbishop Gregory J. Hartmayer, OFM Conv., blessed the scholarship recipients and their mission trips when the financial gifts were distributed at the 10th annual Youth in Mission scholarships presentation in December at St. Joseph Church, Marietta.  

Families, mission representatives, youth ministers, donors and corporate sponsors attended the event, along with 31 of the young missionaries who live locally. Zahi Ikhwan, director of campus ministry at St. Pius X High School and Youth in Mission Board member, handed out the scholarships.

Scholarship recipients are students from St. Joseph Church in Marietta and various Atlanta Archdiocese Life Teen groups, including St. Peter Chanel Church in Roswell, Immaculate Heart of Mary Church in Atlanta and Transfiguration Church in Marietta.

"To be honest, I am nervously excited and not entirely sure what to expect, but I cannot wait to be able to help them and get my hands a little dirty," said Madison Scruggs, who will be serving in Guatemala in February with St. Joseph Church. 

"I hope we can make them feel loved and important and for them to know that we did this work because of the love God and we have for them," said Alina Seeterlin, serving this summer in Knoxville, Tennessee with the St. Peter Chanel Life Teen group.

Youth in Mission supports teens and young adults who want to serve on missions but can't afford the travel costs. The charity is funded by donations, corporate sponsorships, grants, fundraisers and T-shirt and wristband sales.  

Each fall, young people are invited to apply for funding if they need the help. Applicants are chosen by the Youth in Mission Selection Committee and mission scholarships are awarded in December.

Youth in Mission aims to continue helping  local youth serve in the mission fields. All proceeds go to Youth in Mission scholarships and are tax-deductible. To donate, please send a check to Youth in Mission, 1021 Derby Run, Marietta, 30064, donate by Venmo (@yimcharity), or online at www.yimcharity.com.

Campus or youth ministers who seek additional information for scholarships toward 2023 mission trips, can email yimcharity@gmail.com or call 770-425-5129.