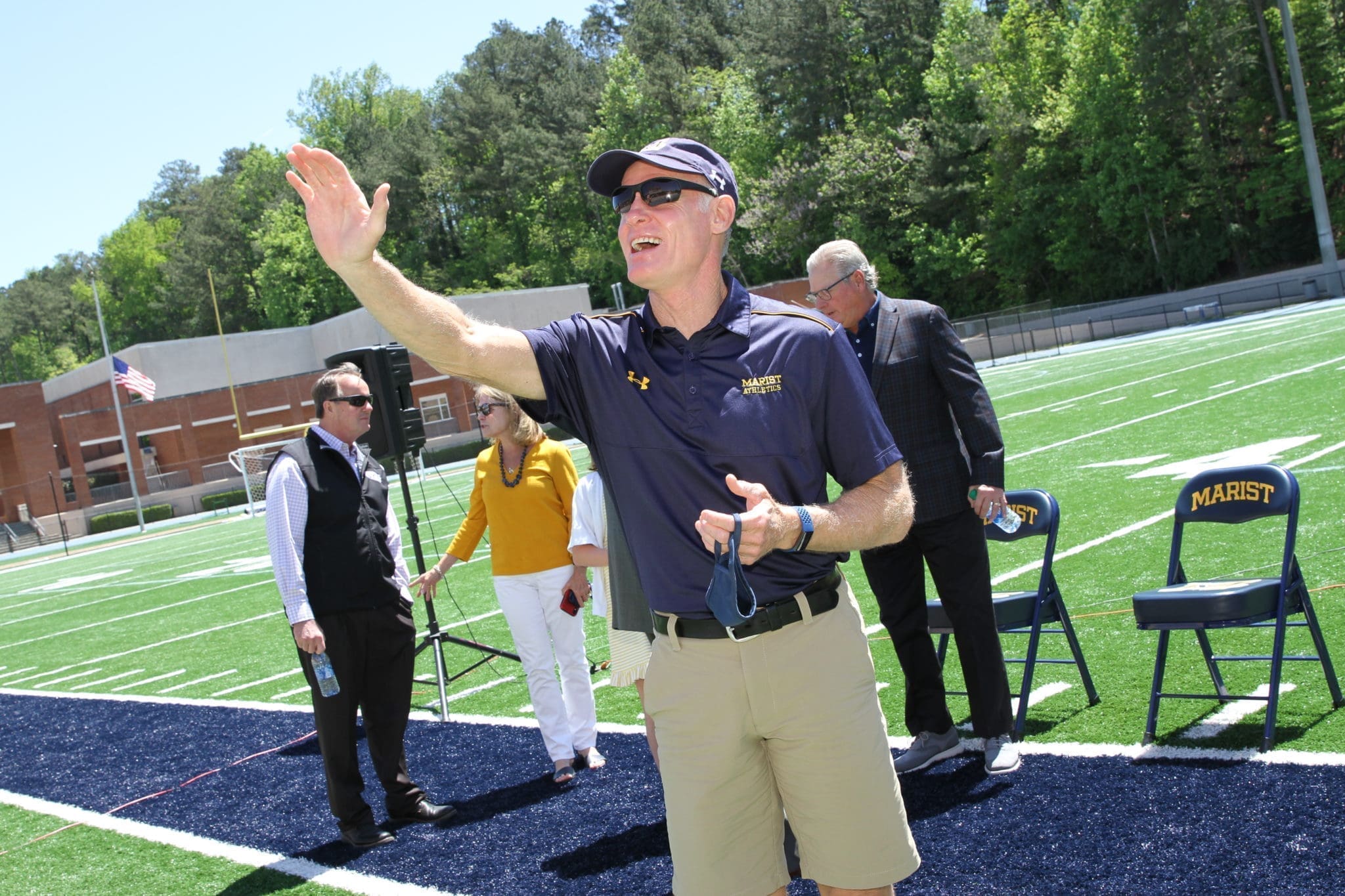 By SAMANTHA SMITH, Staff Writer
|

Published May 15, 2021

ATLANTA—Thomas "Tommy" Marshall, Marist School athletic director will retire this summer after 25 years serving at the Catholic high school. 

A competitor at heart, Marshall, 66, started playing sports in elementary school. In high school, he played three sports throughout the school year—football, basketball and baseball. Marshall's career in athletic administration began at his alma mater, Furman University in Greenville, South Carolina, and spans 45 years. 

During his time at Marist, the school won numerous sportsmanship awards and state titles. In 2004, Sports Illustrated named Marist the 15th ranked high school athletic program in America. Marist was also awarded the GADA Directors Cup for best overall athletic program for more than 15 years under Marshall. He was inducted into the Georgia Athletic Directors Association Hall of Fame in 2015.

Marshall was honored at a surprise retirement event April 25, attended by 250 people at Hughes Spalding Stadium. Kevin Butler, a member of the Chicago Bears Super Bowl team of 1985, spoke as a former player of Marshall's at Redan High School. Butler shared that Coach Marshall would stay after football practice to work with him on his kicking techniques. Former Marist Principal, Bishop Joel M. Konzen, SM, shared a message of congratulations by video.

Marshall reflected on his career in mentoring young athletes in answering questions posed by The Georgia Bulletin:

How has faith impacted your career in sports?

"I got involved in FCA (Fellowship of Christian Athletes) in high school that challenged me to integrate my faith journey and my athletic journey. It has been my platform to share the challenge and adventure of following Jesus Christ as a player, teacher, coach and athletic administrator."

How is a sports program at a Catholic school different than at a public school?

"Many of the expectations are the same. I think we have a unique opportunity to bring our faith into every aspect of our athletic programs. Each of our teams at all levels have one or more student chaplains that try to lead the team in daily prayer as well as incorporate team Masses and devotions. Our goal is to incorporate our Catholic values and Christian faith into everything we do athletically. We want to build the total person—academically, athletically and spiritually."

What have you enjoyed while working at Marist?

"I have been blessed beyond my means. I have been blessed by relationships that will last a lifetime with our staff, coaches, players, parents and administrators. I will cherish relations outside of Marist with my fellow athletic directors. The values of Mary serving behind the scenes for Jesus had a great influence on my ministry in athletics. I believe you lead by being a servant leader as a coach and athletic director."

What advice would you give parents of high school student athletes?

"I would tell parents to make sure their children are having fun. I would encourage them to be positive and supportive as their children move through the different stages of athletic competition."

Marshall will continue serving Georgia's young athletes as interscholastic commissioner for the Georgia Independent School Association. He looks forward to setting his own schedule, traveling with his wife, Dana, and following the sports careers of his five grandchildren.