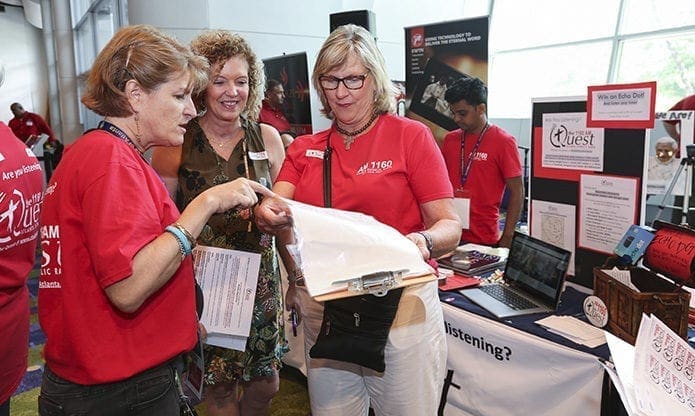 Published December 6, 2018
ROSWELL—Listeners to Atlanta's new Catholic radio station, AM 1160, the Quest, were taken on a "Journey through Atlanta Spirit Drive" on Oct. 23-25 as the station held its first on-air pledge drive. The drive was broadcast live from the station's studio in Roswell. Guests, from local priests to ministry and apostolate leaders to a former Atlanta Falcons player, shared their faith stories and talked about the work being done within Atlanta's Catholic community.
Kelly Roper, a pledge drive host from Kansas City, kept discussions flowing as she interviewed guests over the three-day event.
While the goals of the pledge drive were to raise awareness of the station, increase its listener base and raise funds for ongoing operations, the event also helped the station meet another important objective.
"The Spirit Drive helped us connect the Catholic community in Atlanta," said Carol Tiarsmith, founder and president of Atlanta Catholic Radio, Inc., the nonprofit, corporation behind the station. "We think our first Spirit Drive provided a taste of what that could look like. Approximately 100 volunteers and on-air guests were a part of the event, plus hundreds of callers who not only donated, but shared prayer requests and gave enthusiastic support to the guests."
[The Quest is the newest Catholic radio station in Atlanta Archdiocese]
Call-in guests from Atlanta and Rome
Guests from metro Atlanta, plus a few international stars, were featured sharing information about their faith and various ministries and discussing the importance of Catholic radio. Guests included Father Henry Atem, pastor of St. George Church, Newnan; Mountain Butorac of The Catholic Traveler who called in from Rome, Italy; Father Martin Connor, LC, the Regnum Christi local director; and Carmen Coya, a lay Dominican studying in Rome.
The drive featured a pro-life hour with Marla Brown, CEO of the Pregnancy Aid Clinic; Dr. Alveda King, pastoral associate for Priests for Life; and Maryann McNeil, Founder of PATH—Post Abortion Treatment & Healing.
Several teens arrived with guitars and enthusiasm to share their faith and express it through music. Brian Finneran, former Atlanta Falcon, shared how he integrates his faith on and off the football field, and was joined by Mike Coveny of Marist School.
Other guests included Matt and Cameron Fradd of Pints with Aquinas & Among the Lilies podcasts; Dr. Allen Hunt, author and senior advisor at Dynamic Catholic; Father John Klein of the Legionaries of Christ, assistant chaplain at Holy Spirit Preparatory; Deacon Rick Medina of Catholic World Mission; Father Tri John-Bosco Nguyen, director of vocations for the Archdiocese of Atlanta; local musicians Elyse O'Kane and Mary Welch Rogers; Betsy Orr, founder of the Purification Heritage Center; Tom Peterson of Catholics Come Home; and Lisa Wheeler of Carmel Communications, the organization that shares office space with the Quest and donated extra space during the pledge drive.
The volunteer-driven station gets off the ground in 2018
The station has developed rapidly in just months. In April 2018, AM 1160 went on air under a lease agreement, then on Oct. 12, Atlanta Catholic Radio purchased the station. Although the station has support from the Archdiocese of Atlanta and local Catholic organizations, as well as guidance from radio organizations across the country, funding comes exclusively through donations from individuals and businesses. A team of volunteers, from business professionals to homemakers, gives time and talent to help manage the operational, technical and spiritual facets of the station.
The mission of AM 1160 is carried out via a 50,000-watt signal. It could reach a potential 3.1 million listeners in Georgia. It's reach is global with its 24/7 online streaming. Programs are in diverse formats including interactive talk shows and podcasts through affiliates such as EWTN, Ave Maria Radio and Word on Fire.
"We hope to add more local content as we grow and develop the station," said Tiarsmith.
She shared her gratitude for to all who helped the station raise $100,000 from the pledge drive. "We are continually in need of prayers, donors and volunteers and always welcome all of them," she said.