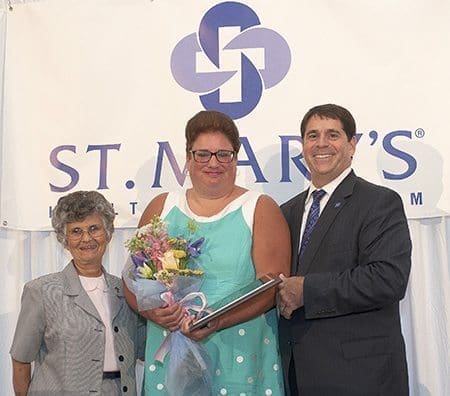 Published July 7, 2016
ATHENS—Debbie Boyle, an emergency department supply tech at St. Mary's Hospital, Athens, received the highest award from St. Mary's Healthcare System. Boyle was honored with the 2016 Catherine McAuley Award. The award, named in honor of the foundress of the Sisters of Mercy, was presented at the June 14 Tenure Banquet, honoring 278 employees for service of five to 40 years (in five-year increments).
Boyle received the 12th annual award in recognition of her dedication to the institution's mission and values, including reverence for each person, commitment to those who are poor, justice, stewardship and integrity. Sister Deborah Kennedy, of the Sisters of Mercy South Central community in Belmont, North Carolina, and St. Mary's president and CEO, Don McKenna, presented the award.
The event also honored St. Mary's staff for their years of service. Some 263 employees and 15 recent retirees—with a combined total of 4,427 years of service to St. Mary's—were recognized.
Nominees for the McAuley Award were the most recent recipients of St. Mary's monthly Spirit of Mercy Award, including employees from St. Mary's, Good Samaritan Hospital, Sacred Heart Hospital and the system's other facilities and services.