Published September 16, 2015
Here's the final story from our award-winning Aug. 24, 2006, issue. Our reporters and photographer traveled to New Orleans and the Gulf Coast to put together an issue focused on the communities hit by Hurricane Katrina at the one year anniversary.
Winnie Rainey, a New Orleans native and three-year employee of Café Reconcile, serves up a plate of catfish, corn and okra. Standing In the background is Curtis Pollet. Starting out as a volunteer, Pollet has been working in the cafe since Hurricane Katrina destroyed his two optical stores in St. Bernard Parish. (Photos by Michael Alexander)
Efforts To Rebuild Start With Helping Of Soul Food
Published: August 24, 2006
NEW ORLEANS, La.—Joron Smith shields his eyes from the glare of the sun and looks out onto an empty lot.
The lot will soon be the site of his first home and with it, the culmination of the hopes, dreams and dedication of a humble man and his family.
"You're looking at a person who basically came from the gutter, and in a minimum amount of time, in following God's will, is becoming a homeowner for the first time," he said.
Smith is the head cook and kitchen director at Café Reconcile, a restaurant and outreach program located in the Central City community near downtown New Orleans. The restaurant offers soul food, but the ministry of Café Reconcile is about saving souls. The work of the Reconcile New Orleans program is to provide at-risk youth an opportunity to learn life and interpersonal skills as well as other skills necessary to become successful in the hospitality industry.
The space occupied by Café Reconcile is a former hotbed of drug dealing and prostitution, but through its outreach and ministry Reconcile is slowly reclaiming the impoverished neighborhood, said Craig Cuccia, executive director.
Café Reconcile is the brainchild of Father Harry Tompson, SJ. Diagnosed with terminal cancer, Father Tompson chose to spend his final days serving the poor. Father Tompson was Cuccia's spiritual director, and Cuccia, who was a general contractor and worked in the hotel and hospitality industry, quickly jumped on board with the priest.
"I feel like everything I've ever done in my life has led me here," Cuccia said.
Father Tompson died in 2001, but his legacy continues in the outreach offered by Reconcile.
Shrimp creole, collard greens dished out to customers from all walks of life
It's lunchtime at Café Reconcile. Dedicated customers of various ethnicities and backgrounds gather in the colorful restaurant, discussing business and meeting with old friends over dishes of red beans and rice and fried catfish.
In the kitchen, employees and trainees joke as they stir pots of shrimp creole and collard greens.
Since its inception, Reconcile has successfully enrolled hundreds of youth between the ages of 16 and 25 so that one day they may successfully enter the hospitality industry in New Orleans. Students learn on-the-job skills, such as cooking and serving, as well as life skills, such as goal setting, decision-making, conflict resolution and personal care.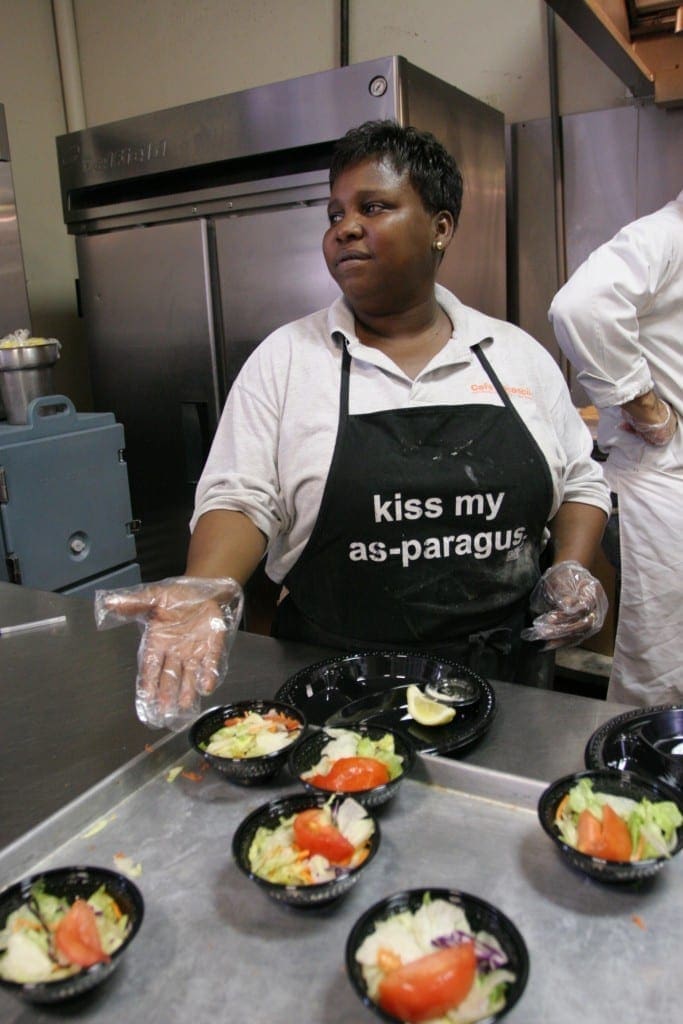 Winnie Rainey, a New Orleans native and three-year employee of Cafe Reconcile.
And now Reconcile is taking on a new project—literally rebuilding the surrounding neighborhood.
As Cuccia directs him from the passenger seat, Smith drives to the property that is the site of his future home.
As part of the Central City Collaborative, Cuccia said, they have applied for over 300 properties. In the same way that young people learn hospitality skills at Reconcile, they will soon have the opportunity to learn basic construction skills while rebuilding the neighborhood. Cuccia was adamant that the first home go to Smith, who is humble about the changes he has made in his life.
"People look at me and they see an upstanding citizen, but the truth is that I'm just now turning my life around," he said. "I know what it's like to stand on a corner and to have sold and used drugs. It's an addicting lifestyle and it's a lifestyle without a retirement plan."
Smith, 38, is the father of four children. In 2002, after years of selling and using drugs, he entered a rehabilitation program. At the end of his treatment, he was placed in a job at Café Reconcile.
"I was praying that one day God would move me to a place somewhere like this, where I'm not only cooking, but I'm helping the kids," he said.
An army of people lifting up the neighborhood
Reconcile is beginning the construction and rebuilding with five lots, including Smith's, in a collaborative effort with an Episcopal outreach ministry. Future construction will take place on lots where homes were destroyed by Hurricane Katrina, or in the already downtrodden Central City neighborhood.
"This is borne out of the need for affordable housing in New Orleans," Cuccia said. "God's lifting up an army of people to take back this neighborhood."
"This brings it full circle—giving people jobs, rebuilding the neighborhood and changing the economy—it all works to bring the neighborhood back," he said.
Cuccia, for his part, remains humble about his involvement.
"God called me to do this, and it has been a slow process. But my faith has grown tremendously," he said. "I'm on a high dive of faith—the board gets higher and the hole gets deeper—but I feel like I'm just sitting back, eating popcorn and watching God work."