By Michael Alexander, Staff Photographer
|

Published November 25, 2013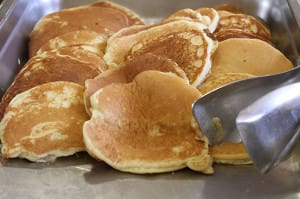 My children can tell you that most Saturday mornings growing up in our home involved pancakes or waffles. I'm partial to both; however, I'd give a slight edge to pancakes.
Well, for the 16th year the Men's Club at the Cathedral of Christ the King, Atlanta, held its annual pancake breakfast in the gymnasium above the parish's Hyland Center. It always takes place on the Feast of Christ the King, and yesterday was no exception.
Mike Penney, who heads ups the Men's Club, said they serve 800 – 900 people over three Masses (7:30 a.m., 9 a.m., and 10:30 a.m.). That translates to anywhere from 2,000 to 2,250 pancakes. I might add that these are not the box batter pancake mix from your local store. Jay Yarbrough, the executive chef at Atlanta's Piedmont Driving Club, prepares the pancakes. The pancakes are also served with a side of bacon or sausage, and there was a lot in terms of quantity. It reminded me of a T-shirt my wife bought at an outdoor market in San Francisco, Calif. With an image of a pig it says, "Praise the Lard."
It takes some 40 to 50 volunteers to pull off the monumental pancake breakfast feast. For the last 4 years the Men's Club has done it jointly with the Knights of Columbus, Atlanta Council 660. The men are able to serve all the patrons free of charge, because they fund everything from the club's annual golf tournament held in August.
The Feast of Christ the King is one of those feast days that changes from year to year. It is celebrated on the last Sunday of the liturgical year, which is the final Sunday before Advent commences. If you missed this year's pancake breakfast, you may want to mark your calendar for November 23 in 2014.