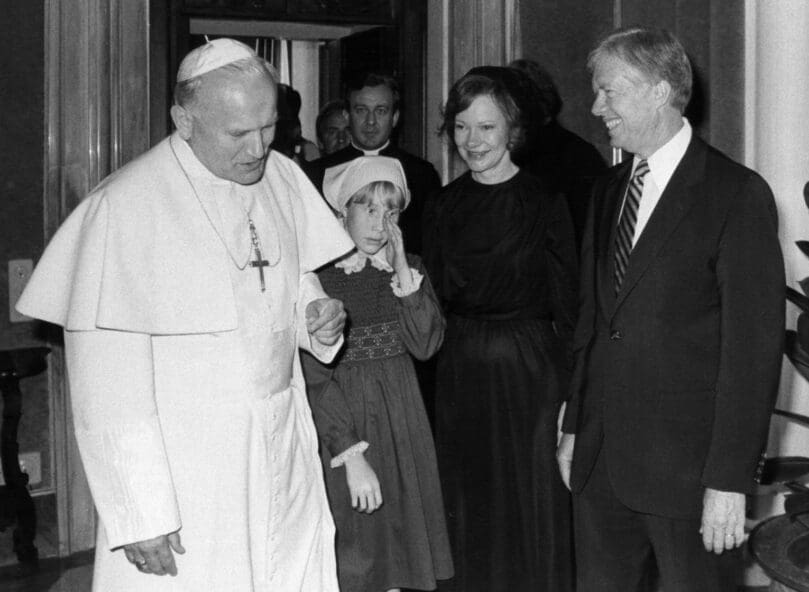 Published November 20, 2023
|
En Español
ATLANTA—Archbishop Gregory J. Hartmayer, OFM Conv., sent a letter of condolence to President Jimmy Carter and his family upon learning of the Nov. 19 death of Former First Lady Rosalynn Carter. The text of the archbishop's Nov. 20 letter follows:
Dear Mr. President:
I greet you with the words of St. Francis of Assisi, whose spiritual son I am, Peace and All Good!
I was deeply saddened to hear of the death of your beloved wife, Rosalynn.
On behalf of my Auxiliary Bishops, the clergy, consecrated religious and lay faithful of the Catholic Archdiocese of Atlanta, I wish to express my sincere sympathy and deepest condolences to you, Mr. President, and to the Carter and Smith families on the death of the former First Lady.
I want to take this opportunity to personally pay tribute to Mrs. Carter. In his First Letter to the Corinthians, St. Paul speaks of love:
"Love is patient, love is kind.
It is not jealous, is not pompous, it is not inflated, it is not rude,
it does not seek its own interests, it is not quick-tempered, it does not brood over injury,
it does not rejoice over wrongdoing but rejoices with the truth.
It bears all things, believes all things, hopes all things, endures all things.
Love never fails." (I Cor 13:4-7).
I cannot find a better description of the love that you and the First Lady shared in your marriage of over seventy-seven years. Your love for one another, in good times, as well as difficult ones. is a testimony to your faith in God and one another!  Even before acronyms became popular, you had one that guided your lives together: ILYTG, I Love You The Goodest!  What could be more beautiful? In a world characterized so often by empty words and broken promises, your love for each other is a light that continues to shine brightly for the world to see.
After leaving the White House, Mrs. Carter, like you Mr. President, devoted herself to many causes to improve the quality of life for people around the world. Mental health, human rights and conflict resolution are just a few examples of her noble service.
I remember with great fondness, Mr. President, my meeting with you and Mrs. Carter in October 2019. I had attended a Bible study class at Maranatha Baptist Church in Plains, Georgia. That morning, the lesson was on love. You asked the question: "What must we do to receive God's love?" There was much enthusiasm among the young people in responding to the question. In the end, you said: "Nothing, because God loves us first." I remained on for the service and felt so very welcome. Later on that day, you and the First Lady attended a Mass that I celebrated in the local Catholic Church. Both of you truly lived out your faith in a beautiful and admirable day.
Please be assured of my prayers as you mourn the death and celebrate the life of your beloved Rosalynn. In the Funeral Liturgy, we are reminded that our good deeds go with us. This is especially true for Mrs. Carter.  May the Father of Mercies and the God of Consolation receive her into his loving embrace and reward her for her loving and faithful service.
I am presently in Rome and will be going on to Assisi, the birthplace of St. Francis where Franciscans from all over the world are gathering to celebrate the 800th Anniversary of the Rule of St. Francis. I will remember you and your family in a special way during my time in Rome and Assisi. May Mrs. Carter rest in peace and may her memory be eternal. Be assured of my thoughts and prayers. May choirs of angels accompany Rosalynn, God's good and faithful servant, to her eternal rest and peace.
In closing, I remain,
Yours sincerely in Christ, + Gregory J. Hartmayer, OFM Conv., Archbishop of Atlanta