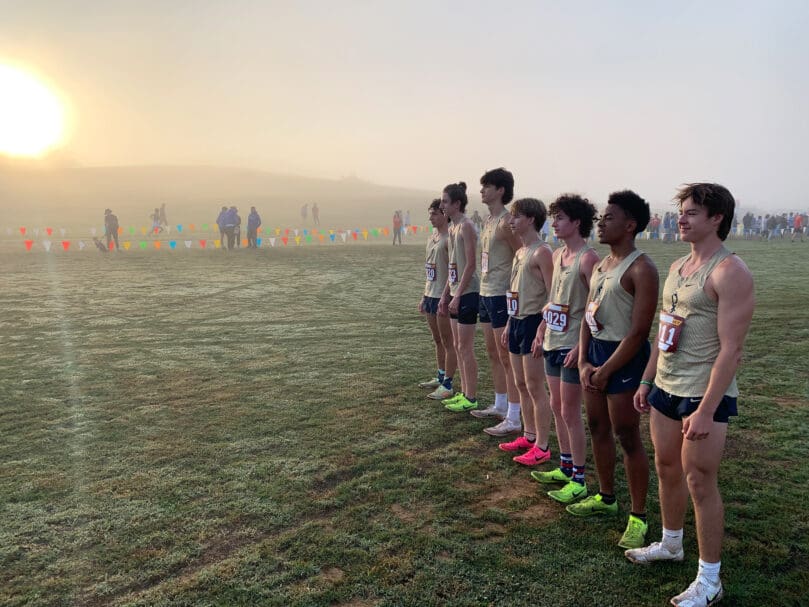 By ANDREW NELSON, Staff Writer
|

Published October 11, 2023

ATLANTA—Cross-country teams at the three Archdiocese of Atlanta high schools are tightening their laces to put in the miles with speed drills, pacing runs and conditioning on hills.   

The season is entering its second half, with the biggest race of the season looming. Runners at Blessed Trinity High School and St. Pius X High school compete at the Georgia High School Association State Cross Country Championships. The annual competition features the best teams from Georgia competing on Nov. 3-4. The race is presented by the Atlanta Track Club at Carrollton High School.   

Blessed Trinity runner London Ray crossed the finish line with the fifth fastest time among girls at the Class 6A level in 2022. The junior repeats this year as the school's top female runner. Her team is chasing its first state championship after falling short in 2020 and 2021.  

"I like to run my own race regardless of what the competition around me is doing because I know if I stay positive and focused, the results will show," said Ray in an email. She started running in third grade and has grown to love it, especially the camaraderie with her teammates. "We all push each other to our fullest potential, whether that is in workouts or races, and always find the light in any situation." 

The Georgia Bulletin spoke with coaches at Blessed Trinity High School in Roswell, St. Pius X High School in Atlanta and St. Mary's Academy in Fayetteville about the season, their runners and goals.    
BT runs 'team first' under Coach Johnson
Greg Johnson returns to coach the Titans for his 12th season. He ran on the Blessed Trinity High School's first state cross-country championship team in 2003. He emphasizes a "team first mentality" and daily effort in training. 
The coach's philosophy stresses doing the little things right. He said he likes to see his young runners giving total effort daily with training groups pushing each other in practice and races.  
"You see them all together throughout a race, pushing each other and helping each other reach their potential," Johnson said. The squad runs with a "team-first mentality" where each runner is responsible for encouraging teammates to reach their goals, he said. "With cross-country, the focus at every single race needs to be on effort."  
There are 63 runners on the team—26 girls and 37 boys. The coach said the girls have the talent to grab a state title after finishing as state runners-up in 2019, 2020 and 2021. The team has the talent to stand on top of the podium as reaching that goal will require the team to close the speed and pacing gaps so the seven top runners cross the finish line on each other's heels.  
The boys' team has the all-important depth with pacing, runners packed together on speed, similar to the 2014 and 2015 state championship teams, if they stay healthy, he said. 
"Some of us have been running with each other since we were 11 or 12 years old so it has been a lot of fun to continue our success together through high school," said Loden Kohrman in an email. 
Coach Porter: trail lessons shape life
Coach Kiesha Porter's early season pep talk does not sugarcoat anything. The coach reminds the St. Mary Academy cross-country runners they are taking on a demanding sport.  
"There's no goal, there's no ball, there aren't a lot of cheering fans. There isn't a time out," she said.   
But the lessons learned on the trails will shape them beyond graduation. 
"The lesson of determination, the lesson of integrity, doing what is right when no one is looking, it's easy to cheat on a workout," the coach told them. "If I can't be out there with you, it's easy not to do the warm-up or cool down if the coaches aren't near you, so the importance of integrity is huge."    
She started as an assistant coach in 2017 and took over the program four years later.  
The school has a team of 19, with 15 boys and four girls. There are two returning leaders in seniors Travis Nguyen and Brian Ekpenyong. In them, the younger runners see competitors leading by example to build the team up and model what it means to finish a race strong, she said.    
For the girls, sophomore Ariel Olds is guiding first-year runners, encouraging them to stick with it and trust the grueling training process to make them better runners, said the coach.   
Porter said she's encouraged the team to judge success by hitting new personal records as runners lean into the training.  
"It's going to be tough in the beginning. But just to trust in your God-given talent that you can make it through and achieve the goals you set," she said.   
At AT&T Starr's Mill Panther XC Meet on Sept. 2, almost the entire boys' team set personal records on the course, she said. For the coach, the critical successes were Ronan Malally, who improved his time by three minutes; Henry Nguyen, who cut his time by almost 2 minutes; Travis Nguyen and Angel Duran-Medrano, who both shaved off a little more than a minute, along with Micah Castile and Brian Ekpenyong who ran 30 to 40 seconds faster. Senior Breanna McBride also had a new personal record by more than one minute in the girls' 5K  
Overall, she said the team comes together as a family.  
"They desire the good for each other and that's sometimes hard because they are competitive, but they desire the good for one another and it's so beautiful to see, you know, leave no man behind, work together, encourage one another."   
The team competes in the Georgia Independent Athletic Association. Its championship is at the end of October in Macon.  
SPX team a contender after injuries
The 2022 cross country season at St. Pius X High School suffered a setback when injuries on the girls' and boys' teams sidelined key runners.   
For Coach Ryan McClay, the team has arrived mid-season looking strong.  
"Both teams are in a situation where we've got a good bit of depth, and so that can be a really helpful thing," said the 15-year coach.   
The team has earned a case full of trophies. The boys were crowned state champions every year from 2010 to 2020 except for two years. The girls have won a state title in three of the last five years, most recently in 2021.  
The team has 30 boys and 42 girls. The Golden Lions practice on varied terrain for the runners, heading off campus to Murphy Candler and Mason Mill parks to mimic the challenging state championship course.   
With McClay, the pre-season starts with the runners setting their own goals and holding them accountable.  
"I really want them to kind of take ownership over it. They kind of set their own goals, but that kind of tells me how hard I can push them," said the coach. "When they set high goals, I know I can push them a little bit harder because I know that they want it a little bit more. And when they don't set as high goals, I understand that and I back off the intensity a little bit, but if they're still not living up to their expectations that they set for themselves, I let them know."  
His coaching philosophy is rooted in consistency. If the runner keeps putting in the work, they will see results, he said. " 
Let's not try and be perfect. Let's not try and hit everything exactly the way it's supposed to be done, every workout, pace or every race. Let's just keep showing up," said McClay.