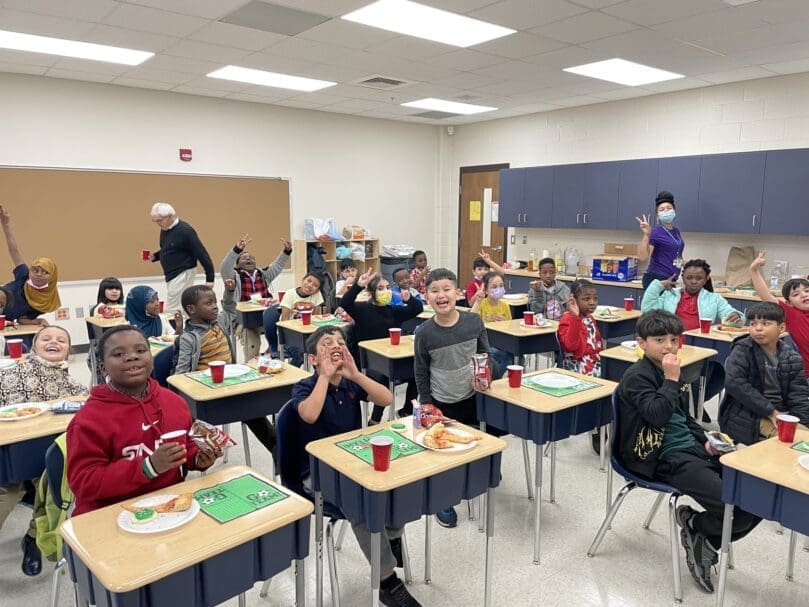 By ANDREW NELSON, Staff Writer
|

Published August 9, 2023

CLARKSTON—The Rasooly family's journey from Afghanistan to Atlanta under the threat of danger has been one with challenges. Still, with Catholic Charities Atlanta's after-school program, a sense of hope and support has emerged.  

For Khalida Rasooly, a mother of four, the program has been a lifeline, providing her school-age children with essential tutoring and educational services as they adapt to their new lives.  

Rasooly walks the short distance during the school year from her apartment complex to school for the 4:30 p.m. pickup to learn from the teachers how her children are doing. Two children are now enrolled in after-school tutoring. She looks forward to her third child participating now that he's old enough.  

A trained teacher in her native country, Rasooly said she's seen the youngsters' progress.  

"They work step by step. They talk to him, and they do everything," she said about her son's progress. The young boy is a fourth grader.  

With the assistance of Catholic Charities Atlanta, the Rasooly family, like many other refugee families, has found safety in the United States.  

The organization's staff assisted 1,149 individuals from 644 refugee families in 2022. The largest numbers came from Afghanistan, Guatemala and the Democratic Republic of the Congo. Staff greet new refugee arrivals at the Hartsfield-Jackson Atlanta International Airport. They drive the families to furnished apartments and help connect them to healthcare and employment opportunities.  

The after-school program, which continues throughout the summer, focuses on academic needs and provides a safe space for youngsters and parents to acclimate, making the transition more hopeful.   

At Indian Creek Elementary School in Clarkston, Catholic Charities Atlanta fosters an international community. In the after-school classrooms, there are 34 students representing seven countries. More than a third of the students are from Afghanistan. Every youngster in the program has been in the country for less than five years.  
Field trips and fun
During the summer, Catholic Charities Atlanta tutors meet with students for enrichment activities and field trips. Students traveled to the Atlanta Botanical Garden and visited Zoo Atlanta. A meet-up with students from Holy Spirit Preparatory School featured a soccer game. The parents got a chance to meet other adults and come home with a flowering house plant.  
Each family comes to the after-school program with a unique and challenging history. They may have lived in refugee camps with poor education infrastructure; parents may not have received an education or come from a society that did not value an equal education for boys and girls.  
"A lot of the kids come with no formal schooling, or they've had interrupted education. The after-school program really gears toward not just helping the kids but helping the parents get oriented to the American education system," said Alison Hernandez, the senior director of refugee services. The classroom becomes "kind of a safe space to learn, grow and adjust to life in America."  
Diamond Crawford works with the students as she pursues a master's degree in global health from Emory University. To encourage the students and make the place welcoming, she decorated her classroom with art drawn by the youngsters.   
"It's never a dull moment, I tell you. Yeah, it's never a dull moment. There's always something new. The kids are fun. They are hilarious," she said.  
Crawford said she'll also attend parent-teacher conferences to build relationships with families. At the same time, she learns how to tweak her program to better meet students' needs.  
"Being refugee kids, they may have some form of trauma to them. Like maybe one student might (show) anger quickly, but we always try to give them the option or 'hey, if you need to talk to us or if you need like a space to be by yourself,' we offer that space for him or her."  
The educators focus on math skills and English comprehension through games and peer connections. The after-school program also relies on volunteers who mentor the children.  
The program primarily targets students in the key grades of first through third. Reaching kids at a young age gets them and their parents invested in education early on. If a child succeeds through third grade, their chances of making it through high school increase, said Hernandez, the program director.  
At the beginning of each year, the team tests students and monitors their progress. According to Catholic Charities, 77% of students improved in reading, 93% showed improved literacy skills and 97% improved speaking, as measured by Georgia Department of Human Services assessment tools.  
To assist parents, there are meetings about the American education system. Also, tutors and interpreters can be present during parent-teacher conferences.  
The organization recently purchased two minibuses for parents and students to overcome any transportation barrier to activity participation.  
The Rasooly family resides modestly in Clarkston. The father, Toryalai, works for another refugee resettlement agency. They will mark three years in the United States in the fall. Their living room floor is covered by a small oriental rug and traditional Afghan toshak cushions. 
Since immigrating, the children have rapidly learned English. The after-school program provides continued language practice, Rasooly said. Her eldest daughter, Nahid, graduating from the program, advances to fifth grade this school year. But Rasooly hopes the program can offer a tutor to aid her moving forward.  
Her son Ahmad, 9, enjoys the program. He called "Miss Diamond" his favorite teacher. Competing with friends in math is a highlight of the program. On the recent field trip, he was especially excited to see the zoo's lions.