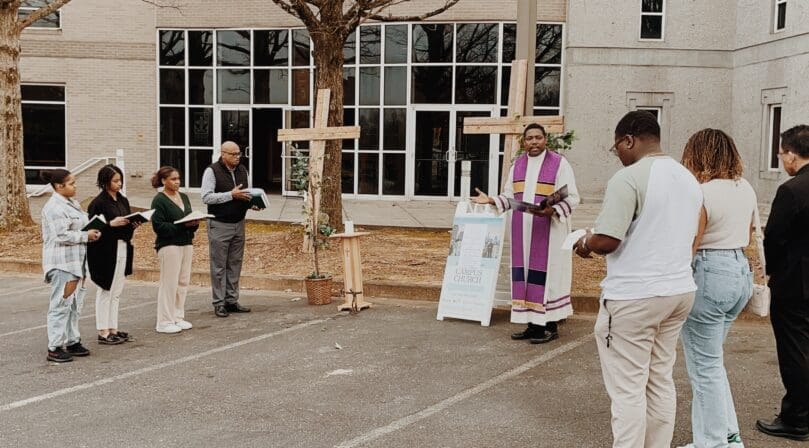 By ANDREW NELSON, Staff Writer
|

Published March 2, 2023

ATLANTA—A broom swept glass shards from the crime scene into a dustpan as Lyke House Newman Center staff cleared the parking lot. The workers removed the small, gleaming debris for its upcoming prayer service.   

At midday on Feb. 28, Clark Atlanta University student Jatonne Sterling was killed outside the center, the spiritual home for students attending three historically Black colleges and universities, and Georgia State University.   

On March 2, the Atlanta Police Department arrested Keontay Holliman-Peoples, 25, in the death of Sterling. He was charged with felony murder, aggravated assault and other counts. Police said the two young men knew each other and had gotten into a dispute before the fatal incident.

Father Urey Mark and lay minister Rudy Schlosser had returned to the center after celebrating Mass and visiting with students at the Georgia State campus, less than two miles away, to find yellow crime scene tape circling the parking lot and police officers out in force.  

Some 26 hours after the fatal shooting of the sophomore baseball player, the Lyke House hosted a service to remember the college student. Wooden crosses were erected where the 20-year-old Sterling died, along with a small bronze crucifix.  

With song and prayer, about a dozen Catholic students remembered the young man, especially mentioning his mother and family as they grieve.   

Father Mark said the student was not a member of the Catholic community, but the Lyke Center staff believes every student on the campus is a child of God and theirs to serve, whether they attend Mass or not.   

Our hearts are heavy as a Catholic community, said Father Mark. The prayers honor Sterling, honor his life and "present him to God most high," he said.   

Sterling left Chicago for Atlanta to follow his dreams, Father Mark said, encouraging students to strive and stretch to reach their dreams to fulfill Sterling's dreams.   

"Nothing can separate us from the love of God, not even the tragedy of his death," he said.   

Atlanta Bishop John N. Tran spoke too. He recalled how the Virgin Mary carried her own grief seeing Jesus' death. He asked for Our Lady's intercession to be with the family and Sterling's friends and classmates in the days ahead.   

Later that day after sunset, dozens of college students descended on the parking lot site. They spelled Sterling's name in lit candles. Red balloons and flowers adorned the lot, turning it into a shrine.  

It was not the first time gun violence had erupted on the center's doorstep. At a fall homecoming celebration, four students were hurt in a nearby drive-by shooting.    

One student at the service, who asked not to be named, pleaded for more campus police protection.  

Another student, Morehouse College senior Keron Campbell, said the colleges are supposed to be safe places for people to study, not to fear violence.  

"This is the place it shouldn't happen," said Campbell.