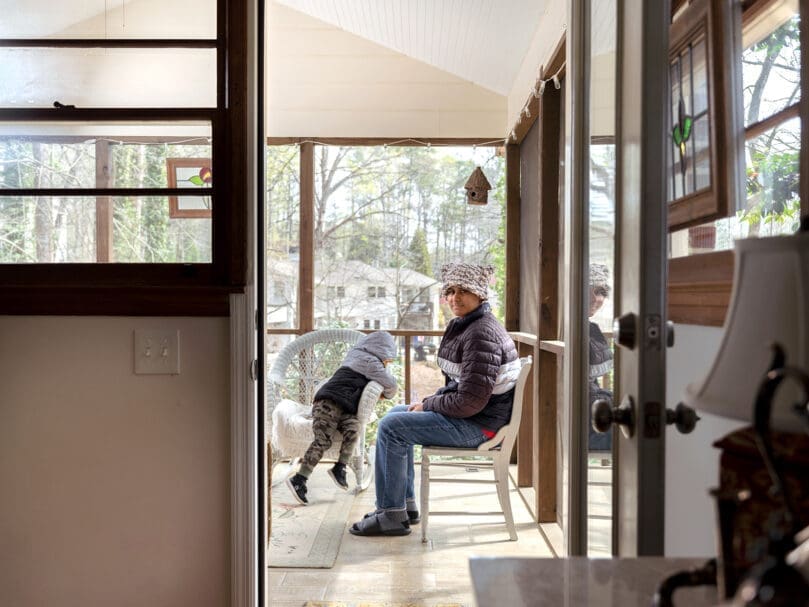 By ANDREW NELSON, Staff Writer
|

Published March 16, 2023

ATHENS—Prayers for the intercession of St. Peregrine were added to the morning announcements at Monsignor Donovan High School as two of its students had their lives altered by cancer.   

Eduardo Blanco, a junior, and John Paul Abrigo, a sophomore, learned of their cancer diagnoses within weeks of each other and began treatments in January.   

"We're in this together," one text exchange between the boys said, as they shared fears about chemotherapy.  

John Paul's diagnosis was the first. When Eduardo shared his situation in an email to the school's principal, the mood among the staff turned somber. The school community rallied around the teens, invoking the 13th century patron saint of cancer patients.   
Tradition of support continues
The school was prepared as far as planning means of support, but emotionally and spiritually it took a toll, said Ashli Walker, the interim head of school. There are about 100 students enrolled, so two students back-to-back facing cancer was heavy news to share with staff and students, she said.  
The school office became a hub to support the families. The Rams basketball games raised money to help with gas money for hospital visits. Students send encouraging notes. Teachers traveled to Atlanta to sit with the family during waiting room times.  
Staff and families have hugged the two students tightly throughout their struggles. 
"It's just Donovan. I wouldn't expect anything else," Walker said. The school first began from families uniting to overcome obstacles to build a Catholic high school, and this latest challenge will be a continuation of that tradition to overcome hardships together, Walker said.   
Overcoming past academic challenges 
Eduardo's phone pings frequently during a conversation with texts of good wishes from teachers and friends. He is 17 and enjoys Spotify playlists of gospel music. He is the second of six children. His father works in construction and his mother is a homemaker. He worked at a Kroger grocery store and was promoted to cashier.    
He entered Monsignor Donovan High School, an independent Catholic school, in his sophomore year. Between a family crisis and virtual learning challenges during the COVID-19 pandemic, he left a nearby high school with poor grades. Since arriving in the fall of 2021, he's excelled with a record of A's and B's. He enrolled in summer classes to make up classes to graduate with his class. He enjoys science and math, "solving problems one step at a time."  
"He worked so hard to turn it around. He has done phenomenally well," said Kara Hatcher, director of enrollment management.   
Eduardo's cancer was discovered after a pain in his hip did not get any better. An MRI revealed anaplastic large cell lymphoma, a rare form of non-Hodgkin's lymphoma. He has been in the hospital twice at Children's Healthcare of Atlanta for chemotherapy treatments. He is scheduled for another round later in March. If all goes well, his treatment is scheduled to continue through August.   
He received the anointing of the sick at St. Joseph Church, where the family worships. "I just keep the faith. I pray a lot. I try not to cry. I just believe in God. I just get sad sometimes because He let things happen. I don't get angry. He does things for a reason," he said.  
Faith uplifts spirits  
John Paul Abrigo's diagnosis and treatment were difficult to accept at first. But the family has leaned on their faith, said his father, Recto Abrigo. "There is nothing else we can hope for, but to trust in God," he said.   
Through the challenges facing his son, the 51-year-old has felt closer to God. Abrigo finds comfort in the Bible, especially Jesus' words in the gospel of St. John: "If you remain in me and my words remain in you, ask for whatever you want, and it will be done for you." 
John Paul, 16, is a sophomore. The only child of parents who work as registered nurses, he is an honor roll student and serves as a student ambassador. Teachers said he is a kid who is always the first to volunteer.  
Walker teaches John Paul, in AP World History. She called him a "bright light" on the school campus and a conscientious student who delivers only his best work.  
At St. Joseph Church, he was first an altar server and then became an usher at Sunday Mass, greeting people and collecting the offertory. 
Shortly after Christmas, a biopsy confirmed bone cancer in his left leg, said Recto Abrigo. This past week, the young man spent several days hospitalized for treatment.  
Recto said the school and the Filipino community in Athens have been kind beyond measure, delivering meals and helping in whatever way the family needs. 
Amid the hardships faced by the families, Hatcher has seen the hand of God, especially in the people who have crossed her path. At the school's recent gala, she sat next to a stranger who turned out to be a former leader in the Athens chapter of the American Cancer Society. They spent the night talking about the boys and identifying foundations to help the families.  
She recited other instances of people reaching out: a school parent offered his late mother's Atlanta home as a place of respite to save the parents having to make 78-mile drive between Athens and Atlanta medical appointments. Another began Facebook pages so people can express their concern and prayers without having to constantly text the parents.  
The school created a plan for the students to attend classes virtually, when they feel up to it. The spring tuition has been waived.  
Both of the boys made clear to Walker they intend to keep up with schoolwork.  
"It's sort of breathtaking to think about what they are going through and how strong their faith is," said Hatcher. "They are both focused on their future."