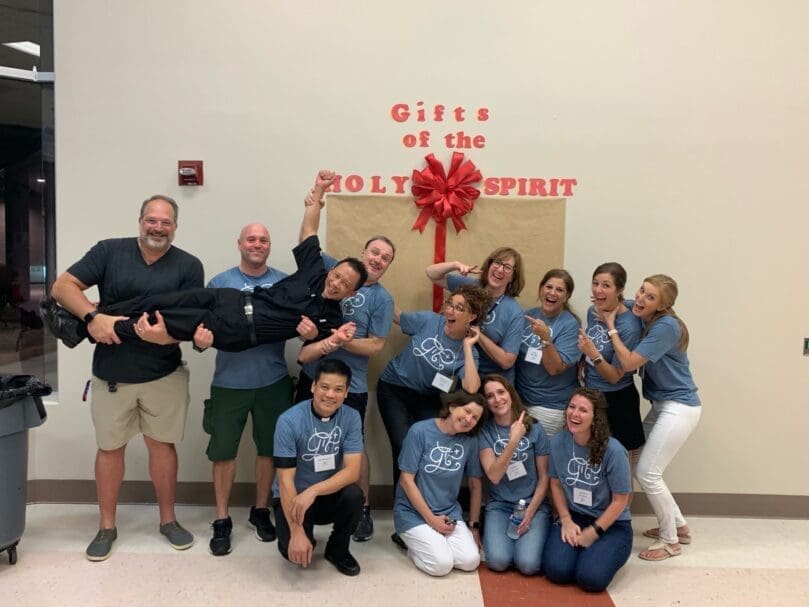 By ANDREW NELSON, Staff Writer
|

Published February 2, 2023

ATLANTA—A pop-up kitchen was opened in a church parking lot after Hurricane Michael struck the Florida panhandle in 2018. Carloads of hungry residents were fed.  

A handful of people from outside New Orleans drove the five hours to do the tiring work, among them were Chrissy and George Bloom.    

The couple said they were inspired and followed the lead of their 56-year-old former pastor, Father John Nhan Tran. He is relentless to make sure as many people as possible are helped, Chrissy said.  

"He does not stop doing for others. He can't," she added.     

Bloom, 47, an accountant, said she once captured a photo of the bishop sitting since he rarely pauses to catch his breath. She joked he is an "Energizer bunny" in action. The Blooms have worked twice with their pastor on recovery trips.   

"He is always teaching us the faith through his homily, but also through his action," she said. "He lives out the Catholic faith in a way that is authentic and is something I strive to emulate."   

When disaster strikes, people from Mary, Queen of Peace Church roll out in their cars and trucks, hauling whatever can help, whether a grill or construction tools.     

A crew departs from this suburb of New Orleans for the troubled hotspot, whether in Louisiana, Florida or Texas. These parish volunteers step up as first responders to help with the recovery, sharing hot food off the grill, ripping out water-soaked drywall and anything they can offer.      

Among them is always a sweat-stained, dirty Father Tran. It's service he brought during his nearly decade as pastor.  

"That's very important because otherwise we live in a bubble," he said about going to be with people as they emerge from shock and start to rebuild.  

On Jan. 23, the priest was ordained an auxiliary bishop, appointed by Pope Francis to serve in the Archdiocese of Atlanta.   
Appreciate the simple things  
Father Tran's family experienced the bloodshed and trauma of the Vietnam War. His father faced 18 years of imprisonment for his faith in North Vietnam. He was 2 years old when his mother died from friendly fire. His oldest brother was killed stepping on a landmine.    
When he was 9 years old, the family fled just days before South Vietnam fell to communist North Vietnamese soldiers. Leaving their possessions behind, they joined other families on a barge pushed into the South China Sea to float for several days before a military ship rescued them.  
"We knew at that time we were safe," he said.    
His family then jumped from the Philippines to Guam then from Arkansas to New Orleans where a family agreed to sponsor them. The family settled in the Algiers neighborhood, across the Mississippi River from the French Quarter.     
His father, Dung Van Tran, provided for his family by working blue-collar jobs, washing cars at a dealership to working in a supermarket. Cong Thi Nguyen, his stepmother, cleaned people's homes.    
Tran grew up with an awareness his parents had risked a great deal, clung to their faith and made sacrifices in their new country.  
"It must have been a humbling experience for him because in Vietnam he had people working for him. He owned a lot of properties," he said about his late father.    
The youngster absorbed everything he saw, including both the hard times and happy memories. "It was very difficult for my parent's generations, no doubt," he said. "New culture, new language, and so on. But for us as a kid, being able to watch television for the first time (was fun), although at that time, we could only afford a black and white TV."   
His upheaval early in life taught him to treasure "the simplicity of life, the things you only need (are) the essentials."    
Quiet service shaped ministry  
Life as a priest unfolded quietly for the young Tran, with no fanfare. The refugee experience reinforced the family's commitment to the faith. His father had been imprisoned for being Catholic. (He escaped after two years in prison.) In New Orleans, the bishop's father often attended daily Mass. The young Tran realized he was the only youngster in the pews for the 6:30 a.m. Mass before attending public school. The longtime priest admired his late father's devotion.  
"I don't think my faith is as strong as my dad. My dad would die a martyr's death before I would even consider it," he said.   
His late cousin, a priest in New Orleans, encouraged him to apply to the archdiocesan seminary after he left a college seminary in New Jersey. He completed his studies at St. Joseph Seminary College and graduated from Notre Dame Seminary. He was ordained in 1992 to serve in the Archdiocese of New Orleans.    
Before being appointed as pastor at Mary, Queen of Peace Church, he served at seven other parishes. The church has close to 2,000 families and a school. It is about 35 miles north of New Orleans, across Lake Pontchartrain.  
He said his service has always been modest, never completing a big-ticket project that would draw attention. And since the surprise October appointment, Father Tran said he's given up trying to understand how God works. 
"I told our bishop, Gregory Aymond, my archbishop, I have a better chance of winning the Powerball without getting a ticket then becoming a bishop," he recalled.   
Throughout his ministry, the bishop seemed drawn to disaster sites. In the aftermath of Hurricane Katrina in 2005, he rode with the Coast Guard to visit some of the hard-to-reach areas. For days on end, he visited people amid the ruins, celebrating Mass and offering the sacraments.    
Among the wreckage, Tran said he saw God's handiwork in the cleanup.  
"One thing I find in American culture is the generosity of people when disaster happens," he said.    
In 2015, Tran donated his left kidney to a priest serving in the Archdiocese of Oklahoma City. He said the process was easy.  
"I didn't think it gave me much thought other than the fact that I could do it," he said.  
Leading up to the surgery, he kept hearing from medical professionals how donors live healthy and full lives with one kidney, so he did not think twice about any risks, he said.   
Parishioners said one of his signature achievements at the parish has been fostering a ministry to visit and help places hard hit by natural disasters. In addition, he shaped the parish's pastoral plan to include outreach to people on the margins of society.    
New ministry in a new city
He's leaning on trusting God to guide him as he moves into this new ministry in a new city. He expects most of his work assigned by the archbishop will be focused on serving priests in the archdiocese, in addition to visiting parishes.    
He said a joy of his priesthood has been "the opportunity to listen to people's story, not only their faith story, but family life experiences."     
"Just by the fact that you are priests, you are given that opportunity to hear the story and to journey with them. And I always say this about my experience in New Orleans, the parishioners there, those parishes that I served as a parochial vicar as well as a pastor, is the people, the parishioners, the people of God love us more than we ever deserve."   
Everett Bonner has been a lifelong Catholic. He's never seen a priest rally parishioners like his former pastor to travel hours away to help strangers, from Louisiana to Texas. When there is any major natural disaster within driving distance, people respond to the call for help because they are inspired by the priest, he said.    
The 76-year-old advertising executive worked elbow to elbow with the pastor, cleaning out flood-damaged homes and serving hundreds of people plates of jambalaya, iced tea and salad.    
"He likes to be in the trenches," said Bonner. "He will be a bishop who will be in the trenches to really continue to help people. That will never change."