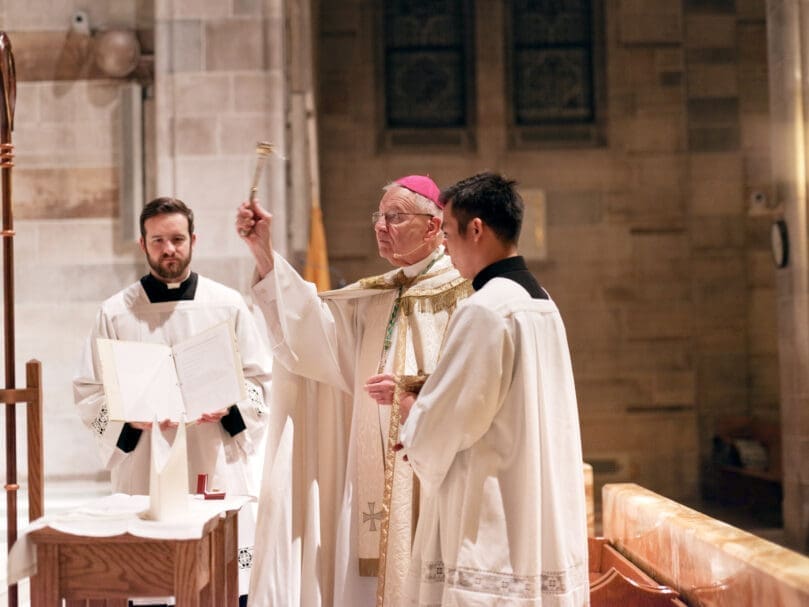 By ERIKA ANDERSON REDDING, Special to the Bulletin 
|

Published February 2, 2023

ATLANTA—The night before his ordination, Bishop-designate John Nhan Tran took an opportunity to pray with the priests of his new archdiocese.  

Inside the Cathedral of Christ the King, the warmth of sincere wishes and hopeful prayers kept the chilly, rainy weather at bay, as priests from the Archdiocese of Atlanta, as well as those who had traveled from the bishop-designate's home Archdiocese of New Orleans and beyond gathered for solemn vespers Jan. 22.  

Archbishop Gregory M. Aymond of New Orleans served as the presiding bishop for the clergy-only service. Other attending bishops included Archbishop Christophe Pierre, apostolic nuncio for the U.S., as well as New Orleans Archbishop-emeritus Alfred C. Hughes, Atlanta Archbishop Gregory J. Hartmayer, OFM Conv., and auxiliary bishops Bernard E. Shlesinger III and Joel M. Konzen, SM.  

Priests dressed in their clerics sat throughout the cathedral as the bishop-designate and presiders processed into the sanctuary. Brass instruments from the choir loft provided a regal announcement to begin the service, which featured hymns, Scripture readings and call-and-response prayers. 

In his homily, Archbishop Aymond focused on Jesus, the Good Shepherd, who, along with the first apostles, serve as role models for bishops.  

"Hopefully these reflections will help us to better understand and appreciate the ministry of a bishop and enable Bishop-elect John Tran to open wide his heart to God's spirit which will allow him to be a successor to the Apostles," he said in introduction. 

The bishop reflects Jesus as Good Shepherd as he carries a shepherd's staff, reminding those who encounter him that he is "a servant leader for the people of God—nourishing the flock, seeking out the lost…he has come to serve and not to be served," Archbishop Aymond said.  

He also recalled the humble leadership of other church leaders, including St. Peter., St. Gregory the Great and St. Augustine, who said "for you, I am a bishop. With you, I am a disciple of Jesus." As St. Augustine saw himself first as a disciple, bishops should continuously strive to be closer to Christ as they lead others to him. 

"Bishop-elect Tran, as a successor of the apostles, much has been entrusted you and much has been asked of you. You can fulfill the ministry that will be given to you tomorrow if you stay close to Jesus, who is the Good Shepherd, who calls you to be a shepherd for others," Archbishop Aymond said. "As you follow him, John, you will lead others, but only if you follow him as the Good Shepherd will you be able to lead others." 

Archbishop Aymond briefly spoke of Bishop-designate Tran's childhood as a refugee of Vietnam and his journey to the priesthood. He has been a priest who has not only served the people of New Orleans but has been dedicated to the "well-being of his brothers," by serving as the chair of the Presbyteral Council. 

"We in the Archdiocese of New Orleans have been blessed by his ministry for more than three decades, and for this we are grateful to God and grateful to Bishop-elect John," he said. "My friends, we share him with you. We bring him to you—a humble man, a good priest." 

Archbishop Aymond assured the priests in attendance that they would benefit from the many gifts of the soon-to-be bishop and concluded by thanking him for his time in New Orleans. 

"John, we will miss you, but we know your ministry here will be a blessing for many." 

Following the Gospel Canticle, Bishop-designate Tran took the Oath of Fidelity, professing his commitment to the Catholic Church, its teachings and his fidelity and loyalty to the Holy Father. The scratching of a pen could be heard as he and Archbishop Hartmayer signed the oaths. 

In anticipation of the following day's ordination, Archbishop Aymond then blessed the insignia of the new bishop's office—the miter, crosier and bishop's ring, sprinkling each item with holy water.  

After a closing prayer, the future bishop gave brief remarks telling the priests he was "certainly humbled by your presence this evening, and grateful for your prayers." He also thanked those who made the evening possible, including the choir and seminarians who served. Finally, he expressed his gratitude for Archbishop Aymond. 

"You always give us much to think about," he said. "Thank you for your meaningful homily. Again, thank you so much for being here this evening on a Sunday night, and I hope and pray that the Lord will continue to bless you as you have been a source of blessing for me." 

Following the service, Bishop-designate Tran, and the priests and bishops in attendance, gathered for a reception.