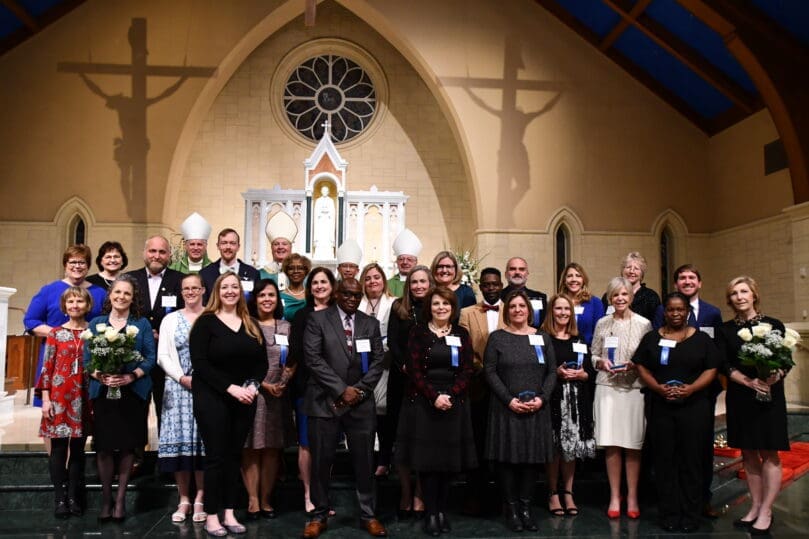 By GEORGIA BULLETIN STAFF
|

Published February 14, 2023

ATLANTA—The Archdiocese of Atlanta marked Catholic Schools Week Jan. 29-Feb 4, as part of a national observance focusing on the spiritual, academic and community contributions of the schools. This year's theme was "Catholic Schools: Faith. Excellence. Service." 

The schools in the archdiocese planned a number of activities for students and faculty, based on daily themes and celebrations provided by the National Catholic Educational Association, which sponsors the annual observance. 

Activities also included the Archdiocesan Spelling Bee Jan. 31 at the Chancery in Smyrna. Students from archdiocesan elementary schools and some of the independent Catholic schools competed to spell challenging words. 

In Atlanta, the week began with the annual Mass for Catholic Education, followed by a banquet. Atlanta's three auxiliary bishops joined Archbishop Gregory J. Hartmayer, OFM Conv., for the Saturday, Jan. 28 Mass at St. Peter Chanel Church, Roswell. 

The event gathers faculty and staff—including directors, teachers, custodians, principals, administrative assistants, coaches and others—from the 16 archdiocesan and six independent Catholic schools in the Atlanta area. One employee from each school is recognized as an outstanding employee of the year, as well as a principal of the year and parish preschool director of the year, chosen by their peers. 

The school staff members honored at this year's banquet for Catholic education were:  

Archdiocesan Schools  

Blessed Trinity High School, Roswell, Jonathan Grattan; Christ the King School, Atlanta, Judy Kelner; Holy Redeemer School, Alpharetta, Valerie Davis; Immaculate Heart of Mary School, Atlanta, Jarvis Tiller; Our Lady of the Assumption School, Atlanta, Megan Thayer; Queen of Angels School, Roswell, Carrie Benedetto; St. Catherine of Siena School, Kennesaw, Joanne Carroll; St. John Neumann Regional School, Lilburn, Terry DelBosque; St. John the Evangelist School, Hapeville, Kim Burgess; St. Joseph Parish School (Athens), Sarah Rodriguez; St. Joseph Catholic School, Marietta, Denise Mott; St. Jude the Apostle School, Sandy Springs, Aileen Leahey; St. Mary's Academy, Fayetteville, Jorge Londono; St. Mary's School, Rome; Robin Cole; St. Peter Claver Regional School, Decatur, Natalie Androla; St. Pius X High School, Atlanta, Kim Woods and St. Thomas More School, Decatur, Federica Clemenceau . 

Independent Catholic Schools 

Cristo Rey Atlanta Jesuit High School, Atlanta, Dr. Esther K. Powers; Holy Spirit Preparatory School, Atlanta, Thomas Cole; Marist School, Atlanta, Dr. Isaac Gitonga; Monsignor Donovan High School, Athens, Sandra Reinhardt; Notre Dame Academy, Duluth, Tony Barfield and Pinecrest Academy, Cumming, Ben McCormick. 

Other awards presented during the evening were for the Parish Preschool Director of the Year and Principal of the Year. Kate Viets of Holy Family Preschool in Marietta was named the preschool director of the year. Viets, who recently started her sixth year at the preschool, said some of her favorite memories revolve around the "insightful or funny, unfiltered and unabashedly honest things small children say and do." 

"The joy of Catholic preschool is in hundreds of small moments, and the truth is, I could never choose just one favorite," she said. 

Shaun Bland, principal of Decatur's St. Thomas More, was selected for the principal award. Bland enjoys working in a Catholic school in the Jesuit tradition, and its family like atmosphere, dedicated staff and enthusiastic students.