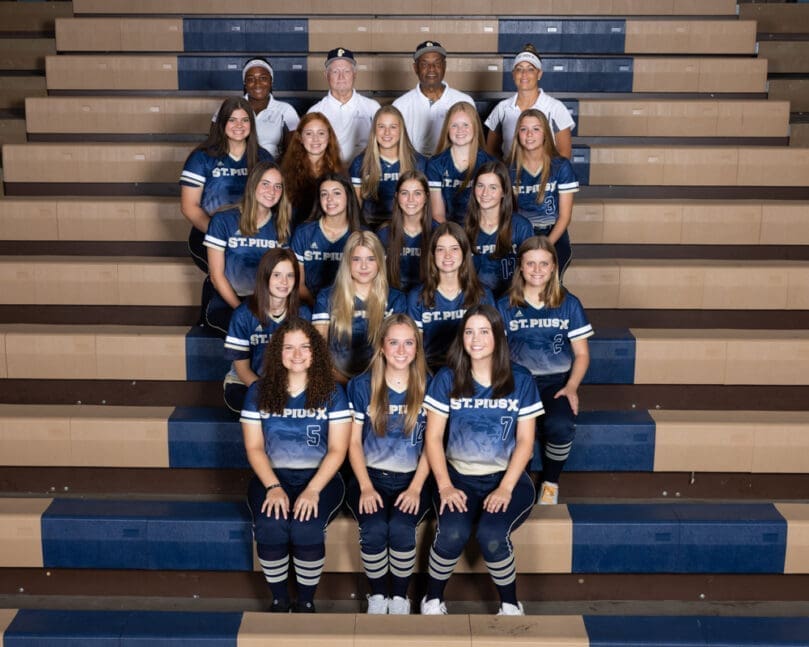 By ANDREW NELSON, Staff Writer
|

Published September 19, 2022

ATLANTA—For the past 10 years, St. Pius X High School has hosted the Pink Out tournament, bringing the community together to watch rivals battle it out on the softball diamond. It also raises money to support a scholarship fund at the school.   

The 2022 tournament is scheduled for Sept. 24 at St. Pius X High School.     

The Golden Lions' fight against cancer is personal. Former high school coaches Margaret Gilbert and Matt McIntyre both died of cancer.   

A scholarship fund named for Gilbert, a former swimming and diving coach who passed away in 2009, is supported by the Pink Out tournament. Her husband is a faculty member and three of their four children graduated from St. Pius X. The youngest is on track to finish high school in the spring. The Gilbert memorial scholarship is awarded to students who exhibit a strong commitment to their faith, family and school.   

McIntyre coached for two years in 2012 and 2013 and led the team to state playoff appearances both years.  

Last year, the event raised $3,500 with game ticket sales, silent auctions and raffles. Fans are encouraged to wear pink. 

At the upcoming Pink Out, the three teams playing are The Lovett School, St. Pius X High School and Blessed Trinity High School. It is a round robin tournament, beginning at 9 a.m. 
A look at the Golden Lions and Titans
The St. Pius X Golden Lions softball team has put together an overall 6-5 record and 3-4 in 6A regional play as of Sept. 11. In the fall of 2021, the team had an overall record of 18-10. 
Some 25 players tried out for the team, with 18 on the varsity roster and 12 of them returning players. It's a mix of three veteran seniors and the rest nearly evenly split with juniors and sophomores, said six-year head coach Amie McDougal.   
The team has a lot of experience and players capable of a range of positions, said the coach.  
"It's amazing. It's a coach's dream. You have a lot of options," said McDougal.  
Having spent so much time together in practice, travel and games, the goal is to create a tight-knit "family" among the players, she said.   
At the same time, it means teaching them to balance school and sports, with academics first then softball.  
McDougal believes her athletes can improve and start a winning streak by emphasizing to them that 80% of the sport is mental and 20% is physical.  
For her, that means it is important for young players to acknowledge errors in play and move on. The key to mental toughness is learning from your mistakes and picking yourself up again, she said. McDougal said the team can be very competitive this season once it learns to brush off blunders and move forward together.   
She aims to model a faith in God by her own actions, keeping composure and being a gracious loser. Nobody likes to lose but choosing an attitude of grace in the face of defeat lets you witness Christ on the field, she said in an email.  
Scott Harrison is leading the team from Blessed Trinity for a second year. He coached at Aquinas High School in Augusta for 14 years and baseball at Holy Spirit Preparatory School for six years.  
Twenty girls tried out for varsity, with a team of 17 and 12 returning from last year's team.   
Last year, the team went 22-9 and won its region, while as of Sept. 10, its record was 2-7-1.   
Harrison said the goal is to win games to put them in the playoffs and be playing the best when the playoffs start.    
The team is challenged by the level of competition in its new region which has "taken a big step up," he wrote in an email.   
The Georgia High School Association realigned sports classes this year, putting Catholic schools in competition against schools with larger student populations.    
Harrison said in an email the new classification has raised the level of playing. The same effort that led to its 2021 success against the new matchups "could easily lead to a .500 record this year and missing the playoffs with the new level of competition we face."  
To prepare, Harrison said he has the team playing competitive nonregional matchups and in intense practices with drills to increase speed and game awareness.