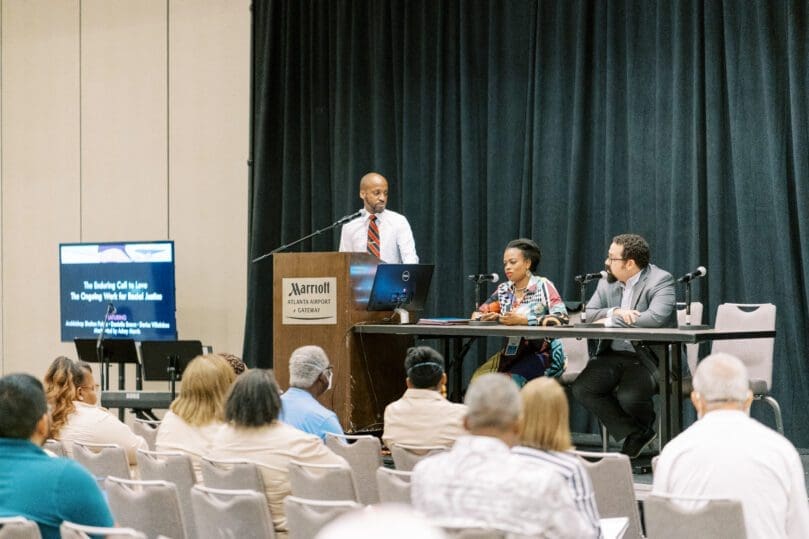 Published July 7, 2022
COLLEGE PARK—On a warm morning, Tricia St. Peter and her family delivered food donations to the St. Vincent de Paul Society truck in the parking lot of the Georgia International Convention Center.  
This was the first part of this year's Starve Wars, which the family has helped with in previous years at the Eucharistic Congress. The St. Peter family worships at St. Michael the Archangel Church in Woodstock. 
"[I] love the idea of helping others," said St. Peter. It takes everyone to combat world hunger, she said.  
Starve Wars was the kick-off event for the 25th Eucharistic Congress, held June 17-18. The theme for the congress was "Come to Me," inspired by Matthew 11:28.  
In addition to Starve Wars, Justice and Peace Ministries for the Archdiocese of Atlanta organized a Social Justice Track, which focused on hunger, racism, care for the environment and restorative justice.  
"If we are truly a eucharistic people, then the Eucharist strengthens us for the work of social justice; which calls us to love all people, to protect all life, to address all injustice and to be in solidarity with all of the mystical body of Christ," said Kat Doyle, director of Justice and Peace Ministries.  
"This way of living our faith is not an option or a ministry or an extra–it is part of who we are as Catholics," she said. 
Starve Wars helps locals
Since it began in 2016, Starve Wars has gathered hundreds of volunteers to pack meals of protein, rice and vegetables for people in West Africa's Burkina Faso. But due to the rising cost of the event and the coronavirus pandemic, it was transformed to focus more on local efforts to help the hungry and refugees.  
"What a lot of people don't know is how much hunger and food insecurity there is in the United States," said Doyle.  
The U.S. Department of Agriculture reports that in 2020, 10.5 percent of American households were food insecure, including 3.9 percent (5.1 million households) that had very low food security. According to Feeding America, 1 in 8 Georgians were food insecure in 2019 and about 1 in 6 Georgia children were food insecure from 2020-2021.  
After dropping off donations for St. Vincent de Paul, Starve Wars participants went through a series of activities centered on the impact of hunger for refugees and others in need. The first station, led by Catholic Charities Atlanta, explained the plight of refugees and the challenges they face coming to a new country. 
"Our call is to welcome, promote, protect and integrate the newcomer," said Vanessa Russell, chief executive officer of Catholic Charities Atlanta, who greeted guests during the experience. We want to "build a bridge between what's happening in the world and how we are called to serve in these vulnerable situations as Catholics." 
The last activity was a prayer labyrinth, which allowed time for prayer and reflection on viable next steps to combat hunger locally and globally. 
For Cassandra Walker, this year's Starve Wars was "more interactive" compared to when she and her daughter, Alexandra, came to the meal packing event in 2017.  
"We still have people in need here," said Walker. 
The activities "really helped me understand that you'll gain some money…and as soon as you get it, you lose it to something else you need," said Alexandra, 16. Both attend Our Lady of Lourdes Church in Atlanta. "It was just like an eye-opening experience." 
Over the Eucharistic Congress weekend, the St. Vincent de Paul Society collected 1,200 pounds of food to help the hungry in Georgia.  
Meal packing for Starve Wars is being considered for the future, said Doyle.  
"Our annual Starve Wars youth and family event is a way for the faithful to learn more about hunger and poverty and look for ways they might participate in solutions to the injustices around these issues," she said. 
Racism in the church
A panel discussion on racism was the most well-attended portion of this year's Social Justice Track, which made its debut at this year's Eucharistic Congress.  
It included Archbishop Shelton Fabre of the Archdiocese of Louisville, Kentucky; Danielle Brown, associate director of the U.S. Conference of Bishops' (USCCB) Ad Hoc Committee Against Racism; and Darius Villalobos, director of strategic partnerships and diversity, equity and inclusion for the National Federation for Catholic Youth Ministry (NFCYM). Ashley Morris, associate director of the Office of Intercultural Ministries for the Atlanta Archdiocese, moderated the panel. 
The church's agenda for racism is healing and uniting people of different races and cultures, said Archbishop Fabre, who chairs the USCCB Ad Hoc Committee Against Racism.   
"The way to that agenda is to see racism for what it is–an attack against the sanctity of all human life, which brings us all together and unifies us," said Archbishop Fabre. "It's a challenge to keep people focused as the church on what the church's agenda is when there are so many other agendas out there." 
The current political climate and lack of community within parishes are additional barriers to healing racism within the church, panel members explained.  
We must recognize that many people have been hurt in the church because of racism, said Villalobos, whose Puerto Rican grandfather remembers not being able to go to the English Mass or sit in the pews of a Catholic church because the Spanish Mass was in the basement.  
"We have to create spaces where people can feel like their hurts are being seen," said Villalobos. "And even if we haven't been part of perpetrating that, as ministers of the church and extensions of the body, sometimes we have to listen and just receive and say, 'I'm sorry.'" 
Racism has also risen to become a priority for young people, but they are not seeing the church really talk about it, which creates a disconnect, Villalobos explained.  
"There's a lack of credible witness when things are happening right outside of our doors and nothing is being talked about on Sunday," said Villalobos. "And that's not just from the pulpits. That's in how we have conversations with our brothers and sisters in the pews, at coffee and donuts afterwards." 
"These are not easy conversations, but they're necessary, especially if you want to have credible witness to our generation," said Villalobos.  
One of the reasons we struggle with having these tough conversations is because "we don't know how to be in community anymore," said Brown, who has worked for the USCCB since 2018.  
"We're not healthy enough, we're not integrated enough to show up for each other," she said. 
But "meeting Christ changes everything," said Brown. "People are still getting healed in the name of Jesus. He is still doing it, he's still alive." 
While the phrase "Catholic social teaching" became popular in the 1900s, early Christians just "walked it," Brown said. "Be unimpressed by the people who know the lingo and who can drop the acronyms; it's not about that. What it's about is being Christ." 
Encounter and conversation will help heal racism within our church and world, explained Archbishop Fabre.  
"If you look at Jesus' life, he encountered one person at a time and changed their lives," said the archbishop. "That's what it's going to take–one person at a time." 
Calls to action
From caring for the environment to restoring justice in communities, Catholics were given next step actions to address various social issues throughout the Social Justice Track. 
"Everything in the world is connected," said Father Joshtom Kereethadam, ecology sector coordinator for the Vatican Dicastery for Promoting Integral Human Development. "We are all interlinked, interrelated and interdependent." 
In his talk on integral ecology, Father Kereethadam spoke about Pope Francis' encyclical, "Laudato Si': On Care for Our Common Home" and the work the church is doing to protect the environment.  
"The Eucharist invites us to mission," said Father Kereethadam. Our urgent tasks are "rebuilding our common home [and] in this process our common families." 
"When our common family suffers, we need everyone to contribute," said the priest. 
Advocacy is another way we support the global family, said Clare Pressimone, southeast region community engagement manager for Catholic Relief Services (CRS).  
"Advocacy is speaking up for those who cannot speak for themselves," said Pressimone. "It is bringing your voice and using it to speak up for the needs of those around the world, especially those that are most impoverished." 
Pressimone encouraged laity to get involved with CRS in its upcoming advocacy training July 16 to learn how to speak to their congressional leaders ahead of the next legislative session about aspects of the farm bill.  
Catholics are called to "build up systems and conditions that are dignified, healing and equitable," said Krisanne Vaillancourt Murphy, executive director of Catholic Mobilizing Network. "That allows not just for survival, but for flourishing for all." 
In her work of restorative justice, Murphy helps to uphold dignity, build relationships, seek healing and enable transformation in circumstances of death, trauma and violence. She encouraged laity and parishes to use restorative justice principles and practices to restore community. 
"If we are living out of that faith that is alive, that is born out of a risen Christ, that we are the body of Christ, then we are called to repair harm and model Jesus' reconciling way," said Murphy.