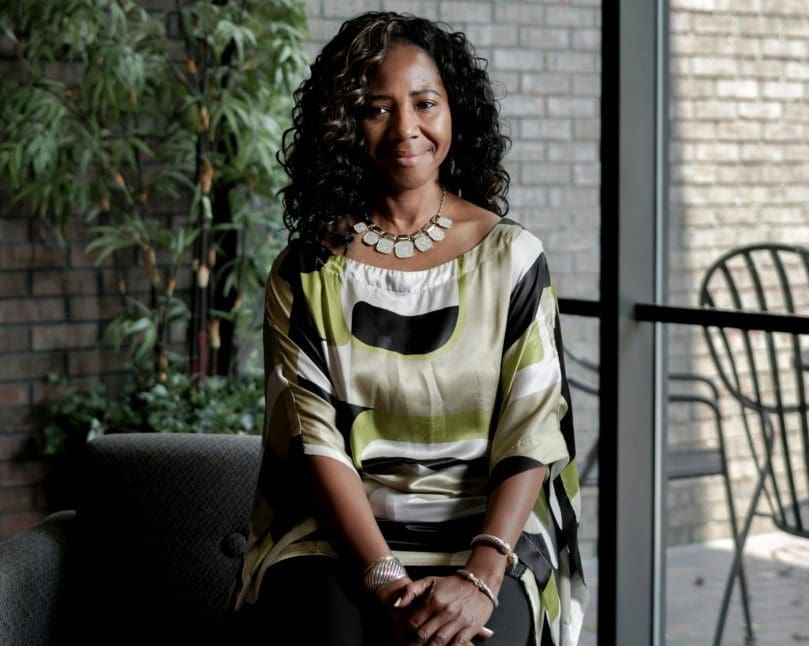 By ANDREW NELSON, Staff Writer
|

Published August 6, 2021

ATLANTA—Dr. Edye Simpson starts the 2021-22 school year as principal of St. Pius X High School.

During her 17 years at the school, she has learned how the goal of Catholic education is to build character alongside academic excellence and outstanding arts and sports programs.

"It's always about the love and respect and acceptance that you show someone," she said.

Among the historical photos of former principals, Simpson stands out as the first woman and the first African American. For Simpson, she hopes the photo is a teachable moment for students to pursue dreams.

"They see me because our pictures are on the wall as you walk into the school. I'm the only person of color and the only female that's on that wall. They can say, 'Okay so she did it. Why can't I do it?'"

"I think that has a lasting impact on them for whatever career they want to do, even if you've never seen a person of color or maybe you've never seen a female do it before. You can always be the first and never give up hope about this."

Some 1,100 students attend the St. Pius X High School, with 25% minority students, according to the school.

As the dean of student life, there was little on campus that did not bear her fingerprints. She was involved in students' lives, from working with students and training teachers to serving as liaison for diversity and inclusion and coordinating the works of student, parent and faculty committees.

Simpson has two children, one graduated from St. Pius in 2019 and her youngest is a rising sophomore at North Atlanta High School. She worships at East Point First Mallalieu United Methodist Church.

Was there a moment you decided to become an educator in a Catholic school?

It really happened by chance. I was working with the state Department of Education and was in this program called Guided Reading that was working with elementary students. After some years they got rid of the program. I had a girlfriend here and her name was Dr. Teresa Wilburn. She was the dean of students at St. Pius. We happened to go out to lunch one day and she was like we have an opening. I said I'm not Catholic and she said you don't have to be for this particular position and I was like, oh, okay. She went on to tell me about Steve Spellman and how great he is as a principal and everything. I have been here ever since. I got hired in 2003.

Working in Catholic schools really fosters community, coming together and loving and respecting one another.

What was the biggest challenge you faced connecting with the St. Pius school community during the past year?

We couldn't do in-person meetings and activities. We had to do a lot of things on Zoom.

That was a challenge in trying to hold us together as a community when you don't have that human touch, can't sit down and have lunch or have the receptions that we used to have when we brought all the parents on campus.

It's really hard to connect with people but we had to find a way to continue to encourage them.

You may be the first African American woman to lead an Atlanta Catholic high school. Research has shown representation in the classroom matters, that teachers of color have an impact on students of color long term. What do you think it means for students and their families?

I think it shows them that we're open to diversity, that we're moving towards that era. And to the students, although it hasn't happened before, whatever career that you may be interested in, there's always hope. Never give up hope about this.

We are working on diversity here at the school. Although diversity comes in many different forms, we are working with teachers, instructors, so students can see more people of color.

I think that has a lasting impact on them for whatever career they want to do, even if you've never seen a person of color or maybe you've never seen a female do it before. You can always be the first and never give up hope about this.

What do you want people to know about St. Pius X High School?

We are a school that's committed to making sure that all of our students graduate with academic excellence, and they know we've invested in them, that they have good character. And that good character is … to make sure that they get to heaven. So those are the three things, graduating, going to college and getting into heaven.

All the things that play a part of that, from the academic curriculum that we have for them to the service projects that they participate in, going to Mass, everything that we try to teach students and tell them, we're planning a seed for their next step or the next phase of their life.