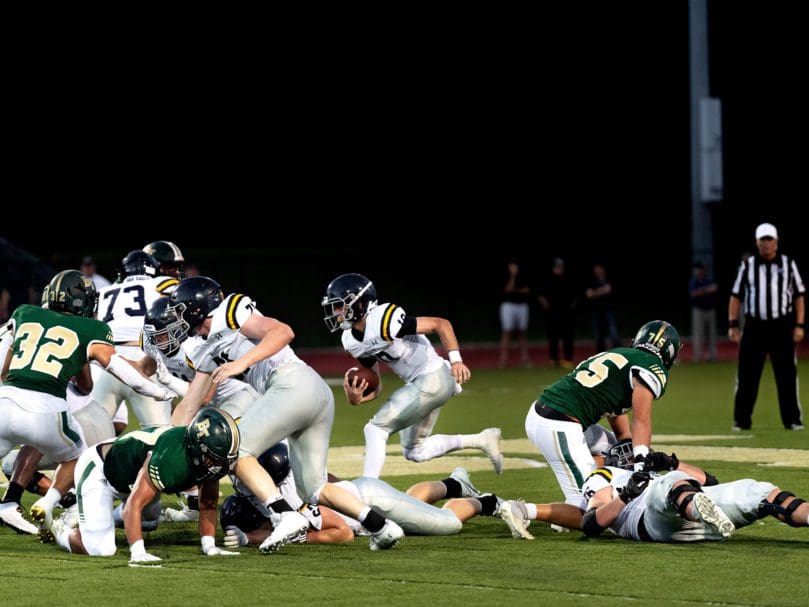 By ANDREW NELSON, Staff Writer
|

Published August 31, 2021

ROSWELL–After a stalemate in the first quarter, Marist School found its momentum against the Titans of Blessed Trinity High School in the second, with a nearly 50-yard pass up the right sideline from quarterback Champ Davis to running back Will Gerrick.

"It got everybody fired up," said Davis.

The pass led to a touchdown to tie the game 7-7, and then Marist scored three unanswered touchdowns at Blessed Trinity's stadium.

The War Eagles of Marist School on Friday, Aug. 27, beat the Blessed Trinity, 28-13.

The win extended Marist's winning streak after a 13-0 season in 2020, which was capped with bringing home the Class 4A championship trophy.

Coach Alan Chadwick credited the series for settling his team into the game after a poorly played first 12 minutes.

"This is a big confidence boost. We fought like warriors," said the coach, who also won his 400th high school football game.

Marist's defense tied up Blessed Trinity. The Titans offense never settled into a rhythm. Blessed Trinity's two touchdowns came from junior Even Dickens. He put the first six points on the board in the second quarter when he returned an interception for some 20 yards.

The second score came when Dickens broke out of the backfield from near midfield to outrun defenders to the end zone. The extra point after the touchdown was no good.

For Davis, the win helps the team shape its own identity and break out of the shadow of last year's championship.

Davis, a senior, said he wants to ensure Marist underclassmen know when the team faces adversity to have the confidence to bounce back and focus on the next plays.

"We have room to grow, which is exciting," said Davis, who threw for one interception.

Senior Andrew Mannelly, the starting full back and defensive end, had a nearly 50-yard run into the end zone, making it 21-7.

Getting a win with the season's first game sets the tone for upcoming games, he said. Penalties and other missteps should fade as the season gets underway, Mannelly said.

"We have a lot of confidence. We are ready to keep on pushing," he said.
---
Marist School next plays Woodward Academy on Friday, Sept. 3, at the College Park school.
Blessed Trinity faces St. Pius X High School on Friday, Sept. 3, at the St. Pius stadium.