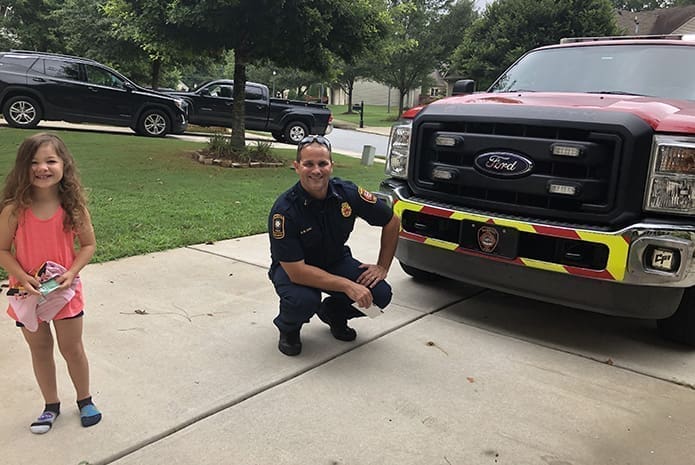 By SAMANTHA SMITH, Staff Writer
|

Published July 7, 2021

MARIETTA—During the uncertainty of the coronavirus pandemic, more than 100 people around the world found letters of encouragement in their mailboxes.

Annaluisa "Annielu" Puig, a 5-year-old student at St. Joseph School in Marietta, sent the letters. 

"I wanted to help people smile," she said.

Coming from a close-knit family, the young girl was sad when the coronavirus isolated her from so many she loves dearly. To feel connected to her family, Annielu wrote letters and decorated them with stickers. She started writing the letters at age 4.

"I loved seeing her spread smiles and knew how much those letters meant to our family," said her mother, Deanna Puig.

In return, the recipients were asked to send a photo of themselves with a response letter so Annielu could see their reaction.

After finishing her letters to family and friends, Annielu started writing to first responders, which included police officers, teachers and local government officials. As a result of her efforts, she received a surprise visit from the Marietta Fire Department.

"We realized it was an eye-opening way to see the world when the world was shut down," said Deanna. Putting letters in the mailbox and checking the mail each day became a highlight for the Puig family, which also includes Annielu's father, Mark, and her younger sister, Elisabette. The youngster even got to know the family's mail carrier and they have regular chats.

Later, letters were addressed to Annielu's personal heroes. This included astronauts, scientists and Queen Elizabeth II, among others. Her love of books and inquisitive nature led her to ask questions about their work.

A lady-in-waiting of the queen's responded as did astronauts Christina Koch and Jessica Meir, and former presidents.

After reading "Hope for Winter: The True Story of a Remarkable Dolphin Friendship," a book about dolphins receiving care at the Clearwater Marine Aquarium, Annielu wrote a letter to the aquarium's dolphin trainers, asking questions about the experience. In response, the Florida-based trainers answered all of her questions and took pictures of the exhibits.

In a letter to Cardinal Wilton D. Gregory of the Archdiocese of Washington, who served as Archbishop of Atlanta for 14 years, Annielu congratulated him on his new role. She asked for prayers and wanted to know his favorite saint. She shared her interest in St. Therese. 

Cardinal Gregory responded, encouraging her to be like St. Therese, "loving God and others each day, even through small acts."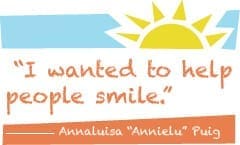 Scientist Neil deGrasse Tyson sent a personalized signed book. A photo from the otter caretakers at the Georgia Aquarium arrived. The family's favorite bakery in New York City sent a box of Annielu's favorite cookies. 
"People truly took time to answer her questions. They wanted to encourage her," said Deanna. "The kindness she has received from simply writing letters is amazing."
Annielu plans to continue practicing her penmanship and dropping letters in the mail.
"I am going to keep writing letters because it makes me happy," she said. 
Her mother is working on putting a scrapbook together of all the letters and photos she has received.
"I am very grateful to each and every person who took time to read her letters and send kindness back to her, encouraging her inquisitive nature and her love of writing, teaching her invaluable lessons and restoring my faith in the goodness of people," said Deanna.