By ANDREW NELSON, Staff Writer
|

Published May 12, 2021

|

En Español

JOHNS CREEK—For Cathy Schneider, her efforts for years fighting abortion focused on the annual observance of 40 Days for Life where she prayed to end it.

Now, she's finding herself throwing online baby showers, renting AirBnBs and finding medical care for women who face crisis pregnancies.

"When you save them on the sidewalk, the real work begins," she said about her conversations with women heading toward abortion clinic doors.

Schneider makes an effort to connect with women she encounters outside an Atlanta abortion clinic with the Sidewalk Saves ministry. She hears the complications faced by financially struggling women, from affording child care and working a job without paid maternity leave to getting transportation to a doctor's office. All these obstacles hold them back from continuing with their pregnancy, she said.

Beatrice Toe, 29, met Schneider outside an abortion clinic. Feeling depressed and confused, she planned to get an abortion some five years ago. But the conversation that day changed her mind, she said.

"I thought I would be alone. She was with me the whole time. Whenever I call Miss Cathy, she is one step away," said Toe, a mother of four children who lives in Stone Mountain.

Toe and her husband, Melvin, have called on Schneider when money is short for rent. The family received a donated van, so they could all ride together. The group even helped Toe with immigration challenges to become a permanent U.S. resident with a green card. The living room at Christmas time is "choked with gifts," she said.

"She kept her promise. (My child) is four years old, and she's still around," Toe said.

Schneider's efforts from her ministry out of St. Brigid Church, Johns Creek, is seen as a model for a new campaign getting underway called Walking With Moms in Need.

Lots of attention is focused on getting legislatures to pass laws restricting abortion access. However, this initiative asks the Catholic community to put the woman and her needs at the center of the abortion conversation.

Its aim is to draw parish members together to accompany pregnant women and their families through difficult circumstances, said Joey Martineck, the director of the Respect Life Ministry of the archdiocese.

Martineck said the program shifts to "genuinely focus on the woman herself first, not her baby." With space to think beyond an immediate crisis and with the faith community "embracing her in support and love," a woman can pause to consider her unborn child, he said.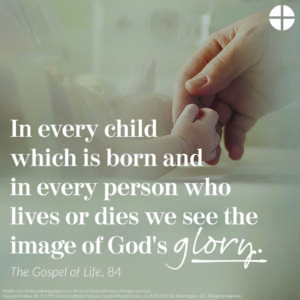 The U.S. Conference of Catholic Bishops promoted the program to mark the 25th anniversary of "Evangelium vitae," St. John Paul II's encyclical "The Gospel of Life."
In a statement, Archbishop Joseph F. Naumann of Kansas City in Kansas and chairman of the U.S. Conference of Catholic Bishops' Committee on Pro-Life Activities, said its goal is to "fill the gaps in services and resources to mothers facing challenging pregnancies and those parenting young children in difficult circumstances."
Seeing other paths forward
Josh Harris, 35, has worked for two years on outreach outside abortion clinics. He's learned women seem to make decisions out of "fear of financial insecurity."
Harris had just gotten off the phone with a woman seeking counseling and rent assistance so the family could celebrate Mother's Day.
Pregnant women can see other paths forward if parishes embrace them with mentors who "can love on them," said Harris, who attends Holy Spirit Church, Atlanta. This work needs to include providing for a family's material needs, he said.
This work responds to why women turn to abortions. Studies show unintended pregnancy is most common among poor women, women of color and women with a high school education or less. Research from the Guttmacher Institute has shown most women opt for an abortion out of concern that having the child would interfere with an education, work or ability to care for dependents.
The Catechism of the Catholic Church calls abortion a "moral evil." The official teaching of the church states, "Human life must be respected and protected absolutely from the moment of conception."
Since moving to the Atlanta area nine years ago from Kentucky, Schneider has been drawn deeper into getting to know women at the crossroad of choosing abortions or continuing with the pregnancies.
With signs that read "here to help, not to judge," Schneider said she shares an uplifting word to encourage women to pause before entering a clinic.
"The first thing I try to do is say congratulations because nobody's really said babies are a blessing and a miracle. Because it was unplanned, they can panic so I just kind of put a soft edge to begin the conversation," she said. "I just want to help them see the joy in this."
Those conversations, which can continue over lunch, are the start only.
The lives of these women are filled with challenges, which is "very much a juggling act of bills and keeping all the balls in their life in the air. This pregnancy makes them think they cannot keep all the balls in the air," she said.
In the face of the needs, Schneider, 55, said the ministry partners with them to overcome the burdens. She estimated Sidewalk Saves keeps in touch with some 40 women, who now have "a surrogate family."
Her group will raise money to cover bills when a new mother stays home from work. Schneider said a core of 150 people respond to her emails and pitch in when the ministry is in need. They have taken care of rental fees for months at a time, moved a pregnant woman away from an abusive partner, and bought bunk beds for children.
"We will never let someone be homeless because they choose life," she said.
At the same time, to help each family, a mother gets thrown a baby shower with strollers, clothes and other accessories, a celebration which some families have never experienced, Schneider said. The current registry for a woman in Columbus includes 63 items, with 62 already purchased. Each family gets an account with at least $575 to cover the cost of a year's worth of diapers.
Martineck said success in the short term would be more stories of "how mothers experienced mercy and chose life" while five years from now he would like to see every parish, college Catholic center and Catholic school display a Walking With Moms in Need Pregnancy Help sign and a ministry running it.
His other goal is to see the Georgia abortion rate go down, particularly among women who identify as Catholic. In Georgia, the abortion rates began rising in 2017, after years of decline, according to the Charlotte Lozier Institute. The most recent estimates are 14.1 abortions per 1,000 women between the ages of 15 to 44. In 2019, there were close to 31,000 abortions in the state.
Schneider said this initiative is about people, working with their boots on the ground, to love and support these mothers and their families.
"That's what we are building—a network of a caring community to come alongside mothers who choose life," she said.
---