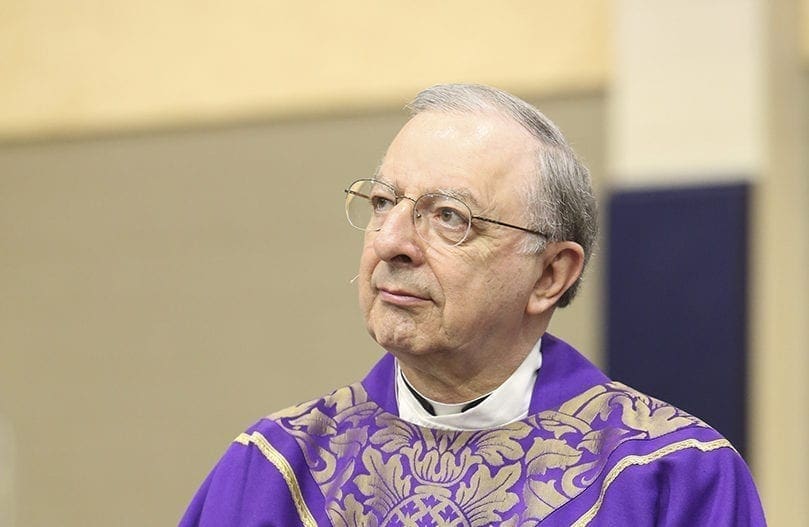 By ANDREW NELSON, Staff Writer
|

Published May 30, 2019

|

En Español

ATLANTA—Bishop Joel M. Konzen, SM, will oversee the Atlanta Archdiocese as the diocesan administrator.

He was elected by the College of Consultors on Friday, May 24.

"I ask for your prayers and support as I carry out these responsibilities on behalf of the people of God in this local church," said Bishop Konzen, who is 68.

Appointed an auxiliary bishop while serving at Marist School, Bishop Konzen was ordained in 2018.

A letter was sent to the Apostolic Nuncio Archbishop Christophe Pierre to inform him of the selection. Archbishop Pierre is the Vatican ambassador to the United States.

An administrator is required to lead the archdiocese when the office of archbishop became vacant. Former Atlanta Archbishop Wilton D. Gregory was installed May 21 as leader of the Archdiocese of Washington, creating the vacancy. Auxiliary Bishop Konzen will serve in this position until a new archbishop is appointed by Pope Francis.

As the administrator, the role is limited by church law which says, "When a see is vacant, nothing is to be altered."

In practice, canon law experts said it means no new initiatives can be undertaken, and no current practices can be abandoned.

The son of a pharmacist and a teacher, Bishop Konzen knew he wanted to be a priest by the time he was a teen. He attended high school seminary Pontifical College Josephinum at age 14.

He took his first vows as a Marist in 1975. He took perpetual vows in the Society of Mary and was ordained a deacon in 1978 and a priest in 1979.

As a member of the Marist community, he had a long ministry as a school administrator and in the classroom before Pope Francis appointed him an auxiliary bishop.

Bishop Konzen arrived at Marist School in Atlanta in 1980, where he remained for nine years as a teacher, admissions director, principal and president. From 1992 to 1997, Bishop Konzen was principal and president at St. Michael's Catholic Academy in Austin, Texas. He returned to Atlanta and Marist in 1999.

He also gained administrative experiences with years in leadership positions in his religious community. Bishop Konzen was the vicar provincial of the former Washington Province of the Society of Mary while a graduate student at The Catholic University of America. In 1997, he returned to Washington, D.C. to work as vicar provincial for another two years

He was ordained by Archbishop Gregory to serve as an auxiliary bishop in April 2018. He adopted as his motto: "miserere gaudens" from Saint Paul's Letter to the Romans. This passage is translated as "Be merciful, and with a cheerful heart."

Auxiliary Bishop Bernard E. Shlesinger III will continue to serve in Atlanta.

The College of Consultors is made up of a dozen priests who advise the archbishop and select an administrator when the position is vacant.