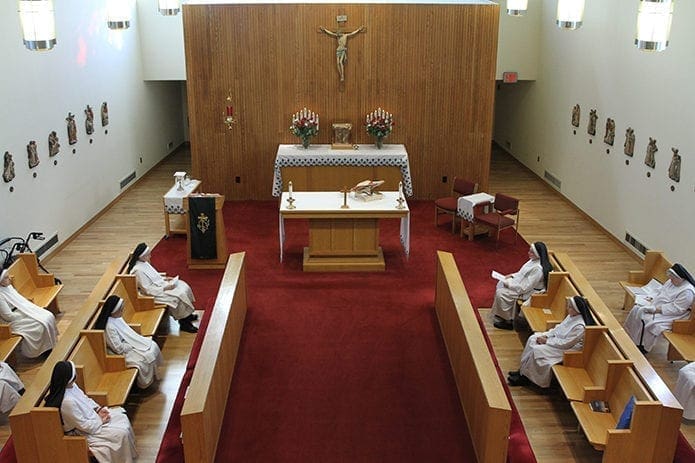 By JEAN DRISKELL, Special to the Bulletin
|

Published December 6, 2018

ROSWELL—"A Bouquet of Loving Hearts" was the theme of the 62nd annual luncheon supporting Our Lady of Perpetual Help Home, held at St. Peter Chanel Church on Oct. 20.

The luncheon honored the Hawthorne Dominican Sisters who established the Atlanta home where they provide free care to terminally ill cancer patients. An estimated 350 guests attended, including many of the sisters.

"We proclaim how excellent is the name of Our Lord and Savior in all the earth. And with this proclamation, we pause to celebrate the sisters of Our Lady of Perpetual Help Home," said Dr. Barbara Naylor-Hill, guest speaker and parishioner of St. Anthony of Padua Church, Atlanta.

"The sisters have been referred to as 'servants of relief for incurable cancer,'" she said.

"They work to cultivate a very loving home environment. It is a place of peace. It is a place where people have dedicated their lives to serving others."

Not only is the home about peace, but it is also about joy, she said.

"They have fun. They make us laugh. Joy comes out," she said.

Naylor-Hill, who holds a doctorate in education, was a longtime teacher and principal and serves as interim associate dean in the School of Education at Clark Atlanta University.

In the Gospel of John, St. John the Baptist states that he must decrease so that Jesus can increase, she said, and the Hawthorne Dominican sisters do the same as they care for their patients in their nursing apostolate.

"The sisters decrease every day. They come in and try to increase the love of others by finding comfort in a morning prayer," said Naylor-Hill.

"There is nothing like starting the day with a touch, a very gentle touch," she said. "That touch of love is precious. They decrease (so) that you or your loved ones can increase. They want this person to feel God."

She said that the sisters "are dedicated to what God has asked them to be."
One family's story
Shirley Harris, whose late husband was cared for at the home, shared her family's experience.
"My husband was at the VA Hospital and one day one of his doctors approached me and said, 'I'm sorry, but there is nothing else we can do for your husband. He has to go to hospice,'" she said.
Harris asked the doctor what would be a good place for her husband, who had cancer.
"He immediately said, Our Lady of Perpetual Help Home, and it is run by nuns," she recalled.
A Baptist, Harris asked the doctor if she had to be Catholic for her husband to be admitted there.
"He said 'No. They serve from the heart. It is not about a paycheck to them,'" she remembered.
"In 2014 my husband, George, arrived at Our Lady and in the summer of 2016 my husband left to be with Jesus," she told the luncheon attendees.
"I want to thank you, sisters, with gratitude in my heart," she said, addressing the Hawthorne Dominicans. "With your loving, caring hearts, over the two years that my husband was there I saw that you truly loved the patients. You truly cared for them and you served from the heart."
Harris continued, "I know that you are able to come to this seven days a week around the clock because it is your love you have for God."
Harris said in her experience the sisters never looked at the sick as patients.
"You treated them like they were guests in your home," she said. "It still goes on today the same way. You became my family, my friends."
She continues to thank God for blessing the home.
"He gets the praise and all the glory for all that happens at Our Lady," she said.
Trust in God's providence
Our Lady of Perpetual Help Home, opened in Atlanta in 1939, is one of three Hawthorne Dominican homes in the United States. Their mission is to provide palliative care to those with incurable cancer who cannot afford to pay for care. No payment is accepted. The rule of life of the sisters puts all their trust in the loving providence of God. Some sisters were nurses before entering the congregation. Others are trained as nursing assistants during formation.
Rose Hawthorne Lathrop, daughter of novelist Nathaniel Hawthorne, founded the congregation in 1900. A convert to the Catholic faith, she began caring for the sick in New York City at a time when cancer was considered contagious and those suffering from it were often abandoned.
In Atlanta, the Our Lady of Perpetual Help Home Auxiliary is made up of volunteers who assist the Hawthorne Dominicans, providing public relations and outreach for donations, including through yearly raffle ticket sales and silent auction items donated for the luncheon.
Emma Reynolds, luncheon chair, welcomed all to the event.
"We are one. We love God. We love our neighbors. We love to serve. We love to pray," she said. "It all comes from our hearts."
In a telephone interview, Reynolds said that she has been with the auxiliary for five years and her goal each year has been to increase financial support for the home and draw more people to the luncheon.
"This year my other goal was to recognize the sisters who take care of the home, the patients and their families. They need their love, their loving hearts," she said.
She wanted to show appreciation and love to the sisters.
"They make the patients and their families feel like family," she said.
A hometown missionary
Gregory Pocock, master of ceremonies, explained his connection to the home.
"Thirty-seven years ago I had the very good fortune to become a part of Our Lady of Perpetual Help Free Cancer Home," he said. "In preparation for the Peace Corps, in 1981, I approached my pastor, Father Joseph Beltran."
Pocock asked where he could encounter the type of suffering he would see while in the Peace Corps. Father Beltran told him to go see the sisters at Our Lady of Perpetual Help Home.
Right away, the sister to whom he was assigned asked him to help shave a patient. The new volunteer had never used that particular type of razor, but the sister said it didn't matter.
"She was so wise. She threw me into the deep end of the pool where I had to start swimming," Pocock said.
He said he never made it to the Peace Corps because the position he applied for was eliminated, but he found his calling.
"I did not have to go 3,000 miles to be a missionary," he said. "I found I could be a missionary in my own town at the bedside of the sick and that changed my life. I am so grateful."
Pocock said that the sisters showed him every day "their courage, their dedication and their cheerfulness of heart."
"Truly we serve the Lord in the guise of the afflicted, the broken, the lonely, and that is something the Hawthorne Dominicans demonstrate with such confidence," he noted.
In an interview, he said that he first worked at the home as a volunteer and joined the staff nine months later.
"Basically I worked as a patient-care person," Pocock said. "I helped with bathing, feeding and dressing patients; changing sheets. It was all-encompassing work."
He said one of his fondest memories was of time spent with the late Msgr. Michael Manning, who had Parkinson's disease.
"Archbishop Thomas Donnellan asked the sisters to take care of Msgr. Manning and they did."
"I would vest him and help him get ready for Mass and we would have Mass together," Pocock said.
Pocock is currently a senior chaplain at Emory Saint Joseph's Hospital, Atlanta, and a member of the ethics committee at the hospital. He is also Georgia's representative in the National Association of Catholic Chaplains.
Pocock said one patient remarked to him that Our Lady of Perpetual Help Home was an oasis.
"The home is a place of sustenance and peace. It is a life-affirming place," Pocock said.
---
More information on the Hawthorne Dominican congregation can be found at hawthorne-dominicans.org and on Atlanta's home at olphhome.com. It is located at 760 Pollard Boulevard, Atlanta. Contact: 404-688-9515.