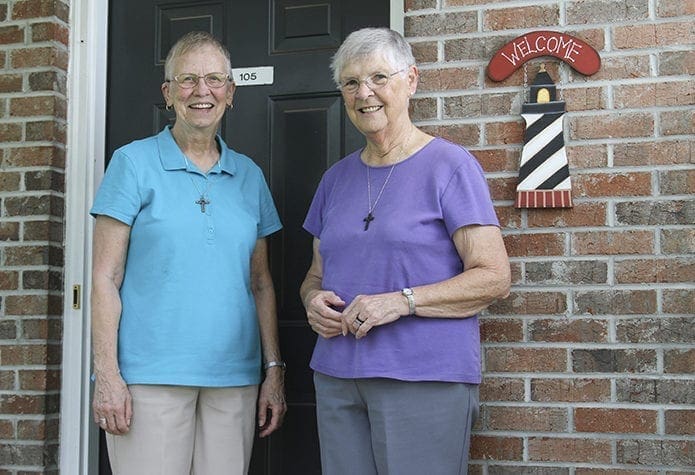 Published November 21, 2018
HAPEVILLE—Parishioners of St. John the Evangelist Church, Hapeville, held an appreciation dinner on Sept. 14 for two Sisters of Saint Joseph of Concordia, Kansas—Sister Helen Mick and Sister Jodi Creten. The celebration recognized the sisters' 30 years of dedicated service to the elderly and the parish community.
The two came to Georgia in 1988 to work with the archdiocesan personal home care for the elderly, Saint Thomas Manor in East Point. In addition to their work with the elderly, the sisters discovered St. John parish and began to volunteer their services.
The sisters served as lectors, extraordinary ministers of Communion and even office assistants. In addition, they organized and led adult education classes for many years, culminating with an in-depth study of Pope Francis' landmark environmental encyclical on "On Care for Our Common Home," Laudato Si'.
The hosts for the celebration were members from a cross-section of St. John's organizations. During dinner, a tribute to the Sisters from Archbishop Wilton. D. Gregory was read. Reminiscences by former pastors Msgr. Henry Gracz and Msgr. Ed Thein, as well as current pastor Father Michael Onyekuru and the sisters themselves were shared. The 100 guests included friends from around the archdiocese, the metro Atlanta area and included present and former church members.
Two of the guests present for the celebration were special friends, Frank F. Forth Jr., 94, and Lionel Washington, 99. Both epitomize how faith, love and care can lead to longevity and a life filled with much joy.
Following 30 years of service in the archdiocese, Sister Helen and Sister Jodi left Georgia and returned to their motherhouse in Kansas on Oct. 1.
"In short, the sisters served wherever they saw a need," shared St. John the Evangelist parishioners Susan Burroughs and Anne McCallum in a written tribute. "Sister Helen and Sister Jodi, know that you will be truly missed."
From their motherhouse, the two sisters shared they have been adjusting to colder weather, but will "always have Southern blood and a soft spot in our hearts for our Georgian friends."
They continue to be involved as lectors and extraordinary ministers of holy Communion at the motherhouse chapel, in making items for the order's gift store, and continuing involvement in environmental and social justice issues. They also visit local nursing homes.
"In the thirty years we have ministered in the Atlanta area we always felt enfolded in God's love through the many people placed in our paths," they said by way of email. "Living and growing in the midst of vast cultural diversity was a gift that expanded our awareness of God's presence in all people."